I am a very young disabled woman, 44 and I am on SSI, there is just no extra money at the end of the month. No matter how I work and rework the budget it just isn't there, short of moving to the slums I have no extra. I have a newly married son who is 23 and his wife, I want to be able to give them something for Christmas, but I have no money and Christmas is so commercialized.
I know they do not expect anything because of my situation, but if anyone could give me some ideas I would really appreciate it. I love them so much and just want to share the holiday with them somehow.
Dana from West Sacramento, CA

Answers:
No Money for Christmas Gifts
You could make a recipe book for them. Use any kind of paper and write the recipes on there for them. Secure with staples or hole punch and add ribbon.

You could make a few days worth of homemade dinners, freeze them. Label what is in the containers and they can keep the meals in their freezer for a nice homemade meal some night. Add cookies or cake for a desert.

Make a bookmark. Any kind of paper, draw, stamp or paste pictures onto paper and seal with contact paper. Punch hole at top and tie with ribbon. You can add your favorite saying or quote.
(11/04/2008)

By Diane
No Money for Christmas Gifts
Do you do any crafts that his family would like as a keepsake? Or can you bake something? I have done those kind of presents before. I have crocheted things, made bath stuff from powdered milk mixed with generic brand Calgon bath beads, for a milk bath. I also mixed the bath beads with oatmeal for oatmeal bath. Put them in any kind of jar and put a bow on it. I also melted chocolate chips and dipped plastic spoons in it and wrapped in plastic wrap and tied a ribbon for stirring hot drinks. I was getting food stamps at the time and it worked out good.
You can also spray paint tin cans and decorate them with stickers and put a votive candle in it or cookies. I am a firm believer in the holidays not causing so much financial strain that you don't enjoy it or you forget the reason for the season. You are on the right site to get some good ideas from all the frugal people here! Good luck!
(11/04/2008)
By Karen L.
No Money for Christmas Gifts
Why not a batch of cookies on the 25th of each month? Cookies for a year. Yum!
(11/04/2008)

By Guest
No Money for Christmas Gifts
My heart breaks for you! Please do not fret and beat yourself up over this issue! You know, the absolute best gift you can give is your love! Just a nice quiet day sharing snacks, a meal, singing Christmas carols together and reflecting on the reason for the holiday with lots of hugs and smiles is a much better gift than a material present! (11/04/2008)

By Deeli
No Money for Christmas Gifts
I have a couple of suggestions. One is freecycle. You could ask for something they don't have. You may end up getting a new "whatever". If not, perhaps you can fix it up to be something they want. When I was first married, I wanted lamps, some beautiful lamps. I could not afford them. I never spoke up and shared that with anyone, but now I wished I would have. I bet someone would have gotten me some lamps. I would not have cared if they were new.
I am also thinking if they both work, then there is no time to bake. If you have anything you could bake for them, that would be great. Cookies and sweet breads and things like that would be tasty. If you don't have a way to get baking supplies, then again you could probably ask for them on some of the groups like freecycle or some other groups. Or perhaps some of the churches that give away food for people who are low on food would have something flour and sugar etc. (11/04/2008)

By Kat
No Money for Christmas Gifts
Sit down and write to them; how you felt when he was born, things he did growing up, how you felt when they married, etc. Love is free and the most precious gift you can give anyone. (11/04/2008)

By Teresa
No Money for Christmas Gifts
I've been planning to do this for my 29 year old son and someday soon, wife. Either hand written or on the computer, make a recipe binder of recipes you know he likes and/or family favorites. You can get binders sometimes at thrift stores and even stickers and such. My son loves to eat, 6'5" 200#s and I know when I do this for him it'll mean a lot to him. Hope that helps. (11/04/2008)
No Money for Christmas Gifts
Your kindness is so touching! I lost my mother 17 months ago and the most precious thing she ever gave me was a book telling me how she felt when I was born, her dreams for my life, her favorite Bible verse, most important thing her mom taught her, etc. Feel free to e-mail me and I can give you a complete list of the questions she answered. May God Bless! Debbie-redbarn816 AT yahoo.com (11/04/2008)

By Debra in TN
No Money for Christmas Gifts
My thoughts immediately went to a gift that might cost, however, it doesn't have to.
You could purchase an expensive scrapbook or just a cheaper older fashioned photo album. Go through your photos of your son from when he was born on up to now. Take index cards, make notes on them, what he was like, what you remember about that day, how you felt... what you think he felt. Your memories are the best gift you can give, because a memory keeps on giving if you are willing to share it. :) Good luck, sweetie, God bless! (11/04/2008)
By Sherry
No Money for Christmas Gifts
Make an address book for them. I did this for one of my nieces when she first left home. I just bought a cheap white three ring binder and some notebook paper. I told her she could decorate the book however she wanted it. I put in addresses of family members, including phone numbers and email addresses. Then left the rest of the paper for her to uses.

Another suggestion would be to make a picture album using the same supplies. Copy and print pictures of yours, put them in a three ring binder. Have fun~! (11/04/2008)

By Doris
No Money for Christmas Gifts
Hi, You can check for new items at the thrift store or yard sales. I was given a container with small kitchen gadgets the first Christmas. That was a great gift. All those little kitchen items that you use when baking, or cooking something special. Most newlyweds don't have the small kitchen gadgets.

I also like the idea of a homemade cookbook of recipes that your son really likes. You can collect some of your son's photos and put them into a photo box and give them to him for Christmas. You can make Christmas ornaments for their tree out of flour and water. Paint them with acrylic paint and use string to hang them. Pass on some of your son's favorite Christmas ornaments that you hung on your tree every year. I hope this helps. Loretta (11/04/2008)

No Money for Christmas Gifts
How about getting in inexpensive frame and outlining your family tree to include your daughter in law and leave some space for future possible children.
Another idea is to put together a photo album for them.

You could put together a basket with perhaps wine or sparkling cider, and some snacks like a fancy cheese and crackers, some chocolates or for more of a holiday theme -hot cocoa mix and a nice tin of cookies. Include a Christmas ornament - and if you have the money have it engraved - or make one for them.

Don't feel bad about the tight budget. Many years ago we had a purely homemade Christmas. The only person that got store bought items was my son. We basically made ornaments, I sewed pajama pants, my sister made me a pillow, crocheted and knitted items. (11/04/2008)

By Michelle
No Money for Christmas Gifts
I found a flawless red and white afghan that is knitted. I was going to unravel it for the yarn, but if you contact me, I would be happy to send it to you.

The cook books are also wonderful ideas. One year, that is all I had money for so I made each one on my list a cookbook and they love it to this day.

You can put together a scapbook of photos of you growing up, and your son until he left home.

I love the cookies idea, too! My grandson gets an apple pie from me a month just because I know he loves my pies above all others. (11/04/2008)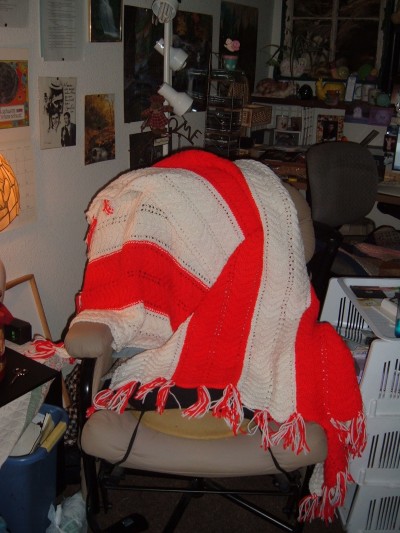 No Money for Christmas Gifts
I am retired on a fixed income. I give my busy family homemade cookies and candy for Christmas. They really look forward to getting them. They don't have time to make any. (11/04/2008)

By Faye W.
No Money for Christmas Gifts
I love the above suggestions about doing favourite family stores, recipes, etc.

My mum belongs to a local group that entertains senior citizens once a week. At Christmas time, the group members each make small gifts that they can sell. Most of the seniors are on limited incomes and they buy these small gifts and use them for Christmas.

My mum saves old jar jars, etc. and makes things like coconut ice, spiced nuts, etc. She also buy packets of different teas, mixed lollies, etc. and puts them into jars, like minnie hampers.

Some of the other ladies in the group make things like instant coffees, etc. that you put in zip lock bags. They actually have used some ideas from this site.

You could even use a small basket and make a small hamper for them with things like a small packet of tea, chocolate bars, packet of bikkies, etc.

Good luck and God bless. You are not alone - there are many people that are going to find Christmas tough this year - like many people, I am looking at my Christmas list and things of ways I can save money and where I can make home made gifts. My kids love cooking, so the aunties and uncles will be getting home made pressies.

My mum makes apricots balls - everyone loves them and they are her thing to give to people or take to parties at Christmas. Her present to me is always at batch of her brownies - no-one makes brownies like her. (11/04/2008)

By racoon19
No Money for Christmas Gifts
Hi Dana,
If you can sew take some old clothes that you would give to charity and make them a throw for the couch.
Very simple just squares. If you have an old sheet that works well as a backing. If you want to make it warmer try an old blanket as batting. You can find all of these items at your local thrift store for next to nothing. If you go to the Salvation Army and tell them your circumstances they will even give you the stuff or reduce the price. Good luck, and God Bless (11/05/2008)

By Mary Ann
No Money for Christmas Gifts
My brother and his wife gave my mum a fantastic calendar that they made. They downloaded and printed off a calendar sheet for each month then added pics of the family on the months, eg. a photo of her on April (coz its her birthday then) also we have a family dinner and everyone is only allowed to spend £1. The kids don't remember the last expensive present they got, but still laugh at the potato jigsaw (same brother made me 3 yrs ago) after all isn't it always memories that count. (11/05/2008)

By tori.k
No Money for Christmas Gifts
You can buy a piece of craft wood at Walmart, paint it, glue on a picture of their wedding, add a pic hook or buy a cheap picture frame, cut out a pretty piece of paper as an inside border and add their pic. I gave my family a homemade cookbook once, used their name per recipe. They loved it. Good luck and merry xmas! (11/05/2008)

By Sharon from Maine
No Money for Christmas Gifts
God bless that woman who offered the afgan, such acts of kindness really touch me, and God bless you too Dana, there are many of us in the same position. (11/05/2008)

By laura
No Money for Christmas Gifts
I think that the address book is a wonderful idea. I remember my mom did that for her daughter-in-law at her
bridal shower.

I think a memory jar would be very nice. I use file cards or strips of paper and write a memory on each. Put in a jar. Hand it to him or his wife.

They can have fun going over what you remember about his childhood and how you felt about them.
I personally enjoy hand crafted gifts as you know the person was thinking of you as they worked on the gift. (11/05/2008)

By SunshineRose
No Money for Christmas Gifts
Hi Dana, I am in the same sort of situation, but I do work some. I have made cookbooks with my computer and favorite recipes, coloring books, etc.

How about gathering many memories of your son and typing them into sort of a book? Your daughter in law I'm sure would get a kick from it. Write a story about the 2 of them together. sandy sheep1@ yahoo. com
Email me I have more ideas. Don't put spaces in my email address though. (11/05/2008)

By sandy
No Money for Christmas Gifts
I'm in the same position as unfortunately a lot of others. I really like the idea of making a recipe book from a 3 ring binder. I collect recipes from the internet and have one for myself that I use all the time. How about saving jars and layering ingredients for cookies--there's lots of recipes listed on the net. A big jar of homemade cocoa mix would be great.
Do you crochet? Make a rag rug from old clothing--if you don't have any old clothes, you can sometimes get free t-shirts that are unsellable from Salvation Army, Goodwill, or yard sales because of tears, stains, etc. As long as they are clean, they make beautiful rugs. Crochet or sew potholders and kitchen dishcloths from leftover yarn scraps. Start a plant from cuttings.
Make Christmas ornaments from things around the house. I've made several that I like better than ones I've bought. Spray painted pine cones (silver or gold) in a yard sale basket make a beautiful display. I recently saw these little houses, churches, stores, etc. that were made from light cardboard and decorated for a Christmas village that resembled those antique ones. I found a few at yard sales and plan on making some more to fill out my village.
Do you have anything special around the house you can hand-down to them? A family heirloom would make a cherished gift. I have a rocking chair that was my husband's as a child, knicks and all, that I absolutely love. It's in the living room with a plant on it. A coupon for a homemade meal on a night when they're working late would really be appreciated.
Could you clean their home and do laundry? I don't know anyone who wouldn't appreciate that! I've made a couple of quilts from old blue jeans (they wear like iron) that my son still likes to use 20+years later. Candle stubs can be melted down into a new one. When you peel apples for a pie, save the cores and peels in a pan, cover with a little water and cook. Strain and cook again with pectin for homemade apple jelly.
Can you gather any pecans, walnuts, or fruit from neighbor's trees? Do they need any mending done? Pets walked? Someone to take the pet to the vet's? House sit for them? I'm sure you'll find something that will bring a smile to their faces. (11/05/2008)

By susan
No Money for Christmas Gifts
If you've got old candles and you've got soap molds, or something small to pour wax in, you're all set for these cheap gifts. I literally had to spend no money this year on extraneous gifts for people on the outside of my immediate family.

I took a couple of days and melted all of the candle wax in my house and make scented wax tart melts. I dug out a couple of the tiniest soap molds I could find in the cellar, added some scent to the hot wax I was making, and I poured the wax into the molds.

I have found various boxes and things I can wrap them up in to make them look really good. I see that there are some cheap melters at Big Lots for 50 cents if I want to go nuts. lolol. So, there you go! (11/05/2008)

By Misty
No Money for Christmas Gifts
I know what you mean there about the money situation. What I was planning was to have a yard sale and sell stuff I'm not using, so I will have money for a little something. I think you might want something special for the newlyweds, and how about something that you cherish, and then you can pass it down to your son and his wife? Nothing is more appreciated as a family heirloom and write them a note about the story behind it, and why it's so special to you. I think sometimes the simplest gift is the best one a person can receive, because it comes from the heart and took thought. (11/05/2008)

By Maddy
No Money for Christmas Gifts
My wonderful mother in law gave me a cook book that she hand wrote for each of her 7 kids. It was a collection of all the recipes from the kids' childhood. There are recipes from Great, Great, Great Grandmas that must be pre-civil war. I love my recipe book. I use it very often. You could also write down memories of you sons childhood. (11/06/2008)

By Susie from Buckhead, GA.
No Money for Christmas Gifts
Try making a "happiness jar". Type or write out things to be happy about. Get creative. Decorate a jar or can and attach instructions to draw one a day. It's a great motivater and they will so appreciate your hard work and thought. I would love a gift like this! God bless you. I think we're all feeling the pinch this year. (11/06/2008)

By Rebecca
No Money for Christmas Gifts
It's me Dana, I posted the request. Thank you all so much, I have received some wonderful ideas and you all have had a part in removing my stress surrounding Christmas for my kids. I wish I could respond to each of you directly but I would be typing for days, anyway, thank you all so very much from the bottom of my heart. What an outpouring of love, compassion, and understanding. (11/06/2008)

By Dana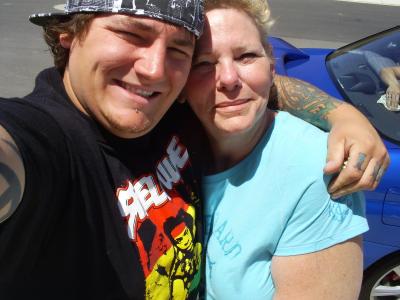 No Money for Christmas Gifts
Here are a couple more if you'd like. I'm glad so many people came up with such cool ideas.

http://www.thriftyfun.com/tf24026775.tip.html
http://www.thriftyfun.com/tf50832616.tip.html
http://www.thriftyfun.com/tf74349262.tip.html
(11/07/2008)

No Money for Christmas Gifts
I agree that you might want to sign up with Freecycle.org (or .com, but I think it's .org). There's no cost. I've donated a sewing machine and gained a scanner, but every day there are all sorts of offers and requests. If you sign up you don't have to participate right away, but it might really work for you. (11/08/2008)

No Money for Christmas Gifts
How about a memory quilt, or wreath with scraps of old clothing - his, yours, grandma, or grandpa. Ask family members for something they were going to get rid of anyway and repurpose it in your wreath/quilt. (11/09/2008)

By kathy
No Money for Christmas Gifts
How about cooking them a home cooked meal at their house, using their food, but you prepare it and leave it for them? Do it for a month, or once a week. Make a frozen dish or do casserole of the month. Great for busy people. (11/09/2008)

By kathy
No Money for Christmas Gifts
Perhaps a small book of your thoughts about motherhood and becoming a mother-in-law with photos of your son growing up, getting married, etc. If you sew, you could make a lap quilt or a throw pillow. You could also make stockings for their new home. You could make plant clippings from a house plant or even potatoes or garlic. Or a gift basket with their favorite snacks. Or a movie pack with popcorn, candy, soda, and a movie (you can get them used for just a few dollars). Hope this helps. (11/09/2008)

By jenn
No Money for Christmas Gifts
I have made top ten lists for both of my parents. For your children I would write down my top ten memories for each of them. This could be cute sayings, a drawing, a short story, something they did for you, etc. I and my 4 siblings did this and my mother said it was the best gift that she had ever received from us. Of course, you could do any number of items, it doesn't have to be just 10. (11/09/2008)

By Brenda
No Money for Christmas Gifts
Here are a few ideas I'm using myself this year:
www.half.com powered by eBay is a fantastic place to find books, movies, and games really really cheap.
Half my shopping last year was on Half.com!
Also, another idea you might like... if you have a Dollar Tree or similar store (one where everything is a dollar) you can stuff a stocking pretty inexpensively.
You could try FreeCycle.org and put in a "wanted" if there's something you'd like to get.... someone might have a spare laying about.
Good luck, dear.... and Merry Christmas to you and yours! (11/12/2008)

By Sarah Leach
No Money for Christmas Gifts
Hey! I thought you may could use another idea to go with the one"s you have already got. I have some fan globes that you get from a old ceiling fan. I put lace from an old scrap of material and put it around the top (that would be where the light fits in and you screw it in at).
I take a clear ball and glue it to the hole. Then I take some moss and put it around the ball for hair and then take beads or wire to make a halo glue it to the hair. Take old ribbon from where you have from gifts and make a bow for your wings well now you have an angel of love because you made it yourself for the ones you love may god bless you and your love ones this Christmas. (11/13/2008)

By donna
No Money for Christmas Gifts
You seem like such a loving spirit, and I hope that these suggestions might be of help to you.
Being that your son is newly married, how about personalized pillow cases. Often, you can find inexpensive pillow case sets (sometimes even a complete sheet set with the pillow cases) at The Dollar General Store or even Wal-Mart. At the opening end of the pillows (pillows with wide bands at the opening end are better but not necessary) with a fine point pen draw the first and last initials of your son and his new wife. Use one pillow case for your son's initials and one for his wife. Then, with embroidery thread, using a simple stitch, cover the pen markings. It is a special gift for newly weds that you can give at Christmas. My husband and I are coming up on our 17th anniversary, and if I received this as a gift I would truly love it!

Also, you can buy a set of kitchen towels with pot holders and use the hand towel to 'wrap' a home made loaf of banana bread or any baked goods. Wrap the baked goods in clear or colored plastic wrap, lay the kitchen hand towel out on a counter, set the wrapped baked goods in the center, bring the two ends of the towel together over the baked goods, secure with a rubber band, and cover rubber band with a pretty ribbon. They will love the freshly baked goods and have a new set of kitchen towels to boot!
I hope this helps. Have a Merry Christmas! (11/20/2008)

By Kristina
No Money for Christmas Gifts
I love the ideas of the recipe books. I'd like to add some of my ideas.
These may be do-able, depending upon how abled you are. They aren't NO-cost, but they can be LOW-cost:
Try the allrecipes.com Non Edible Cinnamon Ornaments recipe for some nice-smelling ornaments.

How about the famous cloves-stuck-in-an-orange pomander? I've hears lemons work, too.
Soak some herbs (rosemary or scallions or such) in a cup of olive oil for a couple of days. Strain. Pour into a clean, pretty glass bottle from a yard sale, thrift shop, or dollar store. Decorate with yarn or ribbon for a festive and tasty flavored oil.

A 1-lb. slab of glycerin soap from the crafts store goes for about $10, and can be melted into many small gift-soaps if you use paper cups as molds. Most of the necessary tools you probably already have around the kitchen. Check online for directions (teachsoap.com is a start -- look for basic Melt and Pour). For a kid's gift, you can embed a tiny trinket (like a 25 cent toy from a vending machine at a supermarket) in the soap without even having to scent or color it!

Do your son and daughter in law like the local wildlife? If so, maybe you could make outdoor Christmas ornaments that critters can eat. Popcorn balls and stringing of breakfast cereal (like Kix and Fruit Loops) come to mind.

Depending on your ability, if you choose to do chores for your son and daughter in law, why not make it a little festive? Use your computer to create funny coupons for the chores you're giving them ("This coupon entitles the bearer to one free weekend of house-sitting" for example). Take advantage of free fonts and clip art for this one.

Gutenberg.org has lots of public domain books on many, many topics. Perhaps you can download a selection of ones you think they might like and burn them to a CD. Or, you can find something shorter, lay it out really pretty in a word-processing program (see openoffice.org for a free one) and print it out and bind it in a looseleaf cover you decorated yourself.

Librivox.org has lots of public domain talking books. Maybe burn a cd of some ones they might like.
Need to giftwrap something on the cheap? Use brown paper bags, unprinted side out. Use twine or cord for ribbon. It looks like an old-fashioned shipping package. (11/30/2008)

By Clueless
No Money for Christmas Gifts
I did a little research and unless you know what you're doing, there may be some health risks with the flavored oil project. Flavored vinegar might be an alternative.

If your son and daughter in law drink coffee or cocoa, another idea I've seen on this forum is to give "Chocolate Spoons." You melt some chocolate (actual "melting chocolate" is best, but plain old chocolate chips might do as well), dip the business end of some plastic spoons in the chocolate. (You can sprinkle them with crushed peppermint candy, cinnamon, or un-melted chips if you're feeling fancy). Set them aside to cool. Once they're cool and solidified, wrap them individually in some plastic wrap and tie with some ribbon or yarn. The spoons can be used to stir a hot cup of coffee or cocoa while adding some extra flavor to the drink.

There are also many recipes on the internet for "gifts in jars." It's essentially a home-made mix that you put in a jar, attache a pretty label and preparation instructions, and then decorate. I've seen instructions for GIJ versions of cookies, soup, muffins, cocoa, even bath salts. I've never done a GIJ, but now I want to...it sounds like fun! (12/01/2008)

By Clueless
No Money for Christmas Gifts
I too, am on a fixed income, retirement Social Security, no pension or anything and never had a really well paying job, when I was younger. Anyway, I start my Christmas shopping in February. I have been done for about 1-2 months. I spend $20.00 a piece on each of my four grandchildren, ages 13-22. Then I spend $40.00 on my disabled daughter and buy a $40.00 WalMart gift card for my other daughter and son-in-law. (10/13/2009)

By Joan