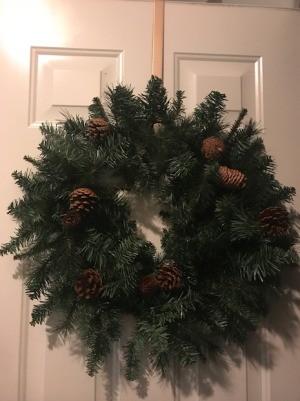 I bring my wreath inside at night because I don't want it to get wet from moisten air or spider webs from forming. Also, there has been a rise of thieves stealing holiday decor in the area.
Side note: I normally would prefer to craft my own wreath than to buy a generic wreath, but the cost of this wreath was cheaper than purchasing the supplies individually.
Cost of this wreath: $7.50
Originally: $19.99
Sale 50% + extra 25% off members coupon at Michael's Arts & Crafts
In order for me to make this wreath, it would have cost me: $10.99+
24" Wire Wreath Frame = $4.99
9 ft Pine Garland = $2.99 on sale, originally $5.99
Pinecones Assorted Pack = $2.99-$3.99 originally, $4.99
I still am able to personalize this wreath to my liking. I am going to wait for another sale to get red berry clusters, poinsettia flowers, and a bow. Perhaps decorate the wreath with ornaments I already have.