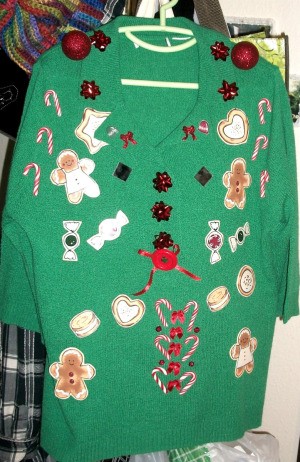 A friend of mine was going to have a party where she works, and was asked to compete in an ugly sweater contest.
Since she works and I had time, I went to all the thrift stores in our city, and was told they were out the week after Thanksgiving. Who knew they were that popular?
So, I had some money to spend and I just decided if I can't buy her one I would make her one.
With a basic smaller sized sweater, I cranked up the hot glue gun, and went to town!
I used a metal plate underneath to keep the glue from touching the back side and dug out all the silly red things I had. What I bought was a set of plastic/foam place mats, some dollar store candy canes and red glitter balls.
I don't know if I actually had a plan, but the sweater was a "sweet treats" theme so I just had some fun. If you do something similar, keep in mind that the sillier it is, the uglier it is.
There might not be a prize in this, but it is ugly! Mission accomplished!