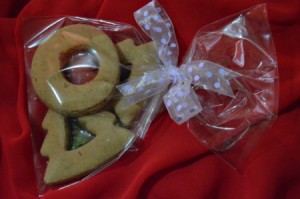 I like sharing the joy of Christmas with my family, friends, and neighbors. For me, it is not about the size of the gift, but rather it is the thought that counts.
This Christmas my budget is unfortunately very tight and it is a stretch to find a way to give small gifts. I realized that there are a magnitude of possible gifts hiding in the kitchen. For some of these, I might need to buy one or two ingredients, but mostly, it will require using what I already have readily available. What it will require though, is time, and that fits well with the idea of sharing the joy of the season.
I came across a recipe for stained glass cookies in a South African magazine and decided to make some of these. Afterwards I packed a few of them into cellophane bags, tied a ribbon around the neck of each bag and made a nice bow. If I added something small, like a chocolate or small tube of hand cream, at least I will still be able to share the joy of Christmas without overextending my budget.
So, have a look at the treasures hiding in your kitchen, you might just be surprised!