Monica
Silver Post Medal for All Time! 297 Posts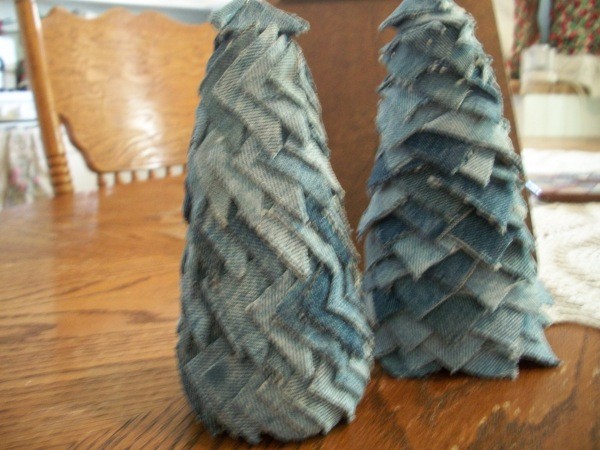 Holiday table decor made from Styrofoam and denim fabric.
Approximate Time: one afternoon
Supplies:
Styrofoam cone shapes
denim scraps
tacky glue
scissors
wooden clothes pins
sewing pins
Instructions:
Cut denim scraps into one or two inch squares. Fold squares into triangle shapes and secure with glue, then hold in place with wooden clothes pins. When the triangles are dried, remove clothes pins. You can now begin covering the Styrofoam cones for the trees.

Beginning at the bottom of the cone, begin placing the denim pieces in the direction you want your design to run. There are two designs here to choose from.

The hardest part is waiting for the glue to dry. Hot glue will result in melting the Styrofoam, so you must use tacky glue and hold each piece in place until nearly dry or the pieces will slide off. For the one design, you will need sewing pins to secure the denim.

Complete the pattern on each row before moving to the row above it.

Embellish the trees as desired with purchased or crafted items.
By Monica from Cortez, CO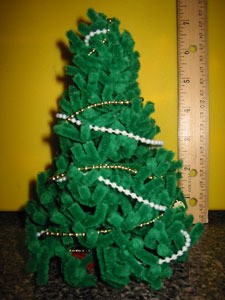 Many years ago, while at a craft fair with my mother in law I learned to make a miniature Christmas tree from green pipe cleaners (or chenille stems for you language purists!). You started with a small block base with a thin dowel sticking up. Then you took a length of pipe cleaner (about 6" or so) and twisted around the dowel.
But, and this is what made them look so real, before you twisted each length, you took about an inch long piece of cleaner and twisted it a bit down from each end (for branches). You used several lengths the same then decreased the length around the dowel to get the tapered effect.
Unfortunately I don't remember the details. I have one left (after having made many to give away) but don't want to destroy it to figure out the pattern. Does anyone know of these or have the instructions.
Melody from Oak Ridge, TN
Answers

December 12, 2007
0

found this helpful
www.marthastewart.com/.../?vgnextoid=07bc12bfc22b4110VgnVCM1000003d370a0aRCRD
found this one on martha stewarts website!
By (Guest Post)
December 12, 2007
0

found this helpful
Thanks meluvchris. This isn't the same tree but cute none the less. I will have to make this one too. I've been experimenting on getting the fuller tree I posted and am getting close.
Thanks for helping out.

September 23, 2019
0

found this helpful
I wish I did no. I had a bid on the most beautiful Christmas tree with accessories tree made of pipe cleaners it was full the most beautiful tree I've ever seen. I fell asleep and someone beat my bid by a quarter. Wish I could help or you could help me.

January 13, 2020
0

found this helpful
Did you ever find out the measurements and number of limbs? My mother made us the same tree and she is no longer living.
I do not want to take it apart. I remember helping her make them, but I cannot find the directions.

July 17, 2020
0

found this helpful
I have the pattern back in Maine in my storage.I made them trees as gifts back in 1993.I found a pattern pretty much the same(different color pipe cleaners)Go to ideas-diy.com(found it on that site,just needs base)

August 1, 2020
0

found this helpful
I just saw this today. Pipe cleaner Christmas tree: Cut 24 of each: 9", 8", 7" and 24-36 6". Starting with 9", work from bottom up twisting around dowel. I used a dowel glued into a wood base.
Answer

this Question

A friend's daughter went to a party and made a really cute Christmas tree out of corks, painted it green and white on the top for snow and then put it in a painted clay pot. They used wire to hold it together. does anyone have instructions on how to make one?
LINNEA
Answers
By Ana (Guest Post)
August 12, 2005
0

found this helpful
Linnea,
That sounds really cute, unfortunately I don't but you could try going to http://www.searchalot.com That is a very helpful search site and I never get off the computer without answers. Good Luck! God Bless you.
Thanks,Ana
Answer

this Question
Perhaps you have seen one of these at a craft show, but it was too costly. You can make your own Christmas tree wall hanging, using your old costume jewelry or pieces from yard sales and thrifty stores. This is a page about making a costume jewelry Christmas tree.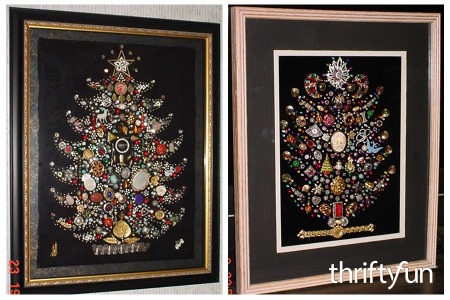 This is a page about making recycled paper mini trees. Use leftover, wrapping paper, scrapbook paper, or other decorative paper to make cute mini tree decorations for the holidays.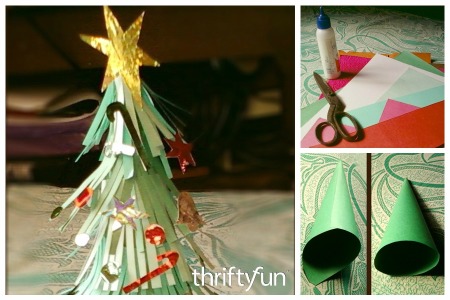 This is a page about making a cardboard Christmas tree. Interested in an eco-friendly alternative to a Christmas tree? Want to expand your recycling efforts? How about making a cardboard Christmas tree? Not only will you have a unique tree, but the making of it will be a fun activity for the whole family.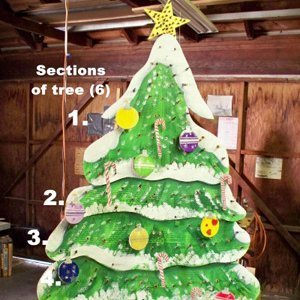 This small Christmas made of organza and hot glue will perfectly decorate your interior. It's lightweight and durable, so you don't have to worry about dropping it. You can insert a Christmas garland inside.