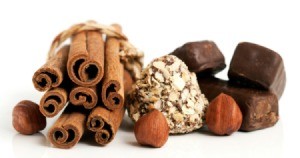 Ingredients:
1 cup (2 sticks) butter
1 cup granulated sugar
2 Tbsp. water
1 Tbsp. light corn syrup
1 tsp. ground cinnamon
3/4 cup chopped toasted hazelnuts
1 1/2 cups semi-sweet chocolate chips
Directions:
Prepare a baking sheet by lining it with aluminum foil and spraying the foil with nonstick cooking spray. Set it aside.
Melt the butter in a medium saucepan over medium heat. Once it is melted, remove it from the heat and stir in the sugar. Once the sugar is mixed in, add the water and corn syrup and stir until well-incorporated.
Place the pan back on the heat and insert a candy thermometer. Cook over medium heat, stirring often, until the candy reaches 290 degrees F. Watch it carefully near the end, as it can easily burn at high temperatures.
Once the candy reaches 290 degrees F, remove it from the heat. Stir in the cinnamon and the chopped nuts, and immediately pour the candy onto the prepared baking sheet. Tilt the sheet several times to spread the candy in a thin layer. Allow the toffee to sit at room temperature until it is completely cool.
Place the chocolate chips in a large microwave-safe bowl, and microwave until melted, stirring after every minute to avoid overheating.
Spoon half of the melted chocolate on top of the toffee, and spread it in a thin, even layer over the top. Place the toffee in the refrigerator to set the chocolate for about 15 minutes.
Remove the toffee from the refrigerator and lift it from the baking sheet. Flip the toffee over so that the chocolate side is now resting on the bottom of the baking sheet. Spoon the remaining melted chocolate over the top of the toffee and spread it evenly. (If necessary, re-warm the chocolate briefly so that it is spreadable).
Refrigerate the toffee again to set the chocolate. Once set, break the candy into small pieces with your hands. Store the toffee in an airtight container in the refrigerator or in a cool room.
By Jodi from Aurora, CO