Christmas is a fun time of year and it is always enjoyable decorating the ol' homestead. Like everyone, I have favorite decorations and ornaments that I put out each year, but I felt it was time for a few new things. I love having pictures of my grandchildren around so I made this snowlady for myself. She would be a great project to give as a gift to grandparents.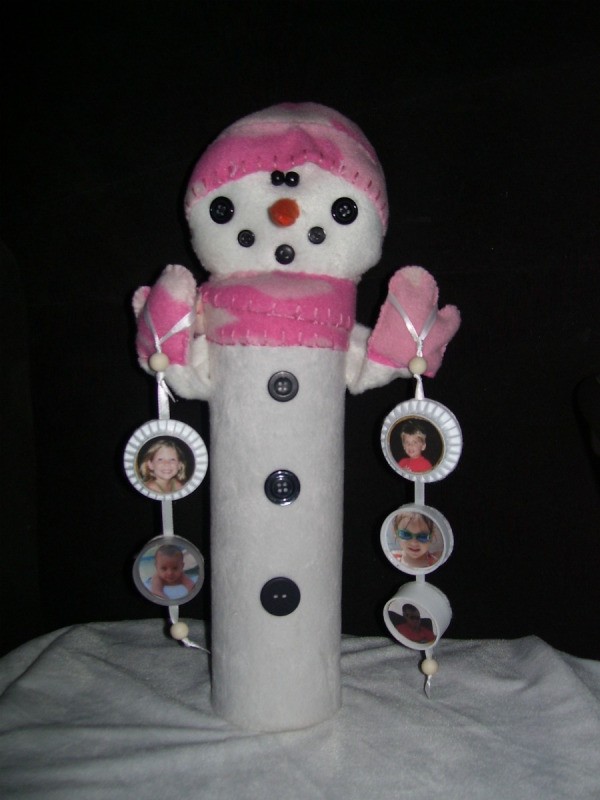 Approximate Time: 2-3 hrs.
Supplies:
white fleece material for body
colored fleece material for hat, scarf, and mittens
black buttons and beads
orange and white felt
cardboard tube- your choice of size
cardboard
white ribbon
white caps from containers
glue
needle and thread
photos of your choice
Instructions:
You can make your snowlady any size you like. I will give easy general instructions that will allow you to adapt yours. A lot will depend on what size tube you will be using. You can also use a length of plastic pipe. I used one that held shrink wrap. This tube was very thick cardboard and was much taller than I needed. I used a little hand saw and cut off some length. I found this one in a recycling bin for cardboard.
Measure the white material to wrap your tube in. You will need it wide enough to roll your tube so it is completely covered and long enough so that you can tuck ends inside.
Roll the tube and tuck both ends in. Stitch along back seam to secure closed and glue ends inside tube.
Cut a circle for the head. You will gather this into a ball so you need to cut the size large enough to do so. It should look proportional for your size tube.
Make a running stitch along the outside circle edge. Gather into a ball by pulling the threads. Stuff the head and sew gathered area closed.
Sew black beads on for eyes.
Make a carrot nose using orange felt; stitch together and stuff. You can use tiny bits of toilet paper or cotton balls if you don't have any stuffing. Sew it onto her face.
Sew buttons on for mouth.
Place the head on top of tube and attach with glue or stitch by hand to secure.
To make the hat, cut a strip of material for the band, long enough to fit the circumference of the head. Cut a much wider strip for the hat the same length. Stitch the band along one long edge of the wider piece. Stitch the entire piece together along the shorter edge. Leave ends open. You should now have what looks like a tube. You can place some stuffing or a balled up piece of plastic bag inside the hat before sewing it to her head if you're wanting the hat to stand up more. Place one open end on top of head and stitch to secure to head. Gather top and tie with ribbon. Finally, glue a pom pom on the top.
For scarf, cut a long strip of fleece. Wrap around the neck a few times and knot on side of neck. Cut slits on ends for fringe.
For arms, cut 2 strips from white fleece long enough to wrap around body. Stitch them together. Cut a length of wire slightly longer than the strips. Bend a loop at each end. These will go inside mittens. Slide the wire through the arm tube, leaving loops stick out each end.
Cut 2 mittens for each hand from fleece. Place wire loop between pieces and sew together, being sure sleeve end is inside mitten. Make a few stitches over the loop to secure in place inside of each mitten. Find the center of arms and pin to back, just below scarf. Pin in place and sew arms to body, stopping at each side. You need to leave the rest of the arms loose to be able to bend them up to hold frames.
Glue buttons on front of body.
For the snowball frames, I used caps from several different bottles. I save these because they have many uses, but if you don't have enough white ones, you can paint them so they resemble snowballs. Trace each cap onto sturdy cardboard and cut these circles out slightly smaller so they fit inside. Avoid pushing them into cap at this point when checking on size cut. They are hard to remove once pushed in. Attach photos to cardboard circles. I used double back tape. Put some glue on inside of the cap and push the circles gently in. Run your finger tip along inside edge so they are fitted well.
Cut 2 lengths of ribbon for the hangers. Make a loop at one end of each, big enough to slip onto mittens.
Cut circles from white felt to fit backs of caps. Run a line of glue down the center of each and glue to ribbon, where desired. Put glue on the back of each cap and adhere to felt circles so your ribbon hanger is in between both cap and felt circle. Allow to dry well before hanging them on snow lady.
Tip: You can change photos each year by gluing a new one on top of the old. Store your snow lady by placing ribbon and frames inside the tube. Bend arms to form to tube and wrap in tissue paper for next year.
By Mary from Palm Coast, FL
Comments
Read More

Comments