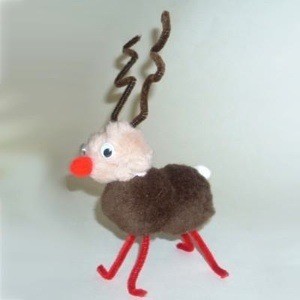 Another craft for left-over pom-poms and extra craft bits. The cute reindeer has pom-poms for a body and head and chenille stems as antlers and legs.
Approximate Time: 15 minutes
Supplies:
2 large brown pom-poms
1 small white pom-pom
1 18-inch long red chenille stem
1 large light brown pom-pom
2 - 1/4 inch googly eyes
1 small, red pom-pom
1 18-inch long brown chenille stem
white glue
scissors
Instructions
Take the two dark brown pom-poms and glue them together well to make the reindeer body. Take the small, white pom-pom and glue it to one end as the tail.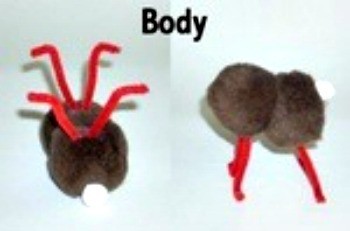 Cut the red chenille stem in half to make two stems. Take each stem and bend it in half. Bend the ends out, as seen in the "Body" picture, to make the legs. Glue the legs onto the body as shown in the picture. Make a very strong bond, otherwise the legs won't be strong enough for the reindeer to stand. Let the body dry.
Take the light brown pom-pom and glue two googly eyes on. Glue a small, red pom-pom as the nose. Fold the brown chenille stem in half. Fold each side with sharp kinks to make the horns. Glue the horns, very securely, onto the reindeer head, as shown in the "Head" picture. Let the head dry.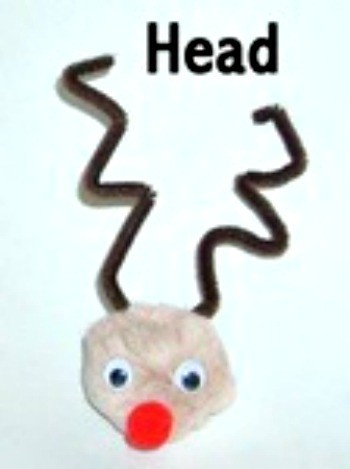 Place the head on the top, front part of the body and glue securely. Let dry and your reindeer is done. Stand it up and enjoy.
Note About Gluing:
You want to use lots of white glue for this craft. You need to form a strong bond between the materials. This means you squeeze a large amount of glue out, then press the piece you're gluing into it. Fold the pom-pom hair over the area to help for a strong bond. Hold the area together with a paperclip, clip, hairclip, fingers, or whatever, until dry.
Notes About Legs
If you're not good with delicate things, or delicate things don't last in your home, or your just generally having a hard time with the legs, there's a quick fix. Instead of using one chenille stem cut in half, use two chenille stems. Fold the stem in half, twist it around into one stem, then make the legs as directed in instructions. This makes the legs twice as thick and twice as strong.
By Aysha from Boise, ID