Santa and holiday photos used to decorate!
Approximate Time: One hour or less (more time for drying)
Supplies:
cotton balls
pom poms
construction paper
scissors
glue
sparkles
markers
Christmas photos
ribbon or pipe cleaners
Instructions:
Take new and old photos of your kids when they sat on Santa's lap or just any photos really and add "Scrapbook-like" backgrounds to them. They make wonderful decorations for all to see when they come for holiday fun at your house! The only limit is your imagination. You can take cardboard or card stock and draw images as you see here and glue on different things you might have around the house like poms and sparkles.
Find a great spot to glue the photo on, punch a hole in the top, tie a ribbon or pipe cleaner around and hang wherever. Mine decorate my banister to give more holiday appeal as you walk in the door. I also run wide holiday ribbon on my banister hanging down to staple cards that people send me. It's a great place to hang the cards and they don't fall off! I run garland and lights at the top to finish off the look!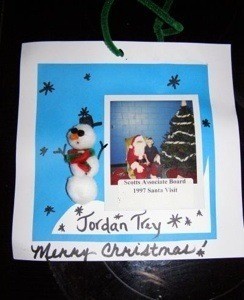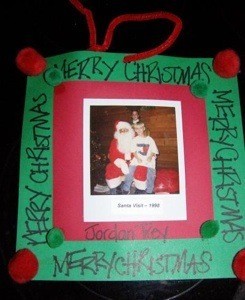 By Michele from Marysville, OH