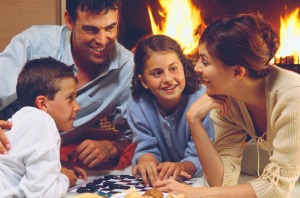 I am starting to plan for Christmas gifts and would like to give one family on my list a "family night" gift basket. Does any one have any ideas of what to do for the "basket" and what to put into it? The family consists of the parents and a toddler. I thought maybe a board game and popcorn could go into it but any other ideas would be well appreciated! Thank you!
Tracey from Hibbing, MN
Answers

October 29, 2007
0

found this helpful
Best Answer
Add some cosy slipper socks to fit everybody, a movie rental card and maybe some hot cider or chocolate mix(don't forget the mini mallows) and of course there is always a story to be read aloud just before everyone goes to bed.

October 29, 2007
0

found this helpful
Best Answer
It would be wonderful to put warm fuzzy socks in for each person. coloring book/crayons (if age appropriate), and puzzle books. Movie(s) for the whole family to watch. Peanuts or fruit and candy to munch on with the popcorn! Have fun with it.
Stephanie from Ohio

October 29, 2007
0

found this helpful
Best Answer
We were given a family game night tub last Christmas for our family of 6 with kids from toddler to teen. There were games for the older and youngest kids. Also included were candies (gummie bears I think it was...) to reward the younger ones, popcorn, hot cocoa and we each got our own mug with a different design on it so we always know whose is whose. That was particularly nice since in a large household not much belongs to any one person! I really love the idea of the fuzzy socks -- which I got for my kids stockings last year. They each had their own holiday character on them. Don't underestimate a toddler. Ask the parents some questions about the child's interests. It won't give away your gift if you are looking for ideas. Crayons and construction paper. Glue and foam shapes could be good also. Have fun. This was a gift we all loved and really appreciated a lot!
By nicole from MN (Guest Post)
October 30, 2007
0

found this helpful
Best Answer
Toddlers: perhaps some stacking cups, a book with touch/feel pics, kids cd, and some sippy cup instead of a coffee mug for the toddler.
By kmom320 (Guest Post)
November 11, 2007
0

found this helpful
Best Answer
Some ideas I have used are pizza gift cards (ask for empty pizza box to wrap the gifts in) movie rental gift cards, popcorn, candy and card games, put it all in the box and wrap with a bow! Others have been a nice but inexpensive ceramic bowl and go to a hobby store to get a bake on ceramic pen and decorate the bowl with the family name and put in either movie night theme items, or baking items for the family to spend time together baking.
Other ideas would be for a night out like skating or indoor golf whatever the family is into.
Read More

Answers