Alabama Christmas Charities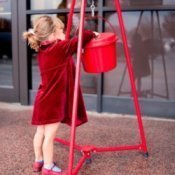 Every year ThriftyFun gets numerous requests from people looking for help for their families for Christmas. Since we do not have the resources to offer direct help, we have set up this page to help people find charities in each state. This is a page about finding Christmas charities in Alabama.
Solutions
Share on ThriftyFunThis page contains the following solutions. Have something to add? Please share your solution!
6 Questions
Ask a QuestionHere are the questions asked by community members. Read on to see the answers provided by the ThriftyFun community or ask a new question.
I have a friend whose husband has just been laid off. Also their daughter was just killed in a car accident a month ago and they now have custody of her two small children plus 2 of their own. They have no way to buy Christmas for all 4 kids is there any program that can help them?
By Michelle from Prattville, AL
Answers
November 24, 2010
0

found this helpful
The charities that do Christmas help will have items on the news when they are ready to start taking apps. Otherwise there is a nationwide helpline, that has a list of most charities, their number is 211. However, anybody can afford to go to a dollar store and buy a couple little gifts for each child. Your friend's husband should be getting unemployment benefits, and the grandkids should be receiving social security benefits, depending on the actual financial condition of the family they should qualify for food stamps. Also where is the kid's Dad, at the very least he should be paying child support.
November 24, 2010
0

found this helpful
Far better to create memories than "gifts"; however I used to get wonderful stuffed animals from Salvation Army for 59 cents each; easily washed; tho all looked like brand new. Christmas cookies are such fun all will remember; I will try and find and post a Merry Christmas recipe for cookies; oodles of them; cut and bake the cookies, let cool; then make "frosting" of all kinds with food coloring; let the fun begin!
Mess? Yes, but easily washes up. I used to have neighborhood kids over yearly to make these! And if they get say $3 each: they can go to the $1 store and choose their own things! My grandkids used to love to do this: note: it will take a great deal of patience as they change their minds 1000 times each!
November 24, 2010
0

found this helpful
I would check with local churches. If they are not able to help then they can point you in the right direction. My prayers are with you all the Holiday season.
November 24, 2010
0

found this helpful
If you are in Madison county then try this: it is Christmas charities year round.
I really hope this helps because I also know what it is like to go with out presents.
Address
2840 Jordan Lane
Huntsville, AL 35816
Phone: 256-837-2373
Hours of Operations
Monday through Friday
7:30 A.M to 4:30 P.M
November 27, 2010
0

found this helpful
I have volunteered for a national charity called Love, INC . They have branches all over the country. They/we do everything from household repairs to financial help. Please contact one near you by clicking on this link and then clicking on your state. They will be more than happy to help and to guide you in any way they can.
www.loveinc.org/.../
November 29, 2016
0

found this helpful
Have they signed up with a program to help them?
November 19, 2017
0

found this helpful
You have never been in our situations. 1.00 is a lot to us meaning weather we keep a roof over our chikds heads and food on the table and electricity on. When you don't even get enough money to do those things how are we even going to get the gas to get to the dollar store or find a dollar plus tax to buy a gift. I am a 4 time breast cancer suvivor that is totally disabled and my husband is very sick but tried to pick up off kind as a handyman. It kills us to have to ask for help. Then we have people talk to us like this. Really! I pray God softens yours and many others hearts. My daughter cries, you don't know what that feels like. Not to be able to give her a gift or cake for her birthay! Let alone provide Christmas. She is a Christian, and is so hurt by the devil!
Answer

this Question
I am seeking help for Christmas. I have two children and I am a single parent. Are there any programs to get help anymore?
By Trista DeShea R. from Ashville, AL

Answers
November 29, 2013
0

found this helpful
More than likely you are too late to apply for help. Most of the charities have cut off dates of mid-November. It would also help to know the ages of your kids because most of the charities have age limits of 12-13 years. These conditions are so that they know how to budget their money for Christmas help.
Call the phone number 211, that is a nationwide number that might be able to advise you for your area. It does help to plan ahead, buy one or two items a month and put them away. I have been a single mother, now I am a single great grandmother and still follow that practice. That is the only way I can afford to do Christmas. None of the family gets designer clothes or electronic stuff.
November 30, 2013
0

found this helpful
You can try local churches or ask a councilor at your children's school.
Answer

this Question
I know a divorced mother of 3 who has lost her job. Her ex-husband lost his job and is on unemployment benefits.There is no money for Christmas. This family needs help. They live in Blount county in Hayden, Alabama. How can I get them help?
By Renee' A.
Answers
November 15, 2011
0

found this helpful
I'm sure her ex husband still has to pay child support. The family that needs help has to fill out an application at each place that they apply for help. Also most places have a cut off age of 12 years for gifts for kids. Call 211, it is a national HELPLINE! organization that keeps a list of organizations in a given area that provide different types of help. You can also call the Salvation Army. I would guess that this woman has a social worker and would think that she would have spoke to that person about it. I would also assume if she is unemployed that she is on food stamps. Speak to your pastor, maybe he would ask the church to take up a special offering for a family in the community that has fallen on hard times. As far as that goes, you and a few friends could play Santa and have a real good holiday feeling. You could do this by going together and buying a couple inexpensive gifts for each kid, wrapping them and going up to the door and leaving the packages at the door, knock on the door, run and hide to see the reaction when the door is opened.
November 16, 2011
0

found this helpful
Toys for Tots can help but she will need to get her application to them very soon. I'm sure there is a Marine Recruiting Office in Cullman that can assist her in how to follow that process. Second Harvest is a program that might be able to supplement her food, even if she's on food stamp assistance.
Many people don't realize (or care for that matter) that food stamps are severely limited, it's not like it was 10 years ago. I have watched a college student from a poor family try to go to school full time, work part time and exist on $60/month for food assistance. If you think that would be easy, remember when several rich congressmen tried it on $100 a few years ago and all of them ended up cheating.
Answer

this Question
My brother-in-law and sister-in-law are needing help to buy their 3 beautiful girls Christmas. They have been having a very hard time here lately. As of right now, they are staying at my in-laws, they have no car and my brother-in-law is in and out of work. They are in dire need of help considering the money situation.
I'm doing the most I can to try and help them even though I don't have much money either. They have 3 girls. The ages of the girls are 11, 6, and 2. Basically, I asking for help for them so the girls can have something for Christmas. Please offer some suggestions for where I can find help.
By Amanda
Answers
December 3, 2013
0

found this helpful
The charities that I am aware of that provide Christmas help have a cut off date of mid-November. This is so they can do their budgeting. Somebody in the family should be able to buy each one of the kids a $5.00 gift at WalMart. One gift is all any kid needs from each person that gives the family gifts. When I was married we weren't well to do, but we were comfortable and all we ever gave our kids was one gift each. Then they got from both sets of grandparent, aunts and uncles, etc. Talk to your pastor, sometimes they will take up an anonymous offering for a needy member of the congregation. Call 211, it is a national clearing house of organizations that provide different types of help in different locations.
Answer

this Question
Archives
ThriftyFun is one of the longest running frugal living communities on the Internet. These are archives of older discussions.
Charities that offer help during the holiday season in Alabama. Please post feedback about any charities you may know about.

Editor's Note: Do NOT post here if you need help. ThriftyFun does not have resources to give direct help to those in need.

Published by ThriftyFun.
© 1997-2021 by Cumuli, Inc. All Rights Reserved.
https://www.myfrugalchristmas.com/Alabama-Christmas-Charities-1.html