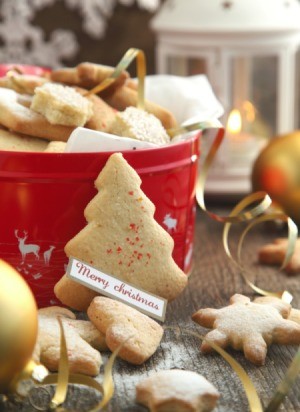 I love cookies so when I heard about Cookie Swaps, I was in HEAVEN! There are many ways you can do your party. I set the date and just asked all my guest to bring a big batch of their favorite cookies. Try to see what kind they are making so you don't end up with all one kind.
When the guests arrived, we placed the cookies on a table and everyone was able to get what ever they wanted. I also made a few other finger foods that were not sweet so we didn't all have a sugar overload, lol.
We played a few games that were fun. I broke the girls up into pairs and they had one minute to write down all the words they could think of that started with a certain letter that the host chose (such as the letter D). Then after 1 minute, they have to make up a story using all the words they came up with!
I also had the guest bring a cheap $1-5 dollar wrapped present and played a gift exchange game which, with the right crowd, can be dangerous (lol) and REALLY fun! At the end of the night, I gave everyone a bag to place whatever cookies that were left over in. We had lots of fun!
This year, I am already planning. I found some cute jars at a thrift store and I am going to fill it up with candy so they can guess how many there are (closest guess gets the jar). I'm going to ask that all guest wear the UGLIEST sweater they can possibly find (I can't wait for this). I will give a gift to the one with the ugliest sweater also, and of course a prize will go to the best cookie. That reminds me, tell your guests to bring the recipe with them because if it is a good cookie, you know that someone will want it!
Also, while I was at the thrift store, I noticed they had a huge pile of Christmas tins that were 25-50 cents. They would be PERFECT for guests to take home their cookies in. Just make sure to clean them all out!
My party was a ladies only. It is so nice to kick the men and kids out and have a night for the ladies! Please feel free to tell me how you do your cookie swap parties I would LOVE to know and if you have anymore fun game ideas!
Also, it probably wouldn't hurt to have a gallon of milk nearby!
Read More

Comments
I host a cookie exchange every Christmas season and part of our fun is the way we package our cookies. It has actually become a contest. This coming year we even have a theme of fa la la la la. We must come up with some cookie and packaging combo related to Christmas music, angles singing, or a choir. Any suggestions? This was my idea, but I am stumped on this one.
By Jane from PA
Answers

July 11, 2010
0

found this helpful
How about putting them in a box, cover with Christmas wrapping paper and put a CD on the cover that has Christmas music. You can find them for like a dollar in the stores, especially this time of year. Doesn't have to be a best seller but any holiday music cd, the recipients get cookies plus holiday music too!
There are lots of plastic canvas Christmas patterns for boxes of different sizes. Plastic canvas is easy to do.
Read More

Answers