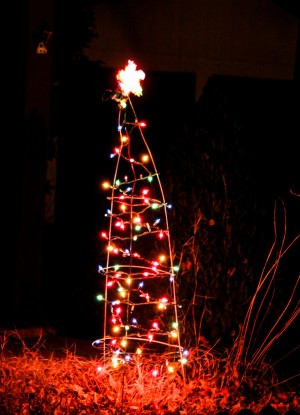 These "trees" are great for apartment balconies as well. Take a tomato cage, turn it upside down, and bend the legs into the center. Wind one or two strands of Christmas lights around, securing with ordinary twist ties and voila! A Christmas Tree. You can embellish with tinsel, natural tree boughs, grape vine, berries, or whatever else your imagination can dream up. When Christmas season is over, just unwind the lights and you are ready for tomato gardening.
Used in this upside down fashion, tomato cages also make great bases for topiaries or something to put in the center of your outdoor container arrangements when you want height, since giving you something to tie the plants too. Put a sheet over it and you have a ghost for Halloween. The possibilities are endless. The nice thing about this is that you really never end up storing it and it is almost always in use.
By Lou Anne from Belleville, Ontario, Canada
Read More

Comments
I am searching for a pattern to make Santa and Mrs. Claus made with tomato cages. The pattern I had was from a magazine in the 90s . I lent it to someone and they did not return it to me. I hope I can find the pattern so I can make them for my grandchildren for Christmas 2013. Thank you.
By Marion
Answers

February 9, 2013
0

found this helpful
I have the pattern for Tomato Cage Santa & possible for the Mrs. also but need to know the materials these were made from. My
Santa was made from paper twist however with my 100's of craft books dating back from the early 70's to bout 2005. I know I probably have that book of the 90's but need to know material before my search! Thank you,
Elaine

February 10, 2013
0

found this helpful
If anyone could find it I would love a copy, I made one for a friend, I believe it was from Crafts'n'things 1992/93 and had a styrofoam ball head covered in quilt batting and pantyhose.

January 1, 2015
0

found this helpful
I am also looking for this pattern. It was fabric... on the cover of November 1992 Crafts n Things"

October 29, 2016
0

found this helpful
Did you find this pattern because I am looking for the page with the measurements

September 4, 2017
1

found this helpful
hi I am looking for this pattern for mr and mrs clause done on tomoto wire cage.its done with cotton material ,could I please have this pattern willing to pay for it

October 17, 2017
0

found this helpful
the mr and mrs santa were made from cotton xmas prints

September 15, 2018
0

found this helpful
I made a set inthe 80s and lost the pattern. I had to remove the heads because they were damaged. Now I need to know how the heads were made, therefore a pattern is needed. Can anyone help?

Pghgirl40
Bronze Feedback Medal for All Time! 196 Feedbacks
September 15, 2018
0

found this helpful
Maybe you could use the head from the angel in this video to fix yours:

September 26, 2018
0

found this helpful
I am also looking for the pattern and willing to pay for copying and postage. I made several sets in the early 2000's and no longer have the pattern. Thank you

November 15, 2019
1

found this helpful
I am also looking for these! My mom made Mr. & Mrs. Claus when I was younger and would love to have the pattern to restore them.
The styrofoam heads are falling off. I have searched EVERYWHERE for the original pattern!

January 31, 2020
0

found this helpful
Did you find the directions I would love to get it.
Read More

Answers
I am looking for a pattern to make a tomato cage Santa Claus. Does anyone know of a web site or have the pattern?
By Linda

Answers

January 16, 2012
0

found this helpful
I have one Santa tomato cage pattern however, you didn't specify what you wanted to make it out of, mine is paper twist and the tomato cage is 42" so it will be a rather large Santa. Here is the picture
Thank you,
Elaine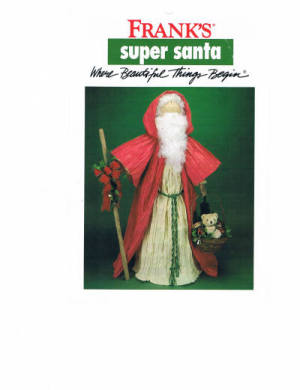 November 8, 2019
0

found this helpful
Elaine,
Do you have the pattern for Santa? Ive been looking all over for it, my mom made this years ago and she would love to make another.
Pam
Read More

Answers

How can I make a snowman with lights out of a tomato cage? Or any other Christmas decorations out of tomato cages. Anything but the garland and lights to make trees. I've done this.
Dottie from Dansville, NY
Answers
By Sheila (Guest Post)
November 5, 2008
0

found this helpful
Turn cage upside down. Stick a huge styrofoam ball on for the head. An angel would look good. Put lights on the inside to make the angel glow.
By Claudia G. (Guest Post)
November 5, 2008
0

found this helpful
First you get some Styrofoam balls to make the head. Then put it on top of the cage. Get some red cloth for the dress for Mrs.Claus. Use your own ideas for the dress to make it your own design.
BE sure to use a wig for her hair. Use your ideas for making her face features and make up.They do take a little time but have fun with your creations.Good luck.
By cheryl (Guest Post)
December 15, 2008
0

found this helpful
How about this. Purchase a white plastic table cloth. Cut about 12" off the entire length of the plastic (end) and set aside (arms). Now hot glue your ends together making a large circle. This will be the body. Take heavy card board and cut it about 3" larger than your tomato cage top. This will be the bottom of your first ball. Purchase 50 or so clear LED lights and some packing styrofoam. These will make your first 2 layers. Hot glue, "using low heat sticks" your cardboard to your cage. Then glue your plastic onto the bottom of your cardboard, make sure it's nice and smooth as you go. Once that's done you can add your packing chips and lights, I plug mine in so I can see what's going on as I go.
Fill your first layer as full as you wish and then tie it off, and wire it to the cage so it won't move. This part will be covered by the second layer. I use more packing foam along with white grocery bags and stuff and adjust the lights and fullness as I go. Take and tie this off the same as before. Arms the 12" plastic glue into a cylinder, insert a coat hanger if you want them to be movable. Now the top where the pointy wire is, pull it all together and duck tape it. Below that, insert your arms from one side to the other and find where you want them and secure them in place. Take the biggest styrofoam ball you can purchase (approx 12") cover with white plastic as well. Put hot glue on the top and push the head on. Cover 2 6" balls in white plastic for the hands. Glue ends of coat wire and push balls on. Purchase hat, garland, carrot, scarf and other decor at Dollarama. Have fun playing around until it's just right. Oh about the lights, make sure you leave the male end out the back at the bottom. Poke a hole in your seam area. I get lots of compliments on mine.
Answer

this Question

Has anyone the directions for Christmas carolers made from tomato cages and sweaters?

Gamapat from Up North, WI

Answers
By Karen L. (Guest Post)
October 30, 2008
0

found this helpful
Sounds like it would be so cute. Did you see the ghosts made from tomato cages? I'd love to see pics of these when you get them done.
Answer

this Question