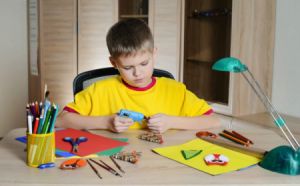 One year a friend of mine gave each of my kids a box (the one shaped like a little milk carton) of Whoppers candy. It was the cutest idea and my kids just loved it! You could use Milk Duds or gum balls that are in similar containers.
Antlers:
She had taken dark brown fun foam and cut out shapes of reindeer/moose antlers and glued them to the top edge of one of the sides of the carton to where they stood up above the carton.
Eyes:
She got two giant google eyes and glued those to the front of two large light brown pom poms and those are glued just on top of the bottom edge of the antlers.
Snout/Nose:
She took another big light brown pom pom ball and glued that on for a snout and glued a small red pom pom on top of that for a nose. That was glued just under the eyes centered between the two pom poms.
Bowtie:
And then she took ribbon and made a bow and glued that just under the snout then glued a regular sized jingle bell at the base of the bow.
Tail:
On the bottom of the other side (backside to the face) she cut a "trap door" out of the side of the carton and glued another large light brown pom pom for a tail that also serves as the "door" handle to open the trap door.
On the front of the moose just under the bow tie, this little jingle had been typed and printed out and glued to the carton:
"I am a moose
that is neat!
Just lift up my tail,
for nuggets to eat."
You could also type reindeer instead of moose.
After the kids ate all of their candy, we cut a slit in the top of the carton for them to use as a piggy bank.
By Tawnda
Comments

December 21, 2004
0

found this helpful
Top Comment
I love this idea! Except...we are going to buy a carton of chocolate milk...empty it by cutting out the "trap door". Rinsing it well. We are buying chocolate covered peanuts for the "poop" to fill the carton with. I don't have brown pompoms at home so we are going to paint with brown acrylic paint some styrofoam balls for the eyes and nose.
The red pompom for the tip of the nose will be substituted by a red berry from a Christmas wreath somewhere in my house. I think I have the bell, the bow and brown cardboard to make antlers with. The 6 year old we are giving it to for Christmas should be thrilled. Thanks for the wonderful idea!!
Read More

Comments
We are planning our annual company Christmas event. This event is for company employees with their families that will include children. The children's ages range from 2 to 3 years and teenagers as well. We are in need 1 or two crafts that they can be involved in for about two hours of their time. Somthing that will not be too complicated or messy because of the location and other circumstances involved with the event.
We have a budget to follow and the cost needs to be minimal and yet fun stuff. The event will take place on December 10. The number of kids is not yet known. Would appreciate some help with suggestions. Thank you in advance for your help.
Janet
Answers

September 23, 2005
0

found this helpful
Best Answer
How about making candy canes out of tri-beads and pipe cleaners. Alternate red or green beads with white or clear. Then shape into a cane. Add a string as a hanger. Pretty simple and inexpensive too!
By Linda (Guest Post)
September 23, 2005
0

found this helpful
Best Answer
Cute reindeer candy canes are easy. Use a candy cane, fold a pipe cleaner in half and wrap it around the hook of the candy cane, then twist or bend it to resmble antlers. On the curved part of the cane glue 2 jiggle eyes and a red pom pom nose. Use tacky glue.
Answer

this Question

Hello Frugal Friends,

My daughter is looking for quick and easy Christmas crafts for her and her daughter to do to share with her first grade class. Any ideas would be greatly appreciated.
Thanks,
Teresa from VA
Answers
By susan (Guest Post)
November 15, 2006
0

found this helpful
Best Answer
There's always the old Rudolph candy canes- just twist brown pipe cleaners (cut in half) around the curve of the cane for antlers, glue on googly eyes and a small red pom pom nose (can get at crafts store or use a cinnamon candy decor). Can jazz these up with ribbon/pipe cleaner "scarves" too.
Or- cut two large mittens out of construction paper.
Have glitter, scraps, markers etc. to decorate. Make sure child's name is on them. Punch holes and string them together with about 10" of yarn- cute tree decoration. Can make for every family member and pets too.
Bring me back to my Brownie leader days! Cherish this time >^..^<
Answer

this Question