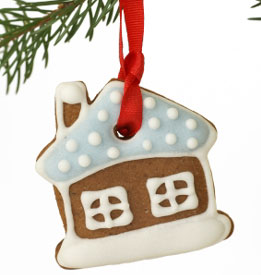 Let toddlers decorate gingerbread decorations.
Christmas gifts that your small children can help make. Here are some ideas posted from the ThriftyFun community.
Glass Ornaments
When my boys were little we took glass ornaments, these were the ones that were colored, now you can buy clear ones. We cut up shiny paper, either wrapping paper or any other type of paper that is shiny, cut it into small pieces and put it in the ornaments. Then we took a gold marker and put our names on them, the date, "Merry Christmas" and the person that was to recieve them. My family members still have them and put them on their tree every year. We all had a lot of fun doing it together. If you use the one with colors inside, just pour in some bleach, shake and that will remove the color. Be sure to wear gloves if you do this. It's a keepsake that lasts a lifetime. Have fun, and good luck.
By Stacey
Be Creative
Make gifts by taking old pictures and making some type of collage and frame it. This may work for the younger ones, maybe even for the older ones. Get old frames (wood or metal) and let them make their own type of frames. Same with stationary. Kids have a large sense of creativity and can come up with many things. Simple things and/or inexpensive "crafts" can get their imaginations going. One year for my niece's birthday party, I went out and bought small canvas bags; you can get them at Walmart for $.97 cents, put some fabric paint with it and let them make their own things. The total cost for me was about $10.00.
By Stacey Liddle
Santa's Smelly Socks
Someone posted this somewhere else but what about Santa's Smelly Socks?
By Johnathan
Make Cookies
You can make thumbprint cookies and have all the kids involved. The little one can make the thumbprint and the others can help with the filling, or whatever is age-appropriate. We also made cinnamon ornaments one year. Both recipes are on the internet. Just Google!
By Terri
Candy Cane Craft
I have a 2, 4, 6 & 8 year old and they love to make candy canes out of beads and pipe cleaners. Even my 2 year old can do it, plus it's a good hand, eye coordination skill for him. You may even be able to use the thicker pipecleaners (or use 2 or 3 together) with the larger pony beads!
By Nona
Calendars
One neat idea is to make calendars. Have the children make an art page for each month on colored construction paper, then print out the calendar pages on your printer, and bind them together with small rings, plastic binders, or tie them with ribbon. You can do handprint art, etc. Here are the ideas I have used:
January: Use round sponges to stamp a snowman, do snowflakes with white fingerprints.
February: Two hands with the palms overlapping at right angles make a heart, or heart shaped sponges.
March: cut out kites and let the kids decorate, then glue on, with sponge print clouds.
April: A bunny from a handprint. May: Handprint flowers.
June: Hand print fish.
July: Cut handprint shape on flag print fabric, make glitter fireworks.
You get the idea, use your imagination. It makes a great gift!
By Kay
Handprint Coasters
Another idea: Make handprints with paint on paper or cloth, cut around them in a circular shape, then laminate them. They make great coasters!
By Kay
Handprints
How about mixing up some plaster of paris or even play dough and pressing her hand prints in it - even feet - Then you can "help" her print her name and date on it. I'm a gramma and I'd love it!
By Marlene
Handprint Wreath
I was looking on the web and found a Christmas wreath. You trace your childs hands on construction paper, (4 red and 4 green), glue them togeather to make a circle... and then in the middle place a picture of the child. I think I'm going to do this for my parents and in-laws this year myself.
By chenoa
Footprint Cards
Make a reindeer or Santa on a blank Christmas card using her foot print for the head of the reindeer or the Santa body (foot dipped in tempera paint and used as a stamp, then add the details of antlers and eyes, etc. with whatever to make it fancy.
Post your ideas below.
Answers

Marty Dick
Bronze Post Medal for All Time! 169 Posts
September 27, 2007
0

found this helpful
Best Answer
Place the hands, palms down on a piece of paper with the thumbs touching. Have an adult trace around both hands. Then have the child connect the ends of the fingers with a crayon line. Let them use bright colors to decorate and then a black crayon line upward from each thumb and you have a lovely butterfly.
I'm not sure what they are called but the little disc that goes on top of a canning jar to seal it makes a nice little photo frame for a school picture. It has a "gold" rim around and a piece of ribbon or string can be attached to hang it on the Christmas tree.
Answer

this Question