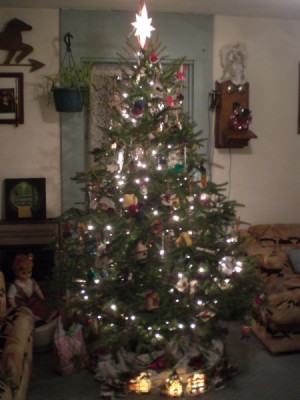 As newly retired parents to three young adult children, we have decided as a family to reframe our Christmas into something more meaningful than gifts to us. Rather than buying and receiving expensive items that our young adult children can't afford (with college loans and life expenses), we are starting new traditions with our family. Maybe you might want to use one or two yourself!
Here are some suggestions:
Attend a religious or special ceremony, performance or event together that supports the family and meaning of this holiday and your community. It can even be a concert or children's Christmas Pageant.
Put everyone's name in a box and draw out one name each. If the participants have any ideas of items they might like but wouldn't normally buy for themselves, they can write the item or items on the slip of paper as well. That way, the buyer will actually be buying something the recipient would need or want! We made a $30 limit on this gift, but you can make whatever amount youd like!
Ask each person to also buy one small grab bag item anyone could use ($5 limit for us) and wrap it. You can make it a certain theme (house related or sport; whatever) *See the rules description below.
Anyone is welcomed to bring or suggest a game to play during the holiday time together. Cranium is a fun grown up game that is interactive and is a lot of laughs for everyone! Scrabble, checkers or chess, Yatzhee and Uno or cards are other good choices. Remember, the real point is sharing fun time with the people we love! Have snacks throughout!
Everyone is encouraged to bring any special foods, if they like to share. They can be snacks for during the games, appetizers, desserts or even side dishes for the meal you will share.
If anyone plays an instrument and is willing, a family sing along with Christmas carols are wonderful! Even an instrumental CD would work to sing along with too. You could even make songs with your own words for real fun!
When you gather to exchange the gifts, one person reads a Trivia Question (find them on the internet) Whoever answers correctly first gets to pick their gift from under the tree. Then they read the next question, and so on. It just makes getting your gift more game like and fun!
*To enjoy the grab bag, each person rolls a pair of dice. If they roll a 7 or 11 they choose one of the miscellaneous wrapped gifts and just hold on to it. When all the gifts have been taken, then you set a 2 minute timer and start rolling again. This time the 7 or 11 winner gets to TAKE a gift from one of the other players. You could make it the person's gift on the LEFT for a 7 and the person's gift on the RIGHT for an 11. If it's your OWN gift, you can choose to take the OPPOSITE side's gift. It's really just for fun and it won't come out evenly, which is why I suggest this for an adult game, not children. Of course after opening these small gifts, anyone can trade them around if desired.
We are still hanging Christmas stockings for all three of the kids (and a fiancé) where anyone can add anything special if they'd like.
So parents can still get a low key way to give gift checks, gift cards or cash to help your young adults out without making them feel bad not having lavish gifts abound.
Personally, I told my kids that a gift to me could be a donation to mine or their favorite charitable organization (they can always use it!) or a donation of a food item for a food kitchen or local animal shelter.
I would also appreciate a handmade ornament with the current year's date on it for my tree. I especially like small framed photos of the family.
Happy Holidays Everyone! May you have a loving a meaningful time with your loved ones!