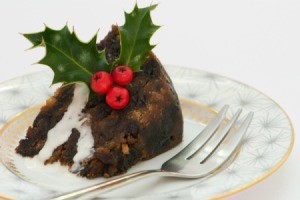 We always had one of these at Christmas, traditionally called a 'clootie' dumpling because they were boiled in white cloths. There are many recipes for clootie dumpling but I find this one easiest and not too rich.
Ingredients:
1 cup self rising flour
1 cup raisins
1 cup currants
1 cup shredded suet
1 cup sugar
1 cup breadcrumbs
1 cup milk
1 egg
1/2 tsp. bicarb. soda
1/2 tsp. ginger
1/2 tsp. cinnamon
1 tsp. mixed spices
Directions:
I soak the fruit overnight in brandy or sherry, drain well and dust with flour to prevent fruit from sinking to bottom of pudding. P>Mix all ingredients and steam for 3 - 3 1/2 hours. I don't use a cloth. A bowl with a lid is fine (or cover it with greaseproof paper - quite a big bowl (3 pint)
Before serving, turn out and serve with hot custard (my favorite) and/or cream.
Can be made well ahead and stored to mature. Reheat in microwave.
Traditionally, small silver coins (threepenny pieces) were scattered in the dumpling for the kids but this would go against health and safety rules nowadays. :-(
Source: Many years ago from a co-patient in hospital.
By marion davidson from Scotland
Read More

Comments

This is a nice pudding and, as the title says, boozy. My husband is a teatotaler, but loves this.
He says the flavour is lovely. I know it says Christmas pudding, but it can be make at any time.
Read More...