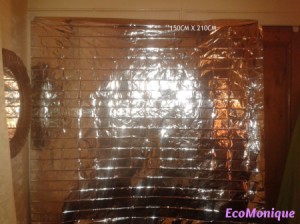 I thought of this last year after purchasing some thermal space blankets for my parents to keep in their cars. They live in the middle of nowhere and I always worry in case they break down in bad weather. I kept a few for myself.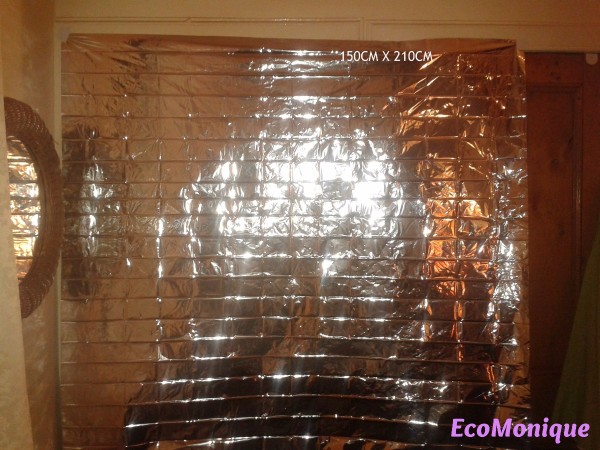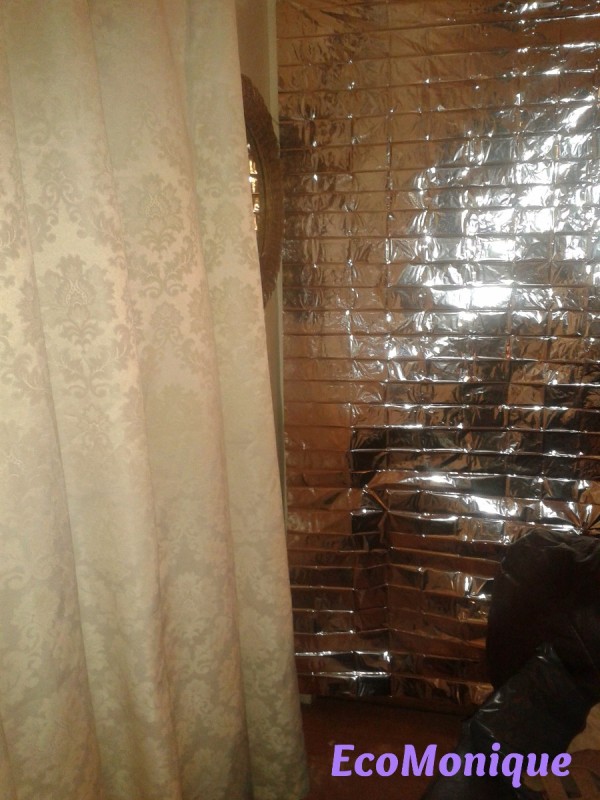 For your benefit, I tacked it to my wall to show you the size of the ones I have and I might just leave it there! This year is exceptionally cold in Scotland and as you can see the blanket covers the whole of one door plus a good three-quarters of the door beside it. (And there's wall in-between!) Just outside the one door is a drafty back door. I'll put some tabs on either side so I can remove them when I need access.
It is recommended you keep foil blankets away from fire. Be careful with fairy lights near them. Mine are sized: Adult 150cm x 210cm. They say they are lightweight, compact and disposable.
Last year, I bought a large birthday gift and thought to wrap it with a space blanket. There was still a lot left over so you could even cover a bicycle with just one sheet!
Here are some Christmas uses:

They do come in gold and silver and wrapped gifts look wonderful tied with a decorative bow. Cut one sheet into four squares to wrap four large presents.
You could also use one cut in a circular shape to place under your Christmas tree to put your gifts on and, if your tree is real, to catch the dropping needles.
Use one as a festive backdrop on a wall. Add a banner wishing everyone a great Christmas from your family. Stars, snowflakes and 2D baubles with glitter would add a nice touch. Print some festive pictures of family to your backdrop too.
Use as a tablecloth, either on the dining table or to cover a buffet or drinks table.
With a little double-sided tape, tack a sheet down in the hallway where people enter your home. A good place to leave wet boots and shoes.
I will be donating some extra blankets to the homeless.
Merry Christmas to all ThriftyFun friends!