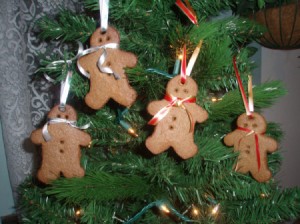 Mix cinnamon (I bought a big jar of it at a local dollar store) with a little applesauce, (using your judgement and adding it slowly) mixing with my hands until it's the consistency of pie crust. Too wet, add more cinnamon.
Sprinkle some cinnamon on a board and roll out the dough on it about 1/4 inch thick, cutting it with your cookie cutters. I use two sizes of straws to cut holes (as shown) one hole to hang the finished gingerbread man and one for eyes and buttons and punch them out.
Then you can let them air dry on a cookie tin by a wood stove, in an oven set at low or in a dehydrator. Times vary according to method used, of course.
Check that they are dry by looking at the back of them in the torso. The back should all look the same color and not darker indicating moisture.
Once they are totally dry, just use your ribbons, sequins, or buttons and decorate anyway you would like! I keep my very simple (see photo) since I like a "homey" look. I placed mine in little snack bags and tied them closed with ribbon to preserve the scent until opened, but the scent lasts quite long since they are made entirely of cinnamon!
Folks love them on gifts, on trees, etc. since they smell great, too. I end up hanging some all around the house and car as a scented decoration as well! They would make great craft projects for fundraisers too.

NOTE: They are not edible though, so make sure your recipients know that!
Just plugged in some amounts, but the choice of how much you use is up to how much you want to make! You can make one or many!