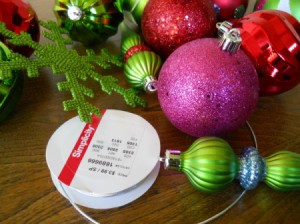 I didn't set up my Christmas tree this year, rather I added to the decorations that I bought last year, on sale at Target, to decorate my dogwood tree in the yard.
The candy canes and lollipops from last year held up well, so I decided to buy more of the plastic, shatterproof ornaments this year. The two larger ones were my indulgence. When I saw them at Lowe's I knew that I had to have them even though they were pricey.
I also split the contents of a large box purchased last year with my daughter and added them to my collection. Some of the ornaments came with silver cord hangers, for the rest I bought a spool of similar, elasticized cord from JoAnn Fabrics, using a 50% off coupon, of course :)
Next year perhaps I can add LED lights and more ornaments, of course then I will have to haul out the ladder to reach some of the upper branches. This time I used the hooked end of a shoe horn from Ikea to pull down a few of the upper ones.
I really like the beginnings of this decorating project, hope you do too.