Three years ago, I made about 450 ornaments, hoping to sell them at the local Holiday show in Turner, OR. I think I still have oh...about 425 left! Not a great show and definitely my last.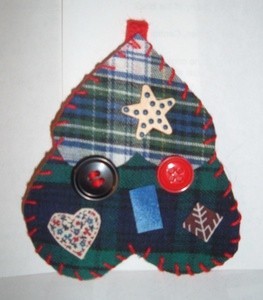 Read More...

Does anyone have ideas for simple Christmas decorations for a beginner at sewing and simple crochet. I am on a fixed income and would love to have ideas to help pass time too!
God bless and Merry Christmas!
Answers

November 15, 2008
0

found this helpful
Its not decorations exactly, but my family uses fabric gift bags. These are as simple as you think to make... Just remember to have a deep "hem" at the top to make it pretty when you gather it. You can use lots of things as the "ties" and trimming... use your imagination and remnants.

November 15, 2008
0

found this helpful
There is many ideas on this web site if you look through the craft projects. I do a newsletter for several crafters that are pen pals with myself, we connect through this with many ideas, sharing. If you are interested please feel free to send an email requesting the newsletter & I will be glad to send you some simple ideas as well. piwacket AT myway.com

Coreen Hart
Bronze Feedback Medal for All Time! 153 Feedbacks
November 17, 2008
0

found this helpful
One very easy Christmas tree decoration is to get a ring such as the plastic ones that hold soda cans together or a bone ring, and single crochet all around them. You can add a second or third row of single crochets. Be sure the stitches completely cover the ring. Glue on some sparkly beads or glitter glue dots if you like. Then add a bow with ribbon and glue. I suggest using any color but green or black, because they disappear on a green tree. Gold is fantastic! Hope this gives you an inspiration.
By pghgirl40 (Guest Post)
November 17, 2008
0

found this helpful
Hello, I crochet pairs of ice skates using a paperclip as the skate. You single crochet across the top of the clip. Then single stitch 4-6 rows (depending on the thickness of your yarn). Then starting from what will be the heel of the skate, crochet half the length of the foot part of the skate. Finish by single crocheting as many of the boot part of the skate (another 8-12 rows depending on how deep high you want your skate to go.) When you get the skate as big as you want it chain stitch on the top of the heel side to make the lace. Crochet the second one to match the first and tie them together. I will try to scan and post a picture of one of these. They turn out very cute and are very inexpensive to make. You can dress them up and make them any color. I have also used this same "pattern" came out of my head, as baby bootie ornaments to tie to baby gifts (just don't use the paperclip).

November 17, 2008
0

found this helpful
I make a lot of ornaments, and you will see them all coming by the end of the month. Some are sewn, and most are crocheted.
I like to make a chain of about 8 using a fairly nice sized hook, like an "N".
Slip stitch to join. Then, chain two and make enough double crochets in the ring to make it full and firm. Then, chain 4 and make a loop to every other stitch.
Brake off the chain and weave in or cool glue in a loop for the hanger. With a small ribbon bow that you can make ahead of time or buy about 25 of at the DT, cool glue it to any top, with a half gem or miniature ball, holly berry, sprig of fake greenery, etc.
You have just made a minature wreath for your tree.
The other lady is right, use colors that can be seen well like red, purple, gold, silver or blue.
Sometimes, mixing two colors is cool, too.
Here's a sample of what it should look like, and works out to be about 3" round.
IDEA: Make the center larger, say chaining 12, and when you are done, cool glue a childs, pets, or friends photo inside!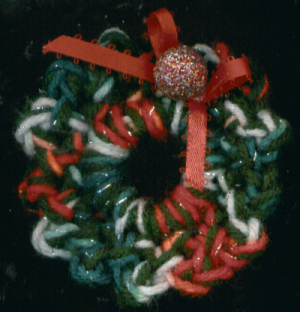 By (Guest Post)
November 19, 2008
0

found this helpful
Thanks for the great ideas!
Pat V in Michigan
Answer

this Question