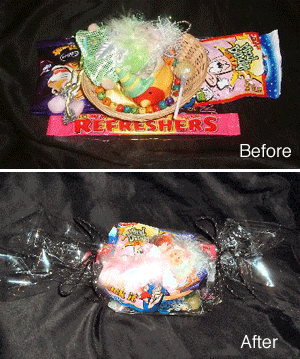 Goodie Bags As Presents
I have a frugal idea for giving gifts when you are on a tight budget. I have 6 nephews and nieces aged between 6 and 15 and, with money so tight, I didn't know what to get them all. I hit upon the idea that I would give them all 'Goodie' bags.
I started collecting things I thought they would all like. Most of them were pennies or very cheap to buy. For this gift for my young niece, I had a balloon, a pencil topper, sweeties, a handmade necklace, hanging Christmas tree decoration, a lollipop and a colourful egg cup, to name a few items. I then put all the things together in a small basket. Then with a sheet of cellophane, I tied the parcel together with two fun shoelaces. It looked fabulous.
On Christmas Day when they opened the gifts, they were all excited to receive their Goodie Bags. From all the expensive gifts they opened that day their goodie bags seemed to go down best of all! I had wrapped the finished gifts by putting them inside a black plastic sack and cutting off the tops. I tied each one with a big red ribbon and each child had a name tag attached to theirs.
The first birthday of the year is coming soon and I am thinking of doing another goody bag to suit the child.
So there you have it, a well received and great looking gift for just pennies or cents!
By Monique from Somerset, UK
Read More Comments