This is a Christmas wreath using old CDs for sparkle. Can be used with or without greenery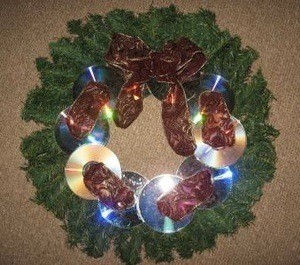 Approximate Time: 30 minutes to 1 hour
Supplies:
old CDs
craft glue
greenery
ribbon with wire edges
piece of wire
Instructions:
Take the CDs and glue them together to make a circle. Use as many as needed for the size circle you want. I also glued two of them back to back if the wreath will be seen from both sides. If not, just use a single CD if it will be covered by the greenery.
Once you have a circle, Take the ribbon and thread it through the holes, leaving enough ribbon in each section to pull it up and cover the cd holes. Make a bow out of the remaining ribbon and glue to the wreath wherever you like.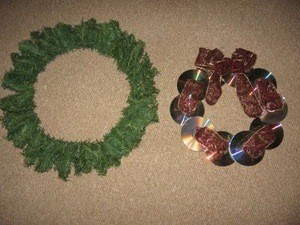 You can use this just like this, or if you have any greenery laying around, you can put the CD's on top of the greenery, or possibly glue the greenery to the back of the CD's so it shows on the outer edges or use any older type wreath and just put the CD wreath on top.
Make a hanger with the wire, and also use the wire to attach the CD wreath to the greenery.
I do not know if you can use a hot glue gun on this project as it may melt the CD's.
This makes a really shiny wreath that sparkles if the sun hits it or if lights hit it. If you wanted I think adding the small white lights to it would really make it reflective. I did not try that with mine, yet.
By Susan from Mulberry, FL
Comments
Read More

Comments