Making a Dog Bone Christmas Stocking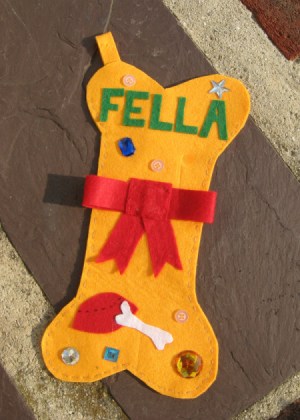 I created this project for my own special dog "Fella". I decided to go to the Dollar Store one day and was able to find everything I needed there to create it. I liked the color of the Shammies and decided to use one package for the stocking itself for only one dollar. I was able to get a package of felt for another dollar and had loose rhinestones and buttons at home to embellish it. And Fella finally had his own stocking.
Approximate Time: one hour
Supplies:
1 package of kitchen size Shammies
scissors
needle and thread
assorted buttons and rhinestones
1 package of felt sheets
hot glue gun and glue sticks
stick pins
Sharpie marker
Instructions:
Take one Shammy and either keep it folded or you can open it up and draw your dog bone form onto it. (You can use a pencil with dull point.)
Pin both pieces of Shammy together and cut out form.
Begin sewing 1 1/2 to 2 inches from the top of the stocking (because you want to leave a large enough opening for the top of the stocking). Then begin sewing around the stocking leaving a 1/4 of inch border as you go along. Once you reach the other side do not forget to stop to leave another 1 1/2 inch to 2 inches from the top of the stocking.
To make the loop to hang your stocking, cut a piece from your scraps measuring 1/2 inch in width and four inches in length. Fold the piece in half and then sew your loop in the right or left hand corner. I sewed it to the back piece of the left hand side of the stocking, reinforcing it by sewing a box and then an "X" in the middle of the square.
Make the tails of the bow first by cutting two 1 inch wide and 3 inch long pieces of felt. Then fold over one end of each piece and cut on a diagonal making the angled tail of your bow.
To make the pictured bow, cut a piece of red felt 1 inch wide by 10 inches in length. Fold the piece in half to get the center point and then place a small dab of hot glue to the middle of the piece of felt and hot glue the piece to the stocking using the fold line as the center point. Then take the two tails of the bow and hot glue them underneath this piece centering them to form the tail of your bow and hot glue. Complete hot gluing the long piece of the "soon be bow" to the stocking.
Take the ends of the long piece of felt and hot glue to the center of piece of felt creating a bow. Then cut a 1 1/4 by 1 1/2 inch square of the red felt to use as the center of the bow and hot glue.
Draw a dog bowl, color of your choice, and cut it out. You can either hand stitch the top of the bowl or use a Sharpie marker to draw a dashed line to show the top rim of the bowl and cut out a matching bone with white felt.
You can use stencils or hand draw your letters or they also sell pre-cut felt letters you can use. You just cut out the name you would like to attach to your stocking. I hand drew my letters, drawing two lines on my felt 1 1/4 inch inches apart and then making the letters 3/4 inches in width. You can either sew your letters on before you sew your stocking together or you can hot glue them on.
Once your letters are attached just simply hot glue buttons or rhinestones or anything you would like finish it. This stocking makes a great gift for friends' pets or your own and is very inexpensive to make!
Note: With your leftover Shammy material you can also take any cookie cutters you may have and trace them onto your pieces, cut them out, decorate them and make them into ornaments. (Stuffed or not stuffed.) I used cotton balls to stuff mine.
By Beth Helwig from Gettysburg, PA
Categories
Pages
More
Sub-Categories
Published by ThriftyFun.
© 1997-2022 by Cumuli, Inc. All Rights Reserved.
https://www.myfrugalchristmas.com/Making-a-Dog-Bone-Christmas-Stocking.html