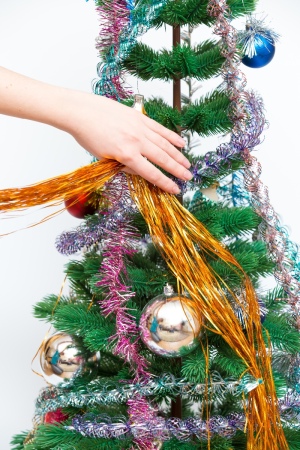 I have an old artificial christmas tree and I would like to make trees from treated straight tree limbs by drilling holes in the tree limbs and inserting the greenery from the artificial tree. I have seen this type tree at Target this year. I would like ideas about duplicating it by recycling my old artificial tree.
Kathy from south Pittsburg, TN
Answers
By Debi (Guest Post)
December 10, 2006
0

found this helpful
I just finished making my own alpine tree from an old artificial christmas tree. I had my husband cut 2 small pine trees, stripping stripping the limbs to create a bare bark post. One 6 foot and one 4 foot.
I separated the branches from the artifical tree into sizes. Drilled holes in the pine trees, where I wanted to insert the branches. Working from the bottom to the top. I staggered the branches to create the alpine tree look. I used 2 of the larger branches for the top. My alpine trees are beautiful and one of a kind. I used the top of the artificial tree as a small tree, in which i inserted in a nice brass planter. Now I have 3 trees made from one ugly artifical tree.

Joan
Bronze Feedback Medal for All Time! 186 Feedbacks
November 8, 2009
0

found this helpful
The first artificial trees were made out of a wood pole with holes drilled in it, the holes were slanted and were kind of staggered. Then the holes at different heights of the tree were painted different colors and the ends of the different lenght branches were painted the appropriate color to put in the right colored hole. This was for putting it together on a yearly basis.
The one we had was a really nice looking tree and lasted for twenty years before the holes started getting too big for the branches to fit in properly. Actually as far as fullness goes, I think it was a much nicer looking tree than the ones that are more modern and easier to assemble.

January 25, 2010
0

found this helpful
I have made a Christmas tree out of a tomato cage. I turned it upside down and put green rope garland around it, and decorated it the colors that I wanted for that year. sandycrafty1

March 14, 2017
0

found this helpful
I had fun last summer making my trio of trees I brought 3 really cheep trees I used the top part of the tree as it was but cut all the lower branches off and put them in to drilled holes in the tree steaks
Answer

this Question

Maybe you can help me. I would like to make a tree, and I have a idea how, but I am not positive how to proceed.
Here is what I am doing. I have a pipe about 6 feet tall. I covered it with chicken wire, then I put cement over the chicken wire and pipe. I smoothed almost everything out, so it looks like a tree trunk.
Then I put some more cement on a couple different places so it looks like a left over knob from a cut off branch. I have some pipes that are medium around for the branches. The only problem I have is, I have no idea how to connect the medium pipes to the main pipe (tree trunk).
How do I put the branches and the leaves on it? Where can I get some big leaves? Can you help me? I love your arts and crafts and I did a lot of them with the Girl Scouts. Please respond. Thank you.
Rosy
Answers

June 26, 2011
0

found this helpful
I knew a teacher who turned a supporting post in the classroom into a large tree. I forget how he did it. It was an inside tree though. I was looking at this, and here is one link I found:
www.ehow.com/how_4814681_artificial-palm-tree...
I like trees too, and one day I will probably make one for the house!
Have fun!
Robyn
Answer

this Question