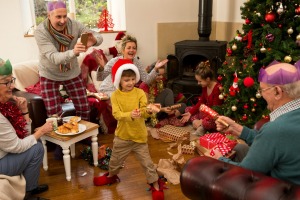 I have been trying to think of "thrifty" presents for my immediate family. I am also planning to buy them modestly priced "new" items but I thought a thrifty gift would also be special, because they know I am into that kind of thing. Here is what I have come up with. I hope other people will also contribute their ideas.
For Mom, 2nd grade teacher and homemaker: A bundle of Hallmark magazines from 2007. I know she doesn't subscribe to this magazine but I think she would enjoy reading my old copies.
For Dad, retired math teacher: A set of geometry crossword puzzles with vocabulary words and problems that I have made for my classes (I am a math teacher, too). He loves to do crossword puzzles and I know he enjoys math.
For Brother #1, college student living on his own for the first time: A set of easy recipes, many from thriftyfun.com, that I have made successfully and that he can make in his apartment, or cook for my parents if he decides to ditch his slacker roommates and move back home. He seems to enjoy cooking and talks about how his roommates only eat "gross frozen food."
For Brother #2, aspiring auto-mechanic: A monogrammed mechanics clean-up kit. This will consist of a bottle of dishwashing detergent with his initials written on it with a sharpie, as well as shop rags also with his initials in sharpie. Of course, the shop rags would come from my husbands pile of old clean socks with holes. (I know, it's kind of a stretch, but he is hard to think of gifts for.)
For Hubby: Fresh AA batteries and a new brush head for his electric toothbrush that he hasn't used in a few months just because he's been to busy to charge the batteries and I keep forgetting to get him a brush head.
I hope other people will also contribute their ideas!
By Allison from northeast TN
Read More

Comments
I am currently a college student, living on my own, and definitely on a budget for Christmas. I have 3 brothers, all married, and 4 nieces and 1 nephew, plus my parents to buy for. My boyfriend's family I am also very close with, and everyone in the family always buys me something. There are 9 people on that side to buy for, as well.
I was wondering if anyone has some thrifty ideas on something sentimental I could make, or great places to shop. My budget will probably be around $150- MAYBE $200 for everything. I believe I have around 22 people to buy for. The ages of the nieces and nephew range from 1 year up to 11. Thank you for any help or ideas you can offer!
Kimberly from Tracy, CA
Answers
Read More

Answers