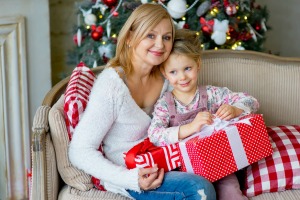 I have 3 small grandkids - boys - 6 months, 2 years, and 4 years. They are cousins to each other, and live near each other. They call me "Nani". They are overwhelmed with toys - new and passed-down. They have lots of clothes - the same. What in the world can I "wrap" up for them - when they come over on Christmas day morning? There's nothing I can buy they don't already have to play with or wear. It's just so unbeliveably hard to find something "unique".
Nancy
Answers
By Gayle (Guest Post)
November 14, 2004
0

found this helpful
Best Answer
I have several kids on my gift list that are overwhelmed with things, too. In the past I've given them beautiful books, art supplies (they always need replenishing), US savings bonds, original art pieces (yes, kids DO appreciate art and it will increase in value or, at least, have sentimental value), audio tapes (kids love music), and videos.
Hope that helps.
By Trix (Guest Post)
November 14, 2004
0

found this helpful
Best Answer
One idea I had was for you to make them audio tapes to listen to at home, in the car, or whenever they aren't with you. Just find their favourite stories and songs that they like to share with you (or make one up yourself!) and then record it so they can hear grandma anytime they want to.
You could also give them "lessons with grandma coupons." Find some activity you'd love to teach them (cooking, baking, card playing, a musical instrument, art/craft lessons or whatever you're good at) and give them lesson coupons and whatever equipment they'll need (apron, rolling pin, playing cards, instrument, art/craft supplies etc.). Have the coupons made up for however many lessons you want and this way you're not only giving them a present to open, but also some special time and learning with Grandma to look forward to.
The only other idea I had is some kind of passes or memberships to local attractions. I know memberships here to the zoo are a great deal and can give them as many visits as they want in the next year and I'm sure you could find memberships to other places like science centres and indoor playgrounds. Since opening up a membership pass isn't a lot of fun, you could find some little gift to go along with it, like a disposible camera and album to take pictures on their visit to the zoo, or a stuffed exotic animal, or a picture book of animals, etc.
Hope this helps!
By Anja (Guest Post)
November 14, 2004
0

found this helpful
Best Answer
Books, books and more books!
First, there are companies that will personalize books for your grandbabies. You fill in a form and they paste the info into a story that then is all about "Sammy's Adventures" or whoever... Better yet, find a favorite story from your childhood and write it down, then replace the hero's name with the child's, his sidekick with the best friend's name, place names with local favorite spots and so on.
2nd, scrapbooks about your grandbabies, or better yet, about their parents, are easy to create and print on the computer. When they destroy them, you can just print out another copy. Make sure that the title page says something like "Sammy's scrapbook about Mommy that Nani wrote just for him!" You get the idea. There are also teething rings for the youngest that have spaces to insert family pictures, but only put one face per insert space so you don't overwhelm the baby.
3rd, at those ages, any picture books are wonderful, and they're all of an age to enjoy books that squeak, or have pieces to pull in and out, or pop-up books.
The biggest problem with books as a gift is letting the parents know that it's ok for the kids to treat the books as a toy. All too often books like this land on a shelf and busy parents don't have time to pull them down to read to the kids. So, come up with books that are easily replaceable and insist that the kids put them on the toy shelf within reach and just play!
By Kim (Guest Post)
November 27, 2004
0

found this helpful
Best Answer
My mom made each of her grandkids a photo album using an inexpensive notebook and then covered it with padding and fabric to fit each childs personality. Each year she picks a family picture and has a negative made and enlarged. She scraps it and then has it color copied, (so she doesn't have to scrap all of them. She's got 20 grandkids!) She then writes a small story about that picture and puts it on the back or scraps it with the picture depending on the size of the picture.
Then they just put it in the album she made for them. Some of the grandkids (because of age) don't really appreciate it yet, but they will some day! When she first origanally made the album she had a baby picture of herself and one of my dad, along with the story about their births. One year she did their wedding picture and then told the story about that. It truly is a beautiful gift! I would give anything if I had such a gift from my grandparents, who are not passed on.

July 31, 2007
0

found this helpful
Best Answer
Maybe you could write down your childhood memories and ways of living when you were a child, make it into a book and give each child a copy. Also genealogical information presented in style, will give them many happy hours, with their memories of their Nani.
You could also use old photographs to enhance the genealogical information.
Read More

Answers