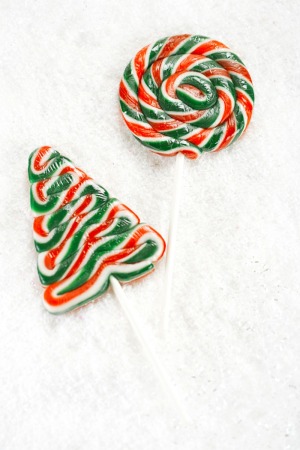 Does anyone have any ideas for Christmas crafts using lollipops?

Sheila from Chittenango, New York

Answers
By darlene (Guest Post)
December 3, 2007
0

found this helpful
I bought some cute lollipop animals at a craft fair. you can take a globe-shaped lollipop (not a flat round one). Choose some fabric colors that will be the color of an appropriate animal....brown for bear, green for frog, etc. Cut a piece of fabric into a square that you can shape around the lollipop to fashion a "head". then, take a rubber band or string to tie off the fabric around the stick or "neck" of the lollipop.
Cut a strip of fabric to tie off around the neck to hide the rubber band or string. Next, you will glue on eyes and use fabric paint to draw a mouth, and use coordinating colored pom poms to glue on as ears. I image you could even use other animal prints to get even more creative (zebra, tiger,etc.). Check out your fabric stores scrap or clearance section. have fun and happy holidays!
December 3, 2007
0

found this helpful
A lady that I work with has a tootsie pop that has been made into an angel. The tootsie pop is hanging upside down. A wooden bead with a face painted on it is threaded on the stick. The stick is then wrapped up with silver ribbon with enough left at the end to hang it by. For the wings I think it is a paper doily that is pinched in the center and glued to the stick of the sucker. It is really cute.
December 5, 2007
0

found this helpful
A friend of mine made topiaries one year with lollipops.
Just use the guidelines in the "Easy Topiary" post from Momof1. You will have to cut the sticks off shorter before inserting them into the styrofoam ball.
They are really cute for Christmas done with red and green suckers as well.
Have fun!
By (Guest Post)
December 6, 2007
0

found this helpful
Cut out a bell shape from construction paper. Allow child to decorate it with glitter pens, Christmas stickers, pictures cut from old Christmas cards, etc. Tape a lollipop to the middle of bottom on the back so the candy hangs down and looks like the bell clanger.
By Marie (Guest Post)
December 10, 2007
0

found this helpful
LOLLIPOP ANGELS
Cut square from white fabric or sheet (adjust the square for the size of the lollipop). Put the lollipop in the middle, like a Halloween ghost. Make sure the fabric square is big enough to cover the lollipop stick. Twist (like a twist tie) a metallic pipe cleaner under the lollipop & use ends to shape the wings. Make a small circle out of pieces of gold pipe cleaners & glue on top for the halo. Use a fine tipped pen (like a fine Sharpie) to draw a simple face (two u's for closed eyes & a small circle for a mouth makes a singing angel face!) Tie a piece of string around its neck to hang from the tree.
Answer

this Question