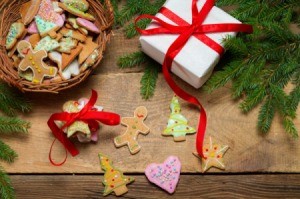 Any ideas for homemade Christmas presents? Our budget is tight. All my siblings' kids are grown, so we're talking presents for adults here.

ShellR from NC

Answers
By Shellee (Guest Post)
October 22, 2006
0

found this helpful
I don't know if this helps, but in our family, once a kid turned 18, s/he wasn't considered a kid anymore and was off the "kids get a gift" list. S/He was added to the Christmas gift pick list (the adults in our family draw names and buy a gift only for that person and for children under 18).
Some other idead: For college kids, food is always appreciated. Or make Advent calendars to countdown the days until Christmas (I'm having my students make an Advent calendar paper chain with inexpensive ideas on making the holidays more meaningful taped on the inside of the rings). Maybe write a letter describing a favorite memory you have of that person as their gift. Or give everybody an inexpensive, funny gift I put together for a friend that is useful: a roll of toilet paper and a bottle of air freshener (I included a book and a candle). Could you talk your family into having a White Elephant exchange? Hope these help! Good luck!

October 22, 2006
0

found this helpful
There are alot of online sites with free "recipes" for making things like homemade bath salts, lotions, scented spritzers, cookies- in a jar (with card telling how to prepare) etc. Just type in "homemade bath salts" on your search and you can find lots of sites. You could make those and give as gifts for the ladies you know.
Men always appreciate gifts of homemade baked goods. :-)

Paula
Bronze Feedback Medal for All Time! 156 Feedbacks
October 22, 2006
0

found this helpful
Do you buy gifts for each adult or do you draw names and only have one gift to give? My husband's family has 8 adult siblings and seven adult "kids" so we draw names and on the slips we put a suggestion or two about what we would like or maybe what size we would wear. I always make up gift baskets for the names that my husband and I draw and I try to personalize it with items that I know the recipient would like. I put in all sorts of snacks items, cheese, crackers, candy, wine with glasses, and a music cd of their favorite artist, and some small items that go along with their taste. For example, a cat-lover would get little notecards with cats on them and a pen; for an older lady the purple hat club theme would be cute, instead of a basket you could buy a purple hat and turn it upside down to put items into it. For a man, I would put in snack items and cans of beer for them to use when watching their favorite sports game, you can always find little fillers that are sports themed to add to the basket.
For book lovers, a basket with a paperback, a coffee cup or tea cup along with small packets of tea or coffee, some tasty cookies, and a bookmark, maybe even a gift card from a bookstore. How about a big popcorn bowl filled with packets of pop corn, cans of soda, candy bars, a video or two, or maybe a gift card for a video store. You could even put in Jiffy Pop popcorn into the gift and make your own cover to put on over the Jiffy Pop label. My favorite site that has free personalized popcorn covers, tea bag packets, candy bar labels, and flower seed packets is www.alenkasprintables.com. You can personalize all sorts of things to add to your baskets. To finish off the basket, and make it look professional, buy some shrink wrap or shrink bags from Walmart or sometimes even the dollar stores, place your basket inside and use a blow dryer on it to shrink the plastic. Tie a little bow at the top and your gift is ready to give!

October 23, 2006
0

found this helpful
Good for you for getting away from the commercialization of Christmas, ShellR!
I've been doing this (providing home-made gifts for family and friends) for years! And I love it! And recipients love it, too (each item was made by me and obviously involved time and thought). If you want some easy recipes for such things as fudge and mustard and spiced nuts, please e-mail me at wordswork@telusplanet.net. Home-made fruit brandy and apple jelly and pepper jelly are also very nice.
I'm lucky to be able to sew and crochet, everyone wears scarves and they're quick to make (as well as reasonably inexpensive if you shop around for yarn).
My whole family has gotten into this. Mom makes the best breads, Gramma makes wonderful cookies, my Sister does needle-point, Dad hooks rugs .... All it requires is a bit of imagination and the willingness to try different things (some of my failures include hand-dipped cherries in chocolate, canned home-made spaghetti sauce).
Good luck! And have fun.
Cheers,
Rose Anne

October 24, 2006
0

found this helpful
It`s far better to "make" a small gift for each member of the family and friends than it is to "draw names". Remember what Christmas is about. Jesus didn`t "draw names" but gave to all of us. Better to just say "MERRY CHRISTMAS" if you have no money for gifts. Drawing names only carries on the commercialization of Christmas. If one doesn`t believe in the true meaning of
CHRISTMAS then just forget it but don`t try to change it. Don`t mean to "Preach" but am weary of commercialized CHRISTMAS. Thanks.

October 24, 2006
0

found this helpful
We only buy for ea of our Moms and our own children (aged 8 and 6)....other than that I give gifts to school staff members and bus drivers. We got away with exchanging with all the siblings and giving to nieces/nephews. We did it a very long time and sometime it just has to end. If your finances are very tight, give a small homemade gift, an edible gift that you buy or make or perhaps a small gift card....maybe even prepaid phone cards. I had seen some very low cost ones at the Dollar store. Of course, they didn't have very much time on them, perhaps only 20 mins but that and a card is sufficient if funds are low and you have a large Christmas list.
You might consider the gifts in a jar, such as cookies, brownies or soup in a jar. Hot cocoa mix is also good.
I think there is far too much time and money spent at Christmas. Since we've gotten away from so much exchanging, it really is quite liberating. I waited a very long time for my children (whom we adopted from Russia) and now I am quite happy just concentrating on them!
By (Guest Post)
October 24, 2006
0

found this helpful
It's not homemade exactly - but I give lots of BOOKS. YOu can get really nice ones at thrift shops, etc. for $1 quite often. I just got a really nice OLD book of poetry with a leather cover I plan to give SOMEONE. You can also give collections of samples in a nice presentation box of basket - this is good for those who travel....One year I made an apricot brandy with vodka and apricots & put it in nice bottles. And one year I painted bottles.....

October 24, 2006
0

found this helpful
Wow Mairmie, that is putting it all in perspective. I never thought about drawing names this way but thank you. I come from a large family and we have been drawing names for years. I appreciate that you brought to my attention that Jesus did not draw names.
My husband and I have always tried to do something small for everyone but it wasn't always possible. For several years, we made homemade grape jelly and rasberry jam. Everyong received a jar of each. They appreciated it as they knew it was made with love. Our vines and bushes died therefore this came to a stop. A fun things for the kids is a picnic lunch. Take a bandana and put a mini can of pop or a drink box, a piece of fruit or fruit snacks, small pack of teddy grahams, inexpensive pair of sunglasses or any other small inexpensive toy. Tie it up and your done. No wrapping as the banadana is the package.
Get a $2 bill for each child. Not a lot but they all love the bills that they don't think about every day.
I have already started my shopping. I was at Pier 1 a couple of weeks ago. They had 50% there clearance items. I was so excited. I bought bowl candles that are about 7 inches diameter for my sisters and my nieces for $3 each. I don't think I could make anything for that.
Keep thinking of little things that you might like. Chances are, your family would like the same.
By Wendy Hervey Bay, Australia (Guest Post)
October 25, 2006
0

found this helpful
Hi
I like the idea of 'Gift cards' for things such as babysitting; car wash, polish & vacuumn; ironing by the basket load; lawnmowing; water plants when the recipient goes on holidays; walk the dog; bath & groom the dog; housework by the hour; body massage; manicure; pedicure; facial; scalp massage; a relaxing hairbrusing by the hour; do the weekly grocery shopping; weed the garden; wash windows; defrost freezer & clean refridgerator;
I received a pair of plaid tea towels (can be bought cheaply at the supermarket) that had ducks cut out of a contrasting fabric & been sewn on as applique (stick on with iron webbing then just sew around unsing blanket stitch). They were a gorgeous gift that I have always treasured as my friend took the time to notice the colour scheme of my kitchen. If you are a talented sewer, you could also stitch a monogram onto plain white pillow slips 'His' & 'Hers'; A personalised bar-b-q apron is always welcome, expecially if you can do a couple of matching picnic tea towels &/or maybe tea cloth & servettes. Or, a cutlery roll for a picnic setting. Just fold a tea towel lengthwise into 3rds & sew channels for the cutlery, then fold the top 1/3 down over the cutlery channels & sew a ribbon at one end to tie around the roll when the cutlery is inserted. You could use plastic cutlery if you can't find any reasonably priced cutlery. You could also sew a tea cloth & servettes to make a matching set.
By Tanya (Guest Post)
December 6, 2006
0

found this helpful
I am finding it really hard to find something for my boyfriend, I want to get him something that he'll love, but I can't afford an expensive gift and am scared if I do make him something he won't like it. I did draw him a picture of a kitten a few weeks back and he loved it and is now on his wall. I want to give him a present though that he will cherish for a long time. Need help, thanks
By Tanya (Guest Post)
December 6, 2006
0

found this helpful
It's me again, just forgot to add that he is a HUGE gamer, loves kittens, and loves my cooking but I have no stove to cook with that is until I go home for the holidays, but he will be there with me all the time, so what do I do?
By Ashley (Guest Post)
November 13, 2007
0

found this helpful
I need ideas for christmas ideas for a young adult... can you help???
By Songbird (Guest Post)
November 18, 2008
0

found this helpful
Check out the link below. Obviously its something you would make for females, because I don't know many men that would appreciate it, but you can customize it to suite someone's decorating style. :-)
By smexychick121 (Guest Post)
December 9, 2008
0

found this helpful
Does anyone have some home made Christmas gift ideas for people aged 8 to Adult?
Answer

this Question