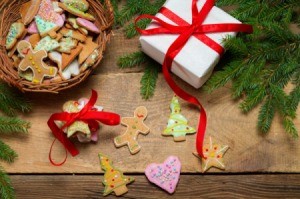 Any ideas for homemade Christmas presents? Our budget is tight. All my siblings' kids are grown, so we're talking presents for adults here.

ShellR from NC

Answers
By Shellee (Guest Post)
October 22, 2006
0

found this helpful
I don't know if this helps, but in our family, once a kid turned 18, s/he wasn't considered a kid anymore and was off the "kids get a gift" list. S/He was added to the Christmas gift pick list (the adults in our family draw names and buy a gift only for that person and for children under 18).
Some other idead: For college kids, food is always appreciated. Or make Advent calendars to countdown the days until Christmas (I'm having my students make an Advent calendar paper chain with inexpensive ideas on making the holidays more meaningful taped on the inside of the rings). Maybe write a letter describing a favorite memory you have of that person as their gift. Or give everybody an inexpensive, funny gift I put together for a friend that is useful: a roll of toilet paper and a bottle of air freshener (I included a book and a candle). Could you talk your family into having a White Elephant exchange? Hope these help! Good luck!
October 22, 2006
0

found this helpful
There are alot of online sites with free "recipes" for making things like homemade bath salts, lotions, scented spritzers, cookies- in a jar (with card telling how to prepare) etc. Just type in "homemade bath salts" on your search and you can find lots of sites. You could make those and give as gifts for the ladies you know.
Men always appreciate gifts of homemade baked goods. :-)
October 22, 2006
0

found this helpful
Do you buy gifts for each adult or do you draw names and only have one gift to give? My husband's family has 8 adult siblings and seven adult "kids" so we draw names and on the slips we put a suggestion or two about what we would like or maybe what size we would wear. I always make up gift baskets for the names that my husband and I draw and I try to personalize it with items that I know the recipient would like. I put in all sorts of snacks items, cheese, crackers, candy, wine with glasses, and a music cd of their favorite artist, and some small items that go along with their taste. For example, a cat-lover would get little notecards with cats on them and a pen; for an older lady the purple hat club theme would be cute, instead of a basket you could buy a purple hat and turn it upside down to put items into it. For a man, I would put in snack items and cans of beer for them to use when watching their favorite sports game, you can always find little fillers that are sports themed to add to the basket. For book lovers, a basket with a paperback, a coffee cup or tea cup along with small packets of tea or coffee, some tasty cookies, and a bookmark, maybe even a gift card from a bookstore. How about a big popcorn bowl filled with packets of pop corn, cans of soda, candy bars, a video or two, or maybe a gift card for a video store. You could even put in Jiffy Pop popcorn into the gift and make your own cover to put on over the Jiffy Pop label. My favorite site that has free personalized popcorn covers, tea bag packets, candy bar labels, and flower seed packets is www.alenkasprintables.com. You can personalize all sorts of things to add to your baskets. To finish off the basket, and make it look professional, buy some shrink wrap or shrink bags from Walmart or sometimes even the dollar stores, place your basket inside and use a blow dryer on it to shrink the plastic. Tie a little bow at the top and your gift is ready to give!
October 23, 2006
0

found this helpful
Good for you for getting away from the commercialization of Christmas, ShellR!
I've been doing this (providing home-made gifts for family and friends) for years! And I love it! And recipients love it, too (each item was made by me and obviously involved time and thought). If you want some easy recipes for such things as fudge and mustard and spiced nuts, please e-mail me at wordswork@telusplanet.net. Home-made fruit brandy and apple jelly and pepper jelly are also very nice.
I'm lucky to be able to sew and crochet, everyone wears scarves and they're quick to make (as well as reasonably inexpensive if you shop around for yarn).
My whole family has gotten into this. Mom makes the best breads, Gramma makes wonderful cookies, my Sister does needle-point, Dad hooks rugs .... All it requires is a bit of imagination and the willingness to try different things (some of my failures include hand-dipped cherries in chocolate, canned home-made spaghetti sauce).
Good luck! And have fun.
Cheers,
Rose Anne
Read More

Answers