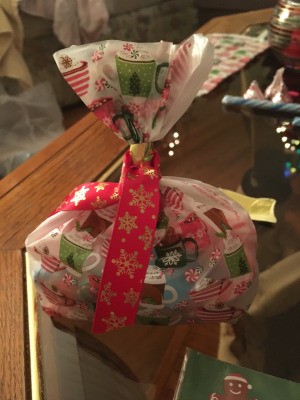 This idea was my 7 year old granddaughter's thought. She suggested to me, "Nana, you know how we have an Easter egg hunt? Why can't we have a Santa Hunt?" As she stood there with her hand on her hip. (She is quite dramatic). I told her, "Kate, that is a fun great idea!"
So, together we planned what we would put together. We would go to the Dollar Store to Buy Christmas candies, decorated bags and ribbon.
Together we made enough grab bags for each grandchild (11). They all come to Nana's on Christmas Eve. From 2-8pm. A wonderful day for our family! So, Kate will hide the bags when she gets here. Then later in the day, we will have A Santa Grab Bag Hunt, all filled with lots of goodies. I think Kate had a great idea. She is so excited to have an important job to do on Christmas!