These cute little ones are fast and easy to make. They can be used as ornaments, gift tags, or put them on a table with a little Christmas tree. They would also make a cute little gift for a neighbor, mail person, or anyone you want to show that you appreciate all they do!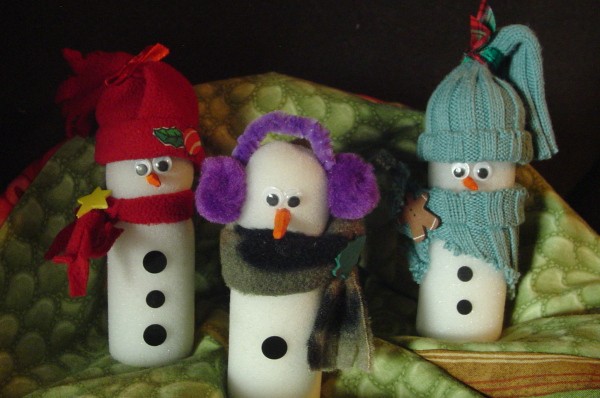 Approximate Time: 1 hr. hour approx.
Supplies:
mini foam paint roller refills
scraps of material
dowel or lollipop stick
small wiggle eyes
orange marker
trim of your choice
Instructions:
This is quite an easy project that will give cute results. I purchased these 4 inch foam rollers in Dollar Tree and they come 3 to a package. They also have a steel rod up the center where the handle for the roller would go. This helps them stand on their own. The open end is flat and the top is rounded which made them perfect for this project!

You can make the hats and scarves out of scrap material, pieces of a discarded sweater or anything you have on hand.

For the hat, make a tube and tie at top and glue to head.
Wrap a strip around the neck for a scarf and tie at side. Put spots of glue under it here and there to keep in place.
Snip a piece of dowel or a lollipop stick and shave edges with a craft knife so it resembles a carrot. Color it orange with marker. Poke a small hole in foam with tip of small pointed scissors. Put glue on end of nose and wiggle it in to the foam.
For the ear muffs, cut a piece of pipe cleaner for the band. Curve into half circle and bend ends inward. Poke a small hole on each side of roller and glue ends in, like you did the nose. Glue pom pom on each side.
Glue on small wiggle eyes.
I used the black center from the wiggle eyes for buttons. Just cut one end open on a wiggle eye and shake the black circle out. Glue on snowman for buttons and mouth, if desired. You could also use small beads or buttons.

By Mary from Palm Coast, FL
About The Author: Mary is half of a creative team on a craft oriented website. Here you will find pages of free projects and patterns in a wide variety of categories, with an entire section made especially for kids. There also is a gift shop where you can purchase unique handmade items such as collectible dolls, toys, and home decor. They offer free sayings, tips, ideas, and humor. Enter their contests for a chance to win great prizes. Visit them at: craftingtales.com
Add your voice! Click below to comment. ThriftyFun is powered by your wisdom!
December 6, 2011
0

found this helpful
What sweet snowmen! Love it!
December 6, 2011
0

found this helpful
Cute idea.
December 7, 2011
0

found this helpful
Mary, you did it again! Ann will be bragging about these too. Five thumbs up if I could. PBP
December 7, 2011
0

found this helpful
I just came back to look at these again..I shared them on facebook and they were a hit...they make me smile just seeing them!
December 9, 2011
0

found this helpful
These are adorable :) I wonder if you could tie a string around the waist very tightly to make it look more realistic. Sounds like a good idea to me :D
December 10, 2011
0

found this helpful
Thanks for the kind feedback everyone. These are a great and simple craft and I hope you all will try them.
Let me know how the string worked. Maybe a cotton type so that it won't cut through the foam? Would love to see them!
December 11, 2017
0

found this helpful
these are cute! well done!
Add your voice! Click below to comment. ThriftyFun is powered by your wisdom!