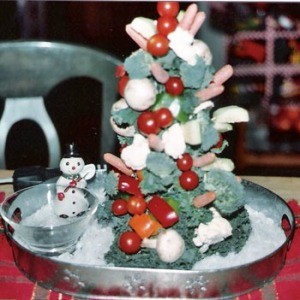 This veggie tree is a "hit" of the party; use any type of vegetable or fruit you want to use with your favorite dip. The veggie tree can be used at any type of party; change the decoration on the tray to reflect holiday or occasion. This one was for Christmas.
1 styrofoam cone
fruit or veggies of your choice (apples are especially good; alternate green and red apple slices for holiday)
toothpicks - cut in half
tray
rock salt
small resin figures or figurines
For the veggie tree - wrap styrofoam cone with curly lettuce; insert 1/2 toothpick into the veggie to place on the cone; start at the bottom; layer veggies cut to size if applicable (cucumbers, cherry tomatoes, radishes, broccoli florets, cauliflower florets, carrots,etc.); use a cherry tomato at the top.
For the fruit tree - cut apple slices and soak them in lemon juice; wrap styrofoam cone with curly lettuce or kale leaves; place 1/2 toothpick into apple to stick into the cone; layer fruit from the bottom; use a piece of star fruit at the top.
To display:
Use a tray with a side on it; layer with rock salt; place "decorated" cone in the center; decorate with resin figurines and figures; you can use small pine boughs, holly leaves to decorate tray; on one side, place a small bowl to hold dip; on the other side a small toothpick holder to hold toothpicks. A small votive candle could be placed on the display if the tray is large enough.
Dips for veggie tree could be bottled salad dressing or homemade; fruit dips can be bought at the grocery store or homemade.
It is a conversation piece plus a healthy snack for holiday enjoyment.
By WandaJo from TN
Comments
Read More

Comments