November 3, 2010
0

found this helpful
Find various delicate looking tree twigs, and or weeds, and spray paint them either white, gold or silver. Then you would have to figure out a way to fasten them onto the tree. I would think some kind of thin wire would work. There are some trees, shrubs and weeds, that have various kinds of berries on them that would work too. Also some trees and weeds develop seed pods on them and some of the ones on the trees are fairly good sized and they could be painted too. You could also cut shapes out of styrofoam sheets and paint them to hang on the tree. For styrofoam you have to use special paint. Another idea would be to use fake poinsettias.
November 4, 2010
0

found this helpful
Have your village give you any aluminium tart and pie tins. Snip then as if they were petals on flowers. Curl/twist the petals in varying ways. Spray paint if you like but you can just hang the "flowers" from the top petal to form the garland. Ditto, styrofoam (though it can not be curled).
Have people save orange peels, string them before they dry and drape those "natural " garlands. The fine suggestions by redhatterb above are helpful. Don't forget the birds. We coat pine cones will melted suet and roll them in bird seed to give out at caroling parties along with homemade dog biscuits for canine companions. Good luck. Such a lot of work ahead.
November 4, 2010
0

found this helpful
If you can get some waterproof ribbon you could make large bows to tie onto the end of branches. As you make the centre knot of each bow you could tie into it a length of string or cord and use that to tie the bows tightly onto each branch. I also wonder if you could use small empty boxes and wrap them in the plastic Christmas patterned table cloths (cheap from dollar stores) so that they look like little gifts (similar to what we used to make as kids out of matchboxes etc).
Then tie those tightly to the branches. That's the best I can come up with that's cheap and hopefully waterproof. :)
November 6, 2010
0

found this helpful
Used cd's or dvd's. They have a silvery side, you can paint them if you'd like.
November 6, 2010
0

found this helpful
If some of your grocery items come with round plastic lids in various colors, you can save them; punch a hole near the rim and tie to the tree with thin wire or ribbon. These make instant ornaments, and can be left plain, or can be painted with markers or possibly acrylic paints. Here on Long Island, NY, I have saved lovely red lids from a brand of prunes that comes in a round 18-20 oz container, and yellow lids from another brand of prunes or from Planters products.
These lids are about 4" in diameter. I have some smaller white ones from various products, and 4" black ones which I saved for Halloween crafts from yet another brand of prunes. Green and blue are rarer, for some reason.
November 6, 2010
0

found this helpful
Here is a picture of a string of 25 outdoor lights with cd's . The CD's are plain,free advertizing ones.
Our Grandkids made us chains out of heavy foil about 15-18 years ago and two years ago they remade them for us. They are used outdoors and have been rained on, Still look great.
GG Vi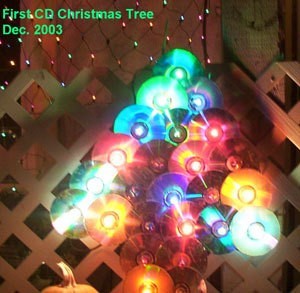 November 10, 2017
0

found this helpful
We do this in our town and I have purchased tin food trays and lids at the $ Store, created templates of trees, holly, bells, deer, etc and had my students trace and cut these out They then use hole punchers and/or hammers and nails to pierce patterns into them. Attach a wire securely to the ornament with enough left over to make a secure attachment to the tree.