Using an empty milk or juice carton, graham crackers and royal icing, create an adorable gingerbread house with your kids. This is so easy and so much fun. Making these has become a tradition at my house.
Approximate Time: 1 to 1 1/2 hours
Supplies:
empty half gallon juice or milk carton
scissors
tape
square piece of cardboard
3 egg whites at room temperature
1/2 tsp. cream of tartar
1 lb. box of powdered sugar
assorted candies and cookies
powdered sugar and sifter for snow
Instructions:
Wash and dry a half gallon size juice or milk carton. Open up the top all the way. Cut the entire top off the carton along the creases. Using scissors, cut a slit approximately 3 inches down each corner of the carton. Press two sides to the center and tape them together to form the roof. Cut along the roofline on the opposite sides to trim off the excess, then secure with tape.
Make Royal Icing by beating together 3 egg whites until foamy. Add 1/2 teaspoon of cream of tartar. Add one whole box of powdered sugar and beat until stiff. Place icing in a pastry bag or a plastic baggie with the end cut off. Use the icing to "glue" the carton to a square of cardboard for the base. Glue graham crackers to the prepared carton. Continue placing crackers on all sides. Place a thick "bead" of icing where the roof tops meet.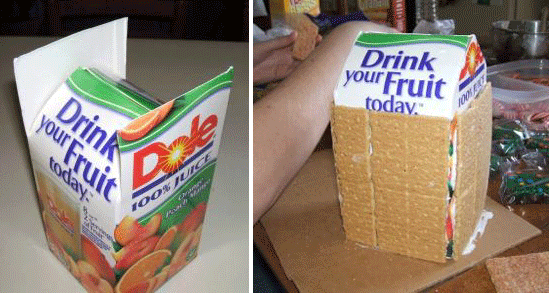 Decorate house by pushing small candies, pretzels, cookies, etc. into wet icing. Spread icing all around the "yard" of the house and use gum drops for bushes, pretzels for fences and anything else you can think of. Just be creative and have fun. When finished, use a sifter to dust the entire house and yard with powered sugar to resemble snow. Let the houses dry until icing is hard. Enjoy!
By Momof1 from Wilkesboro, NC