A decorative mailbox made from wood and posterboard.
Approximate Time: 1 hour 30 minutes
Supplies:
2 pieces wood the same size as big or little as you want
dowel cut to however far apart you want the mailbox from the base
spray paint any color you want
acrylic paints
drill or wood glue
sturdy posterboard
Spanish moss
decorations
hot glue and gun
You can find the pieces of wood (as shown in picture) at Wal-Mart already cut, but you certainly could cut your own wood to make as big as you want.
Instructions:
Take the dowel and, if you need to, cut to the size you want your base and mailbox apart. Then you can drill or glue the dowel to the bottom of one piece of wood and the top of the other piece. Then spray paint that and let dry. Cut your poster board the width of one of pieces of wood. You can lay the board on the poster board and measure. You will have to lay the poster board shape like the mailbox after you cut it out on the remainder of the poster board to make the back of the mailbox.
Glue one side of the poster board on one side of the board and bend over top and glue to the opposite side of the board, that's your mailbox shape. Glue the back on then paint the mailbox any color you want. Let dry, then you can decorate any way you want. I used ducks for mine but you could use any thing, just use your imagination. You could do this in any theme for any holiday or occasion.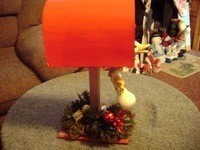 By Sandy from Bluff City, TN