How do you make lighted glass blocks for Christmas decorations and gifts? Here are some tips and tricks from the ThriftyFun community. Post your own ideas here.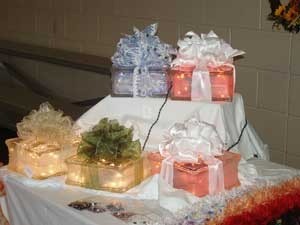 Decorate The Block With A Christmas Card
My sister made something similar to this for us one Christmas. She said just push the lights in and let them go where they will, it will all work out. I love the idea of wrapping it like a present. They are beautiful.

My sister sponged on some white paint (not a lot but, enough to give it some color) and then decoupaged on the front of an old Christmas card on one side. She stood it up and put the hole in the back and then put ribbon around the edges with a bow on top. It's very lovely and a great way to recycle cards from last year.

By Cindy
Use Fabric
I do these, but I cut fabric to size for front and back and edge, and decoupage the fabric right to the glass. I used a cute background fabric and then cut out teddy bears and blocks for a baby shower gift. On one that had dolphins on one side, whales on the other, I actually decoupaged sand for someone who loves the ocean. Hope this gives you some cute ideas.

By Lorraine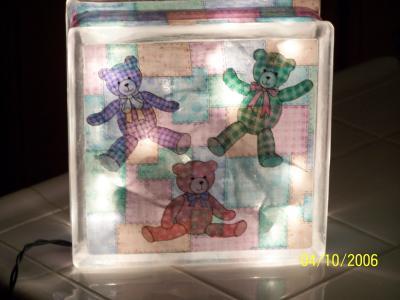 Step By Step Instructions
I started my glass block lights this weekend. After drilling the holes and rinsing them out, I let them dry for a couple of days. After drying, I spray them with Frosted Glass spray made by Rustoleum. You cannot see the light strands through the block then. I found the strands of 20 lights at CVS. They get very warm, I would not use more than 20 lights. They were easier than I thought they would be, especially with my husband doing the drilling.

By Denise
Glass Block Decoration
My wife and I have made literally hundreds of lighted glass blocks. I agree with most here that drilling the hole needs to be a slow, careful process. The correct light strand is also very important. Using single ended strands with not too many lights is the key.

The picture is a little outdated, as we now have several different unique methods of decorating and we do so for any occasion imaginable. This has been one of our most enjoyable hobbies to work on together and we have met so many wonderful people at our local craft shows in St. Louis.

What I like the best is, no matter how many crafters take on making glass block lights each one becomes a unique, personal creation. I recommend this to anyone (who is the least bit creative) as a wonderful therapy. (09/25/2009)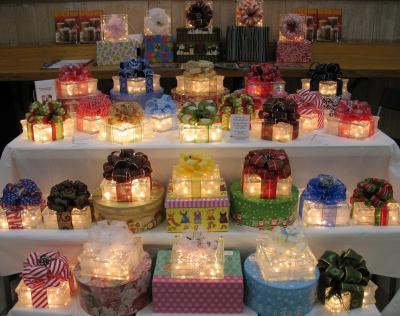 RotoZip
I just made these blocks, I used a RotoZip tool with a masonry bit (used for tile work) to drill the hole. It was fast and easy, about 5 minutes. I stand my blocks on end, drilling on the side for the hole. Regarding the dust that falls inside the block while drilling, I used the hose attachment on my vacuum cleaner to suck out the dust, that also works great. The lights I used were the mini 20 set with only on plug on one end, they are not the end to end type of light, that way all the lights fit inside with the cord and plug hanging out. I tie a bow on the front of my block and also attach 2 smaller round Christmas ornaments for a little extra flair. These make beautiful gifts.

By Laurie
Keep Your Drill Bit From Overheating And Other Tips
My wife and I just started making these (for gifts) this season. The holes were a bit difficult to drill. Tip: Use the appropriate lubricant (water in my case), so that your drill bit doesn't overheat. This will prolong the life of the (expensive) bit. Also, wear ear protection. The drill make a high pitched sound, which will cause your ears to ring. A breathing mask is advisable as well, glass dust is not a great thing to breathe.

By Dan
Cowboy Night Light
I love my new hobby, I am making custom night lites for bedroom and bath, with the block lites, I have posted a picture of one for a baby boy's room with the cowboy theme.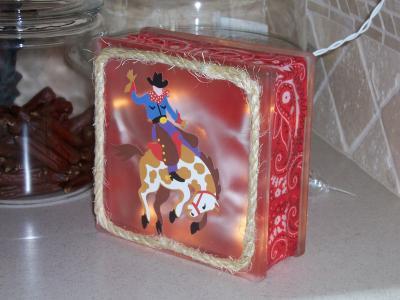 Tips For Indoor And Outdoor Blocks
I have to tell you all that I have tried many different things and settled on the following because they look the best. First, I bought my blocks at Lowe's for about $4.25 a block. I bought them in cases of 8. Next, I purchased a diamond core drill bit online from a company called McGills for $15 (just google diamond core drill bits). I used a drill press at a slow pace. It took about 4 to 5 minutes a block. I also used a diamond bit lubricant that I sprayed on with a small spray bottle. Just a little bit will do it.
I then tried different alternatives with the lights. For outside light boxes, which I use as luminarias, set upright, I used regular mini sets of 50 that I bought for $.99. I tied the bows around the sides so the lights only show through the front and back. I sprayed both sides with frosted spray from Lowe's, by Rustoleum, a couple of coats and then set them at intervals down the driveway. Very nice effect.
For indoor ones, I used LED mini lights that I got from a friend who does that for a living, so it gave me a price break. I used pre-tied bows from Lowe's that were $1.99 each. That sort of offsets the LED lights price. LED's do not get warm and they use 80% less energy. I would look online for these. I also sprayed these with frosted spray. Oh yes, I forgot I bought some opaque glass spray paint in blue and green to spray stenciled phrases like, "Peace on Earth" etc. on the fronts of the frosted glass block, that I used for the luminarias. Very cool effect.

By Gabriella
Use Rice To Clean Out Dust
I have used rice and water shaken around inside the block to clean the dust out. Empty the rice, rinse and let air dry. This does a great job of cleaning the inside. I also spray-paint the front and back with an opaque glass paint and the light wires do not show all that much.

By Glenda
EZ Bow Maker
I just found this site and love the idea of the Glass Block Christmas Decoration. I have a Deluxe EZ Bow Maker I bought at JoAnn's, it's by Offray and I make beautiful bows with it and I'm not a bow maker by any means. It's very easy to use.

By Barbara

Use A Bow Maker And Hot Glue
Everyone is on track. I made them for all my family last year. Just buy a bow maker from Michael's - it takes a few shots to "get it", but you will. I used a hot glue gun in spots to secure the ribbon to the glass. Yes, you can get 35 lights, but sometimes they are hard to find.

By Jenny
Make Your Own Vacuum Straw
To get the dust out of the blocks, take an empty toilet paper roll and attach it to the end of your vacuum hose. Take the other end of the toilet paper roll and bend it until it's cone shaped, then insert and tape a drinking straw to the end of the coned end of the roll. Put the straw through the hole in the block and suck out the dust.

By Dan
Drill Press Helps In Drilling
We made 10 of these. Beautiful. Husband had a drill press which made it easier. We used 20 lights with white cord and it was enough light. We did find that transparent ribbon did not work as well as solid patterns. We bought the blocks at Lowe's, ribbon at Joann's and WalMart. He kept spraying water as he was drilling, hardly any dust at all. At first took him 20 minutes to drill, but now he can do it in like 10 minutes. Did not break one glass. Also made smaller ones, we got those at Menards.

By Mary
Let Professionals Help
I have been making these blocks for over a year now and each time I find them done differently. I use blocks that I buy at Lowe's and have been having my holes drilled by a professional glass cutter. He has yet to break one. They come out looking wonderful and he rids me of the powder dust inside before I pick them up. That makes them a lot easier to work with.
After reading some of the feedback on this site, I am going to try to do them myself. I have found the the smaller blocks (3x3 inches) make wonderful gifts for the occasional friend or spur of the moment gift need during the holiday season. I also make the blocks using seasonal ribbon for each holiday. They make great Mother's Day gifts, too. A lot of people use them as night lights in children's rooms and bathrooms as well.
In one of the questions someone asked about the white coating around the side of some blocks, my husband used a grinder with a wire brush to remove the coating and then sand blast the sides to give the block an etched look. A florist will make you bows if you are having a time with them. Well I didn't mean to write a sonnet, but hope some of my comments help.

By Betty

Removing Paint Off Sides
For those of you who had questions about getting the white paint off of the sides of the glass blocks, just soak the block in warm water for a few minutes and the paint can be easily scraped or rubbed off. I also found that rinsing the block with water after drilling worked well in cleaning the dust out of the block.

By Marcia
Jumbled Lights Look Prettier
I make these every year. Don't worry on how the lights lay inside the block. I push my in slowly, but when they are all in I just lightly shake my block from side to side. No pattern in the lights, makes them so much prettier.

By Lisa
Use A Fake Credit Card To Scrape Off White Paint
To get the white stuff off, I wet it and use one of those fake plastic credit cards you get in the mail from credit card companies. Scrape all you can get off then I go over it with a Scotchbrite pad. Then I wipe it down with a little fingernail polish remover.

By serenity1
Add Gift Stuffing For A New Look
When you put the lights in, alternate with iridescent shredded gift stuffing, (the kind you put in the bottom of gifts baskets to take up space). The lights don't get hot enough to melt the shredded stuff and there are cool burning lights now if you can find them. I have made these with all kinds of lights from mini Easter lights in parfait colors, their cutest. Now back to the shredded stuff, its really pretty because the lights reflect off the shredded stuffing and you won't see the the cords. I found that the blocks come in 4 different sizes; I like the block that is the size of a Velveeta box, it's so different. People like my blocks because I do a 3 block set all in different sizes.

By Patty
Bowdabra
One word about making bows, Bowdabra. Buy it at Michael's.

By Mary W
Great Variety Of Glass Blocks
You can buy glass block in many sizes and shapes. Most common are 8x8 and 6x6. There are also angle block. Then you have to pick the design. They come in "VUE" which is completely see through. "Decora" (most common) which has a small ripple effect. "Icescape" which you cannot see through, kinda like frozen water on the glass. And some with diamond shapes and vertical lines. They even make "Decora" banks (money) it has a slot on one end and a hole with rubber stopper on other end. No glue on ends. They come in 8x8 and 3x3. I work for a building material company and we are a resaler of this material. A 6x6 "Icescape" is about $4.00 a piece. We sell them 1 at a time or 50. Check with Rinker Materials or go to Pittsburgh Corning web site.

By Tony
Ikea Lights
The lights I use are from IKEA. We refer to them as "rice lights." The lights are very small so inserting them into the 1/2 drilled hole is very easy. There are 40 lights to a string, and the cord color matches the color of the lights. Most likely these lights are a seasonal (Christmas) item at IKEA. I paid $5.99 per string.

By patti meyer
Two Lights In One Day
I've done two lights in one day after seeing them at a friends house Xmas party. The holes aren't too tough if you use a diamond drill. There are a couple of ways to arrange the holes, but the simplest approach is with a diamond core drill, about 3/4" should do it. My own were done with small bits and took about 1/2 hour to make the large hole. Best wishes for your success.

By Dick
Blocks With Garland
My sister just gave us these for Christmas. I think they are beautiful. She used garland and wrapped the lights. She also drilled two holes to better manipulate the lights. Hope this helps.

By Karen
Clay For A Water Dam For Cutting
Use clay to create a circular dam around the side of the block; fill the dam with water to keep the bit cool; use a diamond bit; will take no more than 1 minute per block to drill through. Rinse inside with water thoroughly and let dry. I used to remove the white stuff on the ends, but found it actually reflects the lights through the front and back so I now leave it. If you want to remove it, a wire brush and hot water make it easy work. I have experimented with just about every kind of light. I like 35 string LEDs the best, cool to touch, but expensive. Rope lights from 1000buls.com that can be cut to size also work very well. I like the rope lights in wine bottles.

By dd
Pricing Information For The Northeast
I live in PA. Over the last 2 days, I visited all of the CVS Pharmacy stores in my general area. I found Merry Brite 20 strand lites in both clear and multi-color. They were 32 cents for each box (75% off). I purchased 80 boxes which is all I could find for now.
I found the blocks at HD for $47 for 10, but if you wait until they go on sale, you can get them for under $40 per 10. I purchased rolls and rolls of wide ribbon at 50% and 75% off (I've been average $400 per 100 yard roll). The sheer fabric works and looks the best.
I sell them for $25 each and spend the summer making about 200 of them (that's more than a $20 profit). I make about $5000 at Christmas time selling them. Everyone loves them. If you put one in your office, school, doctor's reception area, etc. along with your phone number or business card, you would be surprised how quickly they sell. I was going to pay the money to set up a stand at a craft show, but why work all weekend at a show and spend $100 for a booth when they sell themselves. Most businesses will allow you to sell them from their office if you tell them they can keep the gift box on display. (01/03/2007)

By Rita
Make A Half Inch Hole And Other Tips
The hole should be 1/2" and the lights just lay randomly in the block. Also, you can purchase soft rubber grommets (1/2") at Home Depot or Lowe's in electrical and cut it so it slips over the wire and then push it into the hole to prevent wire scraping

By Jim
Resources For Materials
Best place to get lights is Hobby Lobby they have a 20 light string, white wire and sockets, for about $1.25 each. This string does not have the female plug end, so it feeds quite easily. Use a 5/8 core cutting diamond drill bit. (diamond-drill-bit-and-tool.com) Feed the lights in unanchored. To get a new arrangement, just give the box a shake. Secure the wire with a 5/8 " (#4) cork, end painted white. Secure cork with hot glue. Corks from The Wiget Company are $12.00/hundred, no tax or shipping. (widgetco.com)

By David Holt
Add Decals To Blocks
I just started making these blocks, are they ever so cute. I put NFL or Military decals on mine (I'm a military mom) my son's been in the army for 11 years. After I put the decal on, I spray mine with glass frost, I buy it at Lowe's along with my blocks. I put one color of ribbon on one side then another color on the other side. Then I use a Bowdabra to make my bows with both colors for the top.
By Connie
Glass Block Christmas Decoration
Most major chain craft stores have the plastic blocks with holes predrilled in them. Michael's craft store, Hobby Lobby, Crafts 2000 (also known as Pat Cratan)
As for the lights, myself I'd just shove them in there and let them lay helter skelter like.
Enjoy and I hope this helps. (10/17/2007)

By Katie
Glass Block Christmas Decoration
About the battery operated lights: I used a string of 10 lights in an 8X8X3 block for my daughter's dining room table and it turned out to be the perfect amount of light. I hid the battery holder under the back of the block and when turned on, with the lights out, the block is really beautiful. She is anxious to use it when the whole family comes over for Thanksgiving dinner. I can recommend using the battery operated lights. (10/25/2007)

By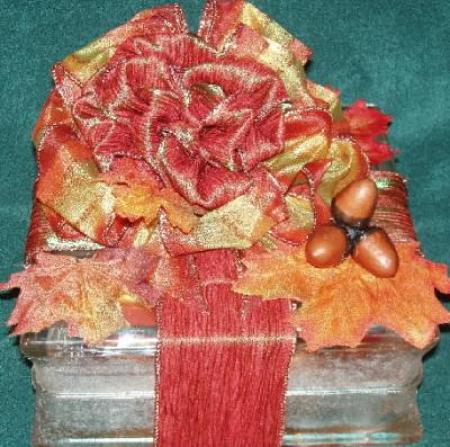 Glass Block Christmas Decoration
Believe it or not, I use a "hammer drill" to get the hole started and finish it with the "regular" electric drill. Then I take a Dremel smooth out the hole and buff as well. Nice smooth edge. My 2 drill bits have lasted 2 years. Probably have made over 40 blocks. (10/29/2007)

By Kathleen
Glass Block Christmas Decoration
I have actually stacked a larger and smaller one to make this snowman. I used liquid nails to keep them together. (10/29/2007)

By Ronda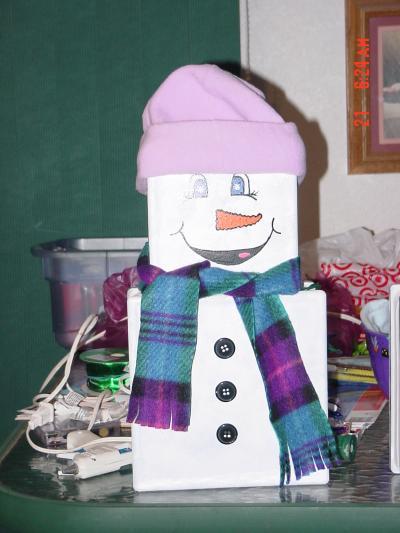 Glass Block Christmas Decoration
I am making glass blocks. They are drilled better with a drill press (slow speed) or they break. Drill with lots of water and not too much pressure on drill bit. (10/30/2007)

By Wendy
Glass Block Christmas Decoration
I am new to this, but I have used the glass blocks for my Halloween decoration by using the 100 light strands in orange and adding three strands/blocks together and lined my driveway with it. They did not get very hot, on the other hand this was outside in cooler temperature.
I intend to make some indoor ones for gifts as well, and had the idea of using window cling for decoration on it, you can print them out with various pictures/designs on your printer and they should attach nicely to it. The benefit of the window cling would be that the design can be changed for each holiday and the person receiving the gift does not have to store one for each holiday for their deco. Did anyone try that already?

By the way for the dust in them after drilling, try those vacuum attachment for the computers, they attach right to your vacuum and are small enough to get through these kind of holes. (11/08/2007)

By mamutschka
Glass Block Christmas Decoration
I found out that using Citrus Strip orange stripper with a sponge or paint brush to apply it to the white painted sides let stand 5-10 minutes, then it should wipe off. I use a small brass brush to get into the nooks n' crannies, then rinse it off with lukewarm water and dry. I just drill slowly and blow off dust as it collects while drilling, if any gets into block add water, shake it, then turn it hole side down, let it drain and dry over night and your good to go, hope this helps. (12/03/2007)

By Diane
Glass Block Christmas Decoration
I was worried that the the heat from the block might damage furniture, so I bought a pack of clear rubber like bumpers at Lowe's. (12 in a pack for about $1.50) They are located near the felt protectors that come in different sizes. I used the round ones, one under each corner of the block. I also tried larger rectangle ones. They both work well and blend right in with the block. (12/08/2007)

By Carol
Glass Block Christmas Decoration
We found a new way to dry the water out of the blocks once you clean them out. My husband put them in the oven for about 45 minutes at 275. Worked perfectly. (12/10/2007)

By Melanie
Glass Block Christmas Decoration
I started making these last year and was thrilled to find an Inkjet "window cling" at Michael's, which allows me to print my design from a graphic, which in turn will clink beautifully to the block. (No need for artistic talent here.) I printed off several seasonal designs and you can easily peel off the cling and replace it with another for the next season. I have a generic "Welcome" for non-holiday times. (12/13/2007)

By kelcee
Glass Block Christmas Decoration
I just got done doing ten glass blocks for Christmas and I used graphics off of my computer that I printed on vellum paper, than sprayed a craft glue onto the glass block and the back of the graphic and just put them on and put a ribbon and bow around. They turned out really neat, but I you have to be careful and not get any moisture around the graphic, because it will make the ink run off of the graphic and I don't know if a clear varathane will make the design run. Will go home and check it out and see if it works. Thanks for all the great ideas for glass blocks. Merry Christmas (12/18/2007)

By Pat
Glass Block Christmas Decoration
I enjoyed making this glass block. Drilling the hole takes sometime. You have to go very slow with it. (12/26/2007)

By Scottie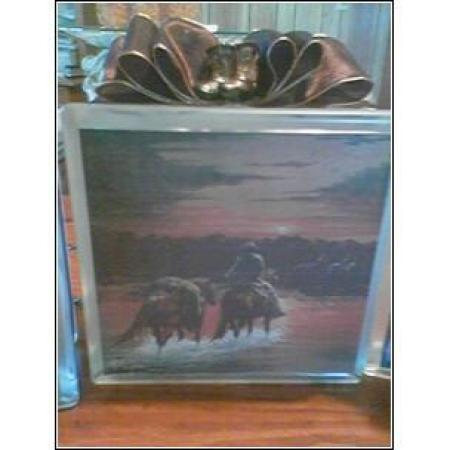 Glass Block Christmas Decoration
I bought a glass block at Hobby Lobby that already had the hole with a stopper like a bank has. You can buy the regular glass blocks at Home Depot and Lowe's. I checked around and the best way to cut the hole in them is using a Diamond Core Drill bits size 2 1/8 inch. I have not tried it yet, but plan to.
My daughter is getting married and we decided to use the glass blocks for table decorations. The ones that I decorated this Christmas I used rub-on transfers and painted the back of the block with white frost paint. I also used a sealant to keep the rub-on transfers from peeling off. I used sticky adhesive spray to attach the ribbon and lastly added the "Brrr" tin ornament as an accent. I used a 35 count LED Rice light string. I thought that it turned out pretty good. I found the pre-made bows at Michael's, Hobby Lobby and Garden Ridge after Christmas and stocked up for the next year so that I would have plenty. (12/28/2007)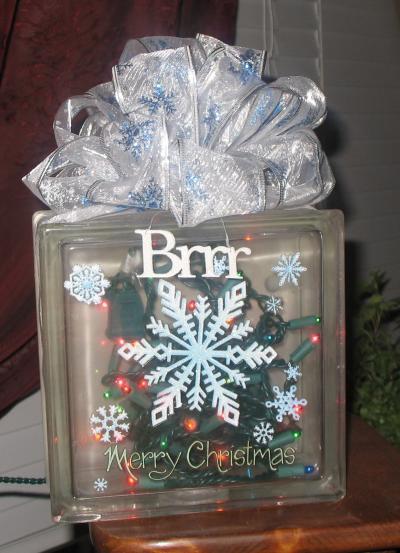 Cleaning glass block perfectly
There is a lot of discussion about cleaning the inside of the glass blocks out after drilling. I have drilled a couple of hundred of these blocks and though it can be time consuming. I wash each one with hot water "no soap", immediately after drilling and turn them hole side down in a dish drainer. Washing this quickly will not allow the glass dust to dry inside and they just sparkle when you are done. Again no soap. (02/15/2008)

By Irma
buying glass in canada
I live in Canada, and I purchase my glass blocks for 5.00 to 10.00 each, at Home Depot. I only buy about 4 at a time. The price varies depending on your size. I have also found them at Rona Lumber. (03/11/2008)

By Tracey
Glass Block Christmas Decoration
If you have a hard time finding glass blocks, try a concrete/stone supply type store. That is where I buy mine and they are cheaper than at Lowe's or Home Depot and have more of a variety. Also, to drill them you need a diamond core drill bit. There is a guy on eBay that sells them for $15. I bought from him almost a year ago. I have done over 150 blocks and the bit still works great. You do need to keep it cool with water. I paint my designs on with stained glass paint that you can purchase at Michael's or Hobby Lobby. Good luck. (03/29/2008)

By Alice
Glass Block Christmas Decoration
adheringthoughts.com
There are cute vinyl decals to put on these blocks. Look at the glass block section. (06/03/2008)

By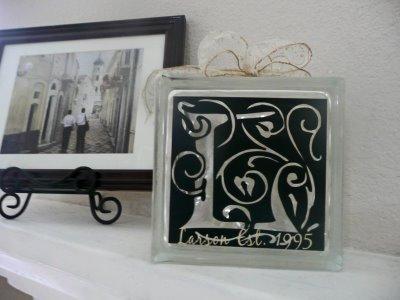 Glass Block Christmas Decoration
Lowe's has the best prices on the block. You do have to drill the hole yourself. I have heard that Hobby Lobby has the blocks with holes already drilled in them. Good luck. (07/31/2008)

By mommy jc
Glass Block Christmas Decoration
I use battery operated drill with 5/8 in diamond hole bit. Drill hole in back of block, near edge, but can be anywhere. I drill in the kitchen sink with water running to keep bit cool. Have the block at a slight angle so water can run off. Afterward, rinse dust out with water and let air dry. I suggest buying light sets after Xmas when on sale. I am going to try for LED sets in the future. The paint can be removed with water, steel wool, and elbow grease, before drilling. I drill holes, install the lights, the wife decorates the blocks with ribbon and artificial flowers and leaves, as I am artistically challenged. Her blocks are usually upright, but have gotten a lot of ideas on here and Corning site. (11/02/2008)

By bob
Glass Block Christmas Decoration
For those that wish to order acrylic blocks instead of glass block. You can buy them at acrylicblocks4less.com. They sell them each and unlike glass blocks, acrylic blocks are easier to drill and safe to use. Acrylic blocks only weigh 1 lb and if you drop them will not break like glass. Check out the website : acrylicblocksforless.com.
Good luck.

Tom Williams. created this snowman couple with acrylic blocks.

Charlie (09/29/2008)

By Charlie.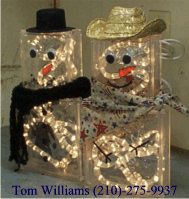 Glass Block Christmas Decoration
I sold 13 of these in one day through "word of mouth". Strands of 35 lights can be purchased at Menard's for $1.19 a box. Great deal. Some of mine are painted and others are gift wrapped, while still some have mosaic tiles on them. (10/28/2008)

By Wendy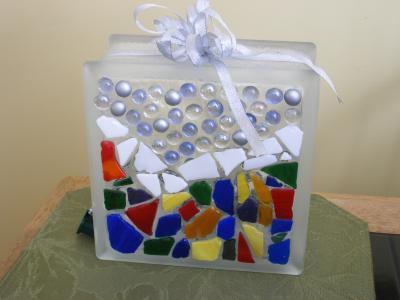 Glass Block Christmas Decoration
I have used both the "Decobloc" and have drilled with a diamond core bit. Decobloc is so cool, but the drilling is much cheaper. Here is what I have made. (11/01/2008)

By Melody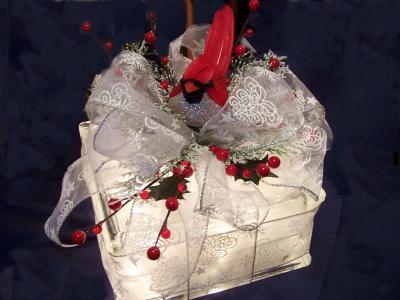 Glass Block Christmas Decoration
I use the diamond drill bit for my glass blocks, drill the hole first and I decorate them with Polymer Clay, you can bake the clay right on the block at about 260 degrees for 25 minutes. The blocks turn out great and you can decorate them for any occasion, Christmas, Halloween, about anything you want.
I've made dog blocks, zoo animals, lions, etc. Fun stuff. (11/20/2008)

By Anita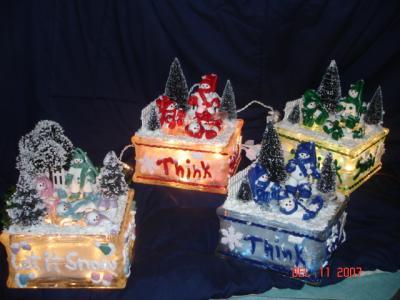 Glass Block Christmas Decoration
These are my first attempts at decorative Christmas blocks. (11/24/2008)

By Sue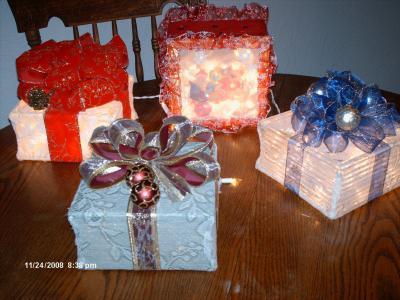 Glass Block Christmas Decoration
Hobby Lobby has the blocks that have a plastic stopper. No drilling. (11/05/2008)

By Peggy
Glass Block Christmas Decoration
I found LED lights at BigLots with 20 on the string and run by 3 AAA batteries. Only $4 a string. That way people can put the blocks in the middle of the table and not worry about an outlet nearby. Says on the box 25,000 hours of battery lift. And they stay cool the whole time. Very bright lights, too. (11/14/2008)

By Tina
Glass Block Christmas Decoration
I bought several $1.00 tree topper star ornaments that come with little strings of white lights at the Dollar Store. Remove the star ornament and you have your 10 or 20 count string of little white lights. (11/19/2008)

By Gwen
Glass Block Christmas Decoration
I found some information about diamond drill bits here: drill-bits.blogspot.com

I was curious to see why I should go for diamond and not regular. I'm probably going to be making a glass block this Christmas. I want to exercise the creative muscle. (11/28/2008)

By about diamond drill bits
Glass Block Christmas Decoration
To make mine for any occasion, I buy ornaments and glue gun them to the flat side and add the ribbon on the edging side. They work for all occasions and I buy the lights that are one bulb at the end with a pinch to hold it in place. (Dollar Store) (12/01/2008)

By Iris
Glass Block Christmas Decoration
Get the Dewalt 3/4 Diamond bit, use water to cool and wash away the dust. When drilling use slow speed and lots of pressure. Start drilling at 45 degrees then 90. I was drilling 3/4 inch holes in 2 minutes. Do not buy new blocks. Go to Craig's list or Recyler. I got used blocks for $1 each, more cleanup. Chip old mortar off with hammer then wirer brush in motor. (02/17/2009)

By Phil
Glass Block Christmas Decoration
With a drill press set at less than 300 rpm, a simple wooden jig to hold the blocks, a chip brush, Windex, and a bit made for ceramic tile or glass, holes can be drilled in 30 seconds cleanly with no burrs or sharp edges. (11/04/2009)

By al
Glass Block Christmas Decoration
My husband and myself put 2 holes in the block, one for the lights and a small one to help it dry faster when you clean them after drilling.The small hole doesn't get seen, it will be covered in ribbon. (11/17/2009)

By Lisa
Glass Block Christmas Decoration
Great info here, this is my first time at this craft. I thought I'd share some info, I found the glass blocks for real cheap $2.35 each (you have to buy a case of 6 which totaled a little over $14) and the 3/4 inch diamond drill bit for $6.50 at mcgillswarehouse.com.
Also, a neat trick, if you put tape over the spot where you drill the hole it makes it a lot easier and less glass flying around. The tape needs to be thicker than Scotch, but doesn't have to be as thick as duct tape, but that would work. Since I was using a cordless drill it kept the drill from jumping around as well. I didn't have a heat problem with the bit. (11/17/2009)

By Q
Glass Block Christmas Decoration
After a high crack rate with the Diamond Arrow bit on my drill press I tried the ones at Harbor Freight. They work great and are a lot cheaper. 1/2 and 3/4 inch flat bits for just over 2 bucks. I did use water to cool and reduce dust. Good luck. (11/21/2009)

By Rick DeNio