February 12, 2009
0

found this helpful
Ivy bowls? Can you tell us more about what they look like, what they are made of?
By debbie (Guest Post)
February 12, 2009
0

found this helpful
Take a string of 20 white lights and place in bowl if bowl with a nice scented potpourri. leave about a foot of cord hanging out. Take a lace doily that is about 6-8 inches place on top and tie with a colored ribbon. Can also add matching scented oil as a gift pack. I did these a few years ago for yankeeswap and they where a big hit
By Barbara (Guest Post)
February 13, 2009
0

found this helpful
Small Glass Ivy Bowls

February 13, 2009
0

found this helpful
Years ago I made crafts using ivy bowls. I would glue the ivy bowl to a glass candlestick and paint flowers on the ivy bowl and stems and leaves on the candlestick. Then I used tealights inside the ivy bowl. These sold great at a craft show too.

February 13, 2009
0

found this helpful
I have made nice candles with them. Cut out images from wrapping paper, napkins, paper towels, etc. I mix any sort of glue...elmers, generic,....and mix it with water. Then I decoupage the pictures on the inside of the bowl. Just brush the glue mixture onto the bowl, then on top of the picture. After you've placed them all around, cover totally with tissue paper....a color that will go with the pictures..or just white. Brush glue over all of it.
Let dry overnight. Then I'll put ribbon, stringed pearls, small flowers, whatever, to the neck of the bowl...just to finish it off, and if it's fluted at the top...covers the indent, which is where i stop with the tissue. Then you can burn a tealight candle in it. Only use a tealight...that way you won't turn the paper black. It is really a nice, soft glow.
Not the best picture, but it should give you an idea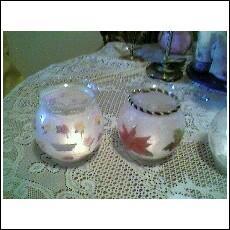 By KJ (Guest Post)
February 14, 2009
0

found this helpful
When my daughter got married, we bought ivy bowls and decorated them for the tables at the reception.
We tied pink ribbon around the neck of the bowls and put a white and pink heart bead at the ends of the ribbons - but you could use bells.
For the holidays, you can adapt this to holiday colors - using red, green, white, burgandy, silver or gold ribbons.
We bought paint pens at the craft store, and drew hearts and spirals on the outside of each one. Inside of them, we put a bit of sparkly package shreds, and filled them 1/2 full of water. We placed a floating candle in each one, and lit them. Made a lovely centerpiece.
You can draw hearts, stars, bells, Christmas trees, snowmen, etc. on the outside of the bowls with your paint pens.
Another tip: we worked in an assembly line style. One person tied the ribbons on the neck, the next one drew with the paint pens. It made quick work of them all.

Vi Johnson
Silver Post Medal for All Time! 288 Posts
February 18, 2009
0

found this helpful
WARNING! See the pictures of what happened to my night light bowl. Please be careful and do not leave them on unattended. Great Granny Vi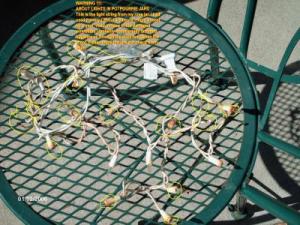 Vi Johnson
Silver Post Medal for All Time! 288 Posts
February 18, 2009
0

found this helpful
My neighbor gave us a Rose/Ivy bowl for Christmas. It had some fresh evergreens and some red beads inside. It was filled with water with a floating candle on top.It also had a small red ribbon and bow around the neck of the bowl.It was a sweet little center piece.GG Vi

February 19, 2009
0

found this helpful
How about making Terrariums? The opening in those containers is large enough for children to put their hands in. They could add miniture animals, plants and flowers, throw in some moss.
Also you can use layers of colored sand, to make different stationary patterns
How about doing some reverse painting on the bowls? jeannette
By gardenway (Guest Post)
February 19, 2009
0

found this helpful
I saw a craft where the bowls were filled with the colored half marbles and then a silk bloom was inserted in the top (leaving the stem long enough to insert in the marbles). A ribbon tied around the neck might have been added (I don't remember). Doesn't sound like much, but really did look nice.