Susie is an adorable snow mom with her baby made from quilt batting. She will bring smiles to the faces of all those loved ones visiting for the holidays!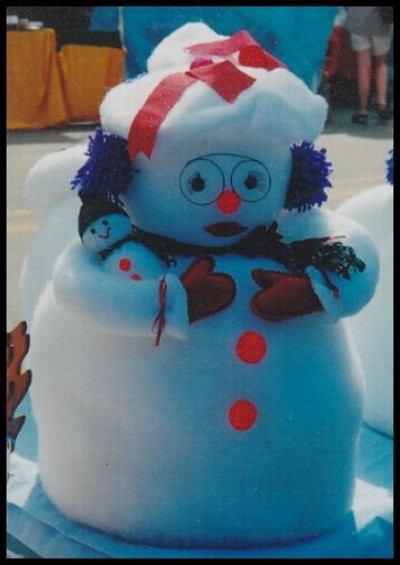 Supplies:
For Mom:
traditional loft quilt batting 81 x 96 inches (will make 4)
fiberfill stuffing (5 pound box will make about 6)
waxed dental floss for gathering string, not ribbon
needle for gathering with dental floss
white thread for sewing by machine
empty gallon milk jug and hot glue (cool-melt) & gun
12-inch circle of Masonite (heavy cardboard may work)
red poms, one 3/4 inch for nose, three-1 inch for buttons, and two-1/4 inch for baby's buttons
red felt for mittens and lips
glue-on eyes
Christmas fabric for scarves
4 ply yarn for earmuffs
red ribbon - 1/8 inch for wrists and 1 3/8 inch for hat
1 1/2 to 2 inch red pom for the top of hat
For baby:
one 2 inch (head) and one 2 1\2 inch Styrofoam ball (body)
small piece of ribbed fabric or cuff of infant's stocking
red and black fabric paint for baby's face
fabric for scarf
Optional:
soft craft wire to make glasses
poinsettias
pine cones
holly for extra trimming
Instructions:
Open batting and refold in half across the width. Cut in the following sizes:
For baby: 6 1/2 x 4 inches batting (for head) and 8 1/2 x 5 inches (for body)
For mom: 21 X 12 inches for head and 21 x 40 inches for body Two 8 x 14 inches one for each arm and 16 inch square for hat. Fold in quarters, and trim to make a circle.
Sew all body parts into tube shape, wrong side out; then turn. Sew head and body along the short side, and arms on the long side. This can be done by machine. To avoid a problem when using machine, fold a piece of waxed paper over the edge before you sew, then tear the paper off when it is done.
After turning, thread dental floss and gather along one open side of the body and the head. Draw them fairly tight, being careful not to tear the batting.
Spread a little glue on the 12 inch circle and press it onto the bottom of the milk jug.
I have not done any with cardboard, but believe it will work, But if you can use the Masonite (or 1/4 inch plywood) circle, that is what I have used with success. The reason for this step is two-fold. It gives your snow mom a flat bottom to sit on, and the jug saves a lot on the amount of stuffing you need in her body.
Stuff and shape the body until smoothly rounded. Complete the arms next. Arms will be left open on both ends. Just leave about 2 inches un-stuffed on each end, and turn one end under a few inches. The mitten will be attached to this end. Instructions for making mittens click here.
Gather around the top of your body, and before you draw it up, add a little glue to the top of the arms and insert them in place inside the gathering of the body and draw up rather tightly.
Stuff the head into a nice round shape, set it over the arms at the top of the body and stitch in place using dental floss. The head should be securely attached so that it doesn't drop to the side. You may have to add additional stitching to make it more stable.
Make a pair of earmuffs by wrapping yarn around a piece of light cardboard (cereal box) 100 times. Slip a piece of the yarn (or the dental floss) under the wraps. Slide them off the cardboard and tie very tightly, then cut the loops to make fringe. Stitch one to each side of the head. Note: If you have pompon makers, they will make this job easier. They are available at Wal-mart and are inexpensive.
To make a tam style hat, gather around the edge of the circle with dental floss, using small stitches. Pull up to fit the head, and then let the edges fall over the gathering. Take a few stitches in the center top to fasten it to the top of the head. Cut the wide red ribbon to about 14 inches. Fold over so that one side is slightly longer than the other. Glue to center of the hat. Glue the pompom over the fold of the ribbon.
Cut a piece of the fabric 4 inches x 30 inches. Fold in half to 2 inches wide, and sew to form a tube. If you don't want to have to turn the tube, just sew it with wrong sides together, and arrange it around her neck with the seam underneath. Cut the ends into about an inch and a half fringe. Tie the scarf around the neck and knot it at the side. Attach optional trim over the knot.
If you want to make her a pair of glasses, cut about 15 inches of soft craft wire. Wrap the wire around any circular object such a a bottle neck that is about 2 inches in diameter. Wrap each end toward the middle until it is the desired size for her glasses. Tack the glasses to the face with dental floss. Glue or sew eyes in place. I found eyes with eye lashes for my snow-moms, but any glue on or sew on eyes will work.
Glue on red pompom for nose.
Cut a pair of lips from my design or create your own.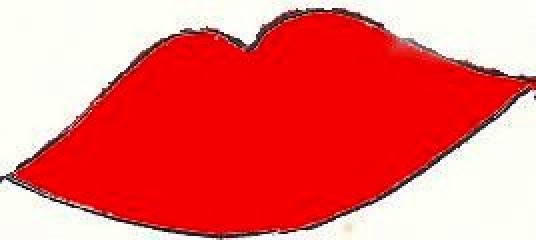 Glue pompom buttons down the front of the body.
Put baby into the mom's arms. Instructions for snow baby click here.
Position arms and tack them in place on her tummy.
Making Mittens:
Copy the pattern and check the size. Sometimes they don't print the correct size. The size should be about 3 inches wide and 4 1/2 inches wide, but it doesn't have to be exact. Just use your judgment by how it appears at the end of the arm.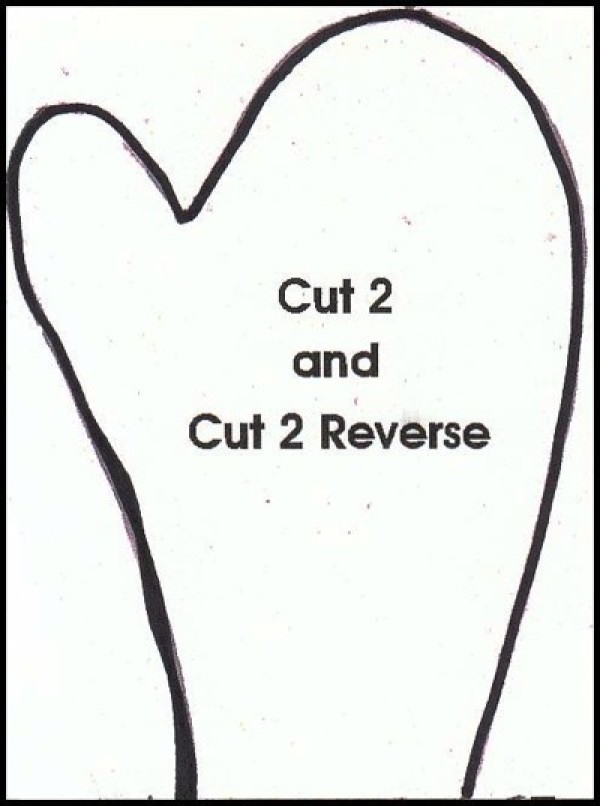 Fold your felt double and draw the mitten pattern placing the cuff edge on the open edge.
Turn the pattern over and draw a second mitten. Do not cut them yet.
With your sewing machine, sew them together on the lines. Then cut them just outside the stitches. If you like you may do a buttonhole stitch around the edge with white floss or yarn, but this is optional. Stuff lightly.
Squeeze a little glue onto the open bottom edge of the finished mitten and tuck it into the end you have turned under. Tie with the narrow red ribbon, using enough to tie a double knot and then a pretty little bow. Repeat with the other arm.
To Make Baby: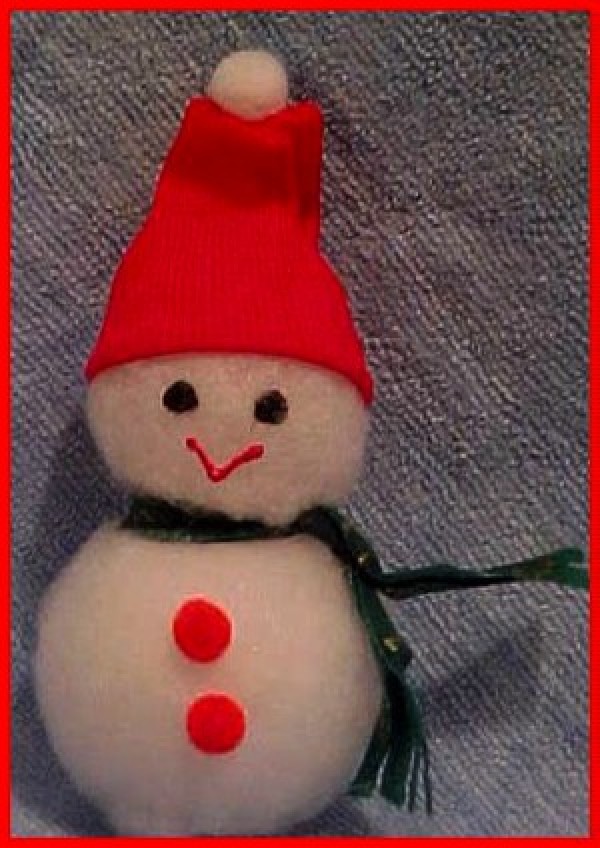 Cut quilt batting to size. Sew ends together by machine wrong side out. Turn. Gather the bottoms of each tube with dental floss. Insert the balls and trim the tops to size leaving enough to gather the tops.
Glue balls together with hot glue. Cut a scarf 1 inch x 10 inches and fringe the ends. Tie around baby's neck.
If you use ribbing for the hat cut a piece about 5 inches square, Fold and machine sew with the ribbing running up and down. Turn, folding raw edges inside. Gather one end and glue a small pompom in the middle. Place on baby's head. If it fits snugly, no need to glue.
Paint features on his face with fabric paint.
Glue on 3 red pompoms for buttons.
Tuck him into mom's arm.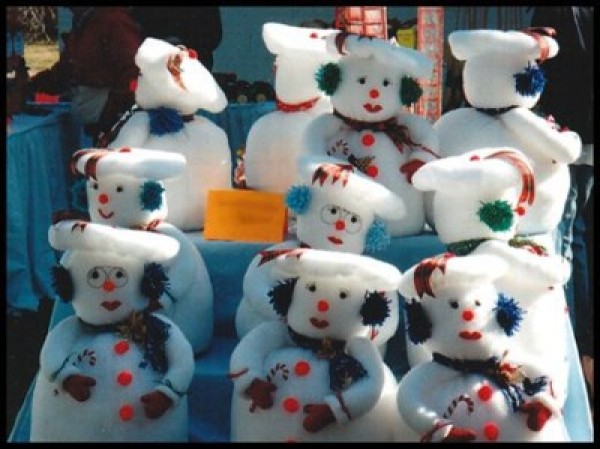 By Harlean from Hot Springs, Arkansas
Click Here[/downloads/susie_snow-mom.pdf]false to download the instructions as a PDF.