By Mary (Guest Post)
November 9, 2007
0

found this helpful
Especially with Readers Digest size -- you can fold page toward center evenly forming a triangle, then with the left over bottom of the page fold upward to met that triangle edge. Do every page. When finished staple covers (and extra page if believe necessary). Stand up and it forms a perfect Christmas tree. Spray paint green.
Or you can always recycle them!
I did this as a project when I was younger. That is all I can think to do with read magazines
Merry Christmas!
Mary Litlamb02 AT AOL.com
November 11, 2007
0

found this helpful
When I was little, one Christmas season I cut out bits from colored photos in magazines and glued the bits onto good-sized matchboxes. Then my mother gave the matchboxes as gifts and used some in our house too. During the holidays in the States, lots of people like to use candles or light fireplaces during the holiday season and having festive matchboxes on a coffee table or mantel can be nice.
When I visit orphanages in Tijuana, Mexico, nowadays, kids and adults often tell me about how they cut up magazines to create posters and cards.
Certainly I've used lots of photos from magazines when creating flashcards or Bingo cards to use while teaching English or French - to kids and adults.
November 12, 2007
1

found this helpful
Here is a website showing how to make beads like I used to make when I was a little girl from old magazines. Chris
November 12, 2007
0

found this helpful
small gift card envelopes : open an old gift card envelope to make a pattern & trace how ever many you need onto the magazine page.If you didn't cut exactly along the line you traced simply fold the lines toward the inside.Embelish if you want to with whatever kind of ribbons or lace or other you happen to find to your taste. Paste,glue or use a cute sticker to seal !
By Diana (Guest Post)
November 15, 2007
0

found this helpful
My daughter thinned Elmers glue with water and pasted pictures cut from magazines on the flat surface of craft stones (clear). She then trimmed the picture after it had dried and glued a heavy duty magnet to the back, as gifts for her friends.
She got this idea from a craft fair where they were selling the magnets for $1.00! She used pictures from her teen magazines of her favorite "stars" and her sport teams! They are cute and you can purchase different sized stones.
November 20, 2007
0

found this helpful
You can also use some spray adhesive glue and apply pictures to clear vinyl and make purses, makeup bags, etc by sewing the vinyl together, attaching straps, etc... here's a pic of a Rolling Stones/Johnny cash purse someone was selling on ebay! (I have made similar and they are very popular!)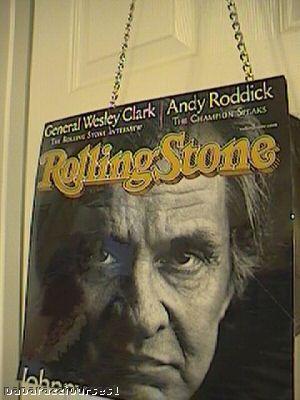 By Ben (Guest Post)
December 16, 2007
0

found this helpful
You can make Christmas trees out of them if you want.
Just rip the front and back covers off. Then fold the paper till they are half a square with a flap down the bottom. Bring the side over the the edge of the page. There will be a flap down the bottom so fold the up to the edge of the page.
Continue until of the magal=zine is done then spray paint any colour you wnt