November 15, 2010
0

found this helpful
No matter what you make, if you want it to look like anything, you will have to spend some money. What are your abilities and what crafts do you like to do? A lot will also depend on the ages of the recipients.
November 15, 2010
0

found this helpful
You could use the ingredients you have in your kitchen to make gifts. For example, put the dry ingredients in a zip-lock bag for making a batch of cookies or a cake or bread, etc. Then write on a small card the wet ingredients that need to be added, and the instructions for mixing and baking it. Place the card in the bag.
Or you could bake cookies, place in zip-lock baggies and freeze until Christmas.
Another idea is to write down or type 5 to 10 of your very best recipes on a piece of paper or index cards, and give those as gifts.
These days most people understand that times are tough financially for some of us, I'm sure anything you give will be appreciated.
November 17, 2010
0

found this helpful
My sister has a large family encluding grandchildren and great grandchildren. She makes all the Christmas gifts and birthday gifts. She has a very small income. She quilts and knits. Every one in her family has lovely quilted place mats, lap quilts, pot holders, toaster covers, doll quilts, table toppers and door hanger decorations. She even makes tree ornaments from small quilt blocks.
She knits the most wonderful dish cloths from cotton yarn. The little kids all have novelty pillowcases from kids story book prints. Her investment is the cloth, yarn and thread which is not a lot because she buys her supplies on sale and in bulk. She begins making her gifts in January and gets the birthdays out of the way first then starts on Christmas. She enjoys it and her family, me encluded, love the gifts.
November 18, 2010
0

found this helpful
If you know how to crochet, you can make rag rugs from old t-shirts. I made one for each of my sons teachers and they loved them! They also cost me nothing except my time. go to myrecycledbags.com for easy instructions.
November 19, 2010
0

found this helpful
Some ideas that I have used are candles and cards. You can make really attractive cards from card stock, photographs and creative use of colored paper. Choosing photos of family or places you have traveled makes the gift even more special. You can purchase inexpensive candles and decorate them with photos or poems and use decoupage glue to attach them to the candle.
If you make jams, jellies or relishes, a small jar with a ribbon attached is a very personal gift. You can also make cookies, always a hit! If you don't bake, get a package of cookie mix.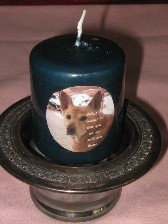 November 21, 2010
0

found this helpful
There are some fantastic recipes here! some include the "clone" instant coffee recipes that I intend to make and give as Christmas gifts! www.buget101.com has all kinds of gifts in a jar; make a mix etc. Make a mix: google it; find what works for you and if you don't have jars; www.freecycle.org or local recycling; post small jars needed on craigs list; or watch for "free"; Salvation Army locally has been where I pick up all kinds of jars for 25 cents each! Yard sales, thrift stores is where I pick up unusual jars with sealed lids and keep my beans, rice, etc on display as I enjoy the look so well!
Krusteaz has a pie crust mix that is flaky and used by all pie makers; available at places bakeries by from; ours locally is called United Grocers; and it's a "cash and carry" store. Makes pie making so easy you'll wonder why you haven't made any in a while! Lemon pies, coconut cream pies, whatever; doesn't have to be "expensive" ; reminds me of when folks would give me zuccini's as they had so much of them! I would grate, freeze, and then make bread and cakes from them; and give as gifts at Christmas; you can easily make your own pumpkin filling (google it) and then make pumpkin bread! The very folks who gave me the zuccini's loved having the breads and cake in return at Christmas time!
Beans, great tips were found by me on this site this morning; adding ginger to the water when soaking; and then fresh when making prevents gasiness; another was to keep beans in refrigerated "watering" them for use again in the week to avoid having the "presoak" thing; if you have come across a bean normally not used; and really enjoy them; put some in a jar with the 2 tips!
Free book exchanges: or where you can drop books off or pick up free books locally in your area I am sure!
To make either candy cane tea; or candy cane coffee; simply blend, smash with hammer, whatever, a peppermint candy. Then add to either (loose leaf tea): to your taste!
Voila! not paying high prices! Great ideas!
November 21, 2010
0

found this helpful
You can probably make suet from things in your home if you have a bird feeding person. If a gardener, you can take cuttings from your herbs and put in smaller pots and give as gifts. I found free hanging pots one time along side the road, having passed them up 5 times, still there, I stopped. What I did was go to a local nursery where the 6 plants for $2.00 was and got some pansies which do excellent in the winter, and gave those! Already had the dirt! If you don't have planters, ask for them on freecycle or craigslist; gosh, I just took a bunch back to the nursery!
Another thing: in my area bare root starts in January. I, another time, gave a note to folks that I would give them in February about the 20th, when the strawberry plants come in. I used to get 25 for $3, probably higher now. Get the ever-bearing, put them in hanging planters and they can enjoy strawberries all spring and summer long! ($20 to $25 to buy at nurseries!)
These make great Easter and Mother's Day gifts as well. $1.00 buys a new hanging planter at the $1 store! A can of paint fusion will paint oodles and oodles of older plastic pots, it fuses together and works well on all plastic items. All kinds of inexpensive do-it-yourself for wild birds items on line.
Always look at what you do have, this is the frugal way. What DO I have that I can use for this thing? Then the imaginations come! Don't stomp them out, as being "no" folks will be thrilled you thought of them, and even more thrilled you didn't buy into the "gotta buy buy buy" mentality to boot!
November 24, 2010
0

found this helpful
My brother made big foot feet out of wood for the kids for xmas. You cut the shape of a foot with toes polish toe nails for the girls, add velcro straps to strap onto boots like sandles. They made big foot prints all over the snow. He used a jg saw and scrap lumber and some polyurethane. He stapled the velcro on but you could use tacks.
December 9, 2010
0

found this helpful
Check out www.thetoymaker.com for beautiful, unique, and FREE paper toys and giftbags you can print out.