November 14, 2005
0

found this helpful
Best Answer
Truffles. Make them big from chocolate chips and sweetened condensed milk. You can flatten them or roll into balls. You can decorate them with some splattering of red and green icing. You can do tons of things with truffles!
By Phyllis Powell (Guest Post)
November 14, 2005
1

found this helpful
Best Answer
It doesn't get any easier then this!!!
Easy Peanut Butter Cookies
1 cup peanut butter
1 cup sugar
1 egg
Preheat oven to 375 degrees
Mix all ingredients in bowl with hands. Roll into 1" balls. Place cookie dough balls on ungreased cookie sheet and press with fork to make criss-cross design on top of cookie.
Bake 10-12 minutes & remove from oven. Let cool for a few minutes. Remove from baking sheet with spatula and ENJOY! Makes about 2 dozen cookies.
By michele (Guest Post)
November 18, 2005
0

found this helpful
Best Answer
These are so easy. Just take pretzels in the shapes of bows, place a Hershey kiss on top, place in the oven for a few minutes until the chocolate just starts to melt, take out and put a green or red M&M on top.
By Karen in NH (Guest Post)
November 19, 2005
0

found this helpful
Best Answer
We call these cookies Christmas Buttons. You take sugar cookie dough (homemade, a pouch mix or already made in the grocery dairy case) and roll the dough into 1" balls. Roll a dozen in red decorating sugar and bake according to package or recipe directions.
Then roll a dozen in green decorating sugar and bake according to directions. Keep going until all the dough is used up. The cookies flatten while baking. They're easy to make and festive to look at on a plate.
By abby-grace (Guest Post)
November 22, 2005
0

found this helpful
Best Answer
Hi, I love attending Christmas Cookie exchanges but my friends and I always get disappointed when so many have put time and effort to make something pretty and then one or two people end up contributing some cookies that look like they took 5 minutes to make. So here is an easy recipe, that makes tons and tons of cookies and are absolutely beautiful as well as tasty!
1 cup butter flavored shortening
2 cups sugar
2 eggs
1 cup oil
1/2 tsp. salt
1 tsp. vanilla
5 cups all-purpose flour
2 tsp baking soda
2 tsp cream of tartar
sugar for coating
small red and green gumdrops (bell shaped)
Cream together shortening, sugar, eggs, oil, salt and vanilla. Sift all dry ingredients and add to creamed mixture. Roll into small one-inch balls and roll in sugar. Press one gumdrop in center of each cookie. Bake at 350 degrees for 10 minutes. Should make close to 100 cookies.
By Ally (Guest Post)
December 10, 2008
0

found this helpful
Best Answer
Peanut Butter Ritz:
Place a bag of milk chocolate in microwave, add a little bit of olive oil to make the chocolate look shiny, and melt chocolate.
Take two Ritz Crackers and lightly cover them with a peanut butter of your choice on one side.
Put the two peanut butter sides together and once they are stuck together dip and cover entire cookie with chocolate.
After the Ritz peanut butter crackers are covered in chocolate, sprinkle cookies with Christmas colored sprinkles, place cookies on wax paper, and let cool.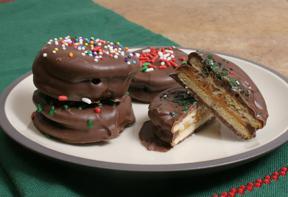 By Susan (Guest Post)
November 14, 2005
0

found this helpful
Toffee Crunch Grahams
12 whole graham crackers
1 1/2 cups butter (no substitutes)
1 cup packed brown sugar
2 cups sliced almonds, walnuts or pecans
Line a 10 x 15 pan w/foil. Place grahams on foil to cover pan. In saucepan combine butter and brown sugar, bring to boil stirring constantly. Pour over crackers in pan. Sprinkle w/ nuts. Bake at 400F for 6 to 8 minutes. Transfer to rack to cool completely.
These are a sensation here in Northeast Ohio !
By christi (Guest Post)
November 14, 2005
0

found this helpful
Christmas Card Cookies Recipe
3/4 cup Sugar
1 cup Butter; softened
3 ounces Cream cheese; softened
1 Egg
1 teaspoon Vanilla
3 cups Flour
***Decorations***
Fruit-flavored hard candies, crushed
Colored sugars
Decorating candies
In large mixer bowl, combine all ingredients except flour. Beat at medium speed until creamy. Reduce speed to low; add flour. Continue beating just until mixed (1-2 minutes). Divide dough in half. Wrap each half in waxed paper; refrigerate dough at least 2 hours.
Heat oven to 325 degrees. On lightly floured surface, roll 1 portion dough to 15- x 10-inch rectangle. Cut dough into 20 (3- x 2-1/2-inch) rectangles (cards) using pastry wheel or sharp knife. Cut out small shapes in center of each card using tiny cookie cutters, or sharp knife. Save cut-out shapes to decorate remaining dough.
Place cards on aluminum foil-lined cookie sheets. Fill cut-out center or cards with enough crushed candy to evenly fill holes. Keep candy separated by color, and mix colors as little as possible. Bake 7-9 minutes or until edges are very lightly browned and candy is melted. Let cool completely before removing from cookie sheets.
Roll second portion of dough in 15- x 10-inch rectangle. Cut into cards as directed above. Place tiny cut-out shapes of dough on each card. Decorate with colored sugars and candies. Bake for 7-9 minutes or until edges are lightly browned.
Chocolate Snowflake cookies
2 cups sugar
1/2 cup veg. oil
4 1oz. squares unsweetened-chocolate, melted
4 eggs
2 tsp vanilla
2 cups flour
2 tsp baking powder
1/2 tsp salt
3/4 cup powdered sugar
Combine 1st 3 ingredients in large mixing bowl; beat at medium
speed of electric mixer until blended. Add eggs and vanilla mix
well. Combine flour, powder and salt. Add about 1/4 of dry mix at a
time. mix well after each addition. Cover and chill dough at least 2
hrs.
Shape dough into 1" balls (NO LARGER THEY SPREAD) and roll into
powdered sugar. Thick coating is best. Place 2" apart on greased
cookie sheets (THEY SPREAD OUT) Bake at 350 for 10-12 mins. Cool on
wire racks. I baked them on a silicone mat and let them cool on it.
These are so neat I have never seen a cookie this cute. I laughed
when I pulled out the first cookies. I put in this batch of white
little balls and pulled out these huge chocolate snowflakes.
Church Windows
1 melted bag of chocolate chips
1 half bag of mini colored marshmallows
1 small bag of walnut pieces
powdered sugar
Mix together melted chocolate, marshmallows and walnuts. Take a piece of wax paper and sprinkle it liberally with powdered sugar put one third of mixture on top of sugar and shape into a roll fold the wax paper around the roll making sure powdered sugar is in between mixture and paper all over. Do the same to other two and put into the refrigerator. When chilled cut into about half inch rounds
Oatmeal Banana Macaroons
Ingredients:
1/2 c. white sugar
1/2 c. brown sugar
1/2 c. melted shortening
1 egg, beaten
1/2 tsp. salt
1/2 c. coconut
1 tsp. vanilla
1 banana (mashed)
1/2 tsp. baking soda
1 c. flour
2 c. rolled oats
Directions:
Combine in order given. Drop on greased cookie sheets. Bake at 350
degrees
for 12 to 15 minutes. Makes 3 1/2 dozen cookies
Fudgy Oatmeal Butterscotch Cookies
1 devil's food cake mix
1-1/2 cups quick cooking or old fashioned oats, uncooked
3/4 cup butter, melted
2 large eggs
1 tablespoon oil
1 teaspoon vanilla extract
1-1/4 cups mini-chocolate chips
1 cup butterscotch chips
Preheat oven to 350. In a large bowl combine all ingredients except
chocolate and butterscotch chips; mix thoroughly. Stir in chips. Drop
by heaping teaspoons onto ungreased cookie sheet, 2 inches apart.
Bake 10 to 12 minutes. Cool 1 minute on cookie sheet, remove to rack
and cool completely. Store in airtight container.
By miranda (Guest Post)
November 15, 2005
0

found this helpful
the easiest CHRISTMAS cookies that come to mind are "Whipped Shortbread". Easy to find recipes on the internet. Very few ingredients are just "whipped" together then dropped on cookie sheets and baked. They actually melt in the mouth and with cherries or nuts are very festive and pretty.

November 17, 2005
0

found this helpful
melt some chocolate chips in micro, add a few drops of cooking oil[makes choco. shiney] stir in 2 drops of mint extract and stir quickly. cover ritz crackers on at a time and lay on wax paper to dry. use fork flat and raise choclate up a bit. let cool. tastes just like girl scout mint thins. fast and easy
By eve w. (Guest Post)
November 17, 2005
0

found this helpful
CAKE MIX COOKIES!!
Easy Cake Mix Cookie #1
1 pkg. any flavor Pillsbury Plus Cake Mix
1/2 c. margarine or butter, softened
1 egg
Combine all ingredients at low speed until thoroughly moistened. Drop
by
rounded tablespoonfuls 2 inches apart onto ungreased cookie sheets.
Bake at
350 for 9-12 minutes. Cool two minutes; remove from pans.
Tips: If using chocolate cake mix, add 2 Tbsp. water to ingredients
If desired, stir in 1 c. chocolate chips or 1/2 c. chopped nuts.
If desired, frost cookies with your favorite flavor of frosting.
For sandwich cookies, spread frosting between 2 cookies.
----------------------------
Cake Mix Cookie #2
Yields about 4 dozen cookies
1 box cake mix (any variety)
1 cup semi-sweet chocolate chips (can substitute caramel or peanut butter
chips or do a combination)
1/ 2 -1 cup oatmeal (I always put in as much as I can!)
1 /2 cup oil
2 eggs, slightly beaten
1/ 2 cup raisins (optional)
1 tsp. vanilla (optional)
nuts (optional)
Preheat oven to 350. In a large bowl, combine all the ingredients,
blending
well. If the mixture is too stiff, add a little water. Drop dough by
rounded
teaspoonfuls 2 inches apart onto ungreased cookie sheets. Bake at 350
for
8-10 minutes or until set. Cool 1 minute before removing form the
cookie
sheets.
For altitudes above 3500 feet, add 1/ 4 cup flour to dry cake mix.
Variation: Use white cake mix and add a pudding mix. I added
strawberry, for
tasty pink cookies. If you use pudding, you will need to add some water
(about 1/4 cup). Also, the pudding tends to make the cookies sweeter.
------------------------------------
Cake Mix Cookie #3
Yields about 2 dozen.
1 (9 oz.) pkg. yellow cake mix (or your favorite flavor)
2/3 cup oatmeal
1/2 cup butter or margarine, melted
1 egg
*1/2 cup chocolate chips, butterscotch chips, peanut butter chips, M&Ms
(your preference)
* For a healthier cookie, substitute raisins in place of the chips.
Preheat oven to 375. In a mixing bowl, beat the cake mix, oatmeal,
butter
and egg. Stir in the chips. Drop by tablespoonfuls 2 inches apart onto
ungreased baking sheets. Bake for 10-12 minutes or until lightly
browned.
Immediately remove to wire racks to cool.
----------------------------
Devil's Food Cookies
Yields about 5 dozen cookies.
1 (18.5-ounce) package devil's food cake mix without pudding
1/2 cup vegetable oil
2 eggs, beaten
1/2 cup chopped pecans
6 (1.45-ounce) milk chocolate bars, divided into squares (optional)
1/2 cup coconut (optional)
Preheat oven to 350. Combine cake mix, oil, and eggs in a large mixing
bowl
and mix well. Stir in the pecans. Drop batter by teaspoons 2 inches
apart
onto ungreased cookie sheets. Bake for 10 minutes. Remove from cookie
sheets
and cool completely on wire racks.
Optional: While the cookies are still on the pan, place 1 square of
milk
chocolate on each; spread gently to frost. Sprinkle with coconut
By Yvonne (Guest Post)
December 17, 2005
0

found this helpful
Try going on Kraft Foods.com. They have great easy cookie recipes for every occasion.
By Betty N. (Guest Post)
December 2, 2007
0

found this helpful
Abby Grace's recipe for Quick and Easy Christmas Cookies was the BEST! I make cookies for some shutins at Christmas time. This makes a huge recipe and it is festive looking. I rolled the cookie balls in red sugar, green sugar, and plain sugar and put assorted red and green gumdrops on them. They also taste good!
By Beth (Guest Post)
December 12, 2008
0

found this helpful
Thanks for all the ideas! They sound great. I'm gonna try a few of them. Happy Holidays!
By eilajean (Guest Post)
December 14, 2008
0

found this helpful
The Ritz cookies are great, and easy to make... just a couple suggestions - use reduced fat Ritz (much flakier) and if you can find Reese's peanut butter - again great. I use chocolate almond bark and a double boiler - but everything else is the same. With the small amount of chocolate at the bottom - I dip cashews... YUM!