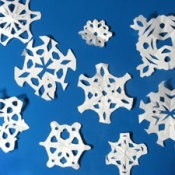 How do you cut paper snowflakes? Here are tips from the ThriftyFun community. Post your own techniques here.
Step By Step Directions
Start, of course, with a practice piece of paper fold it into a square several times. When cutting, hold your finger and thumb over the center fold. If you cut this, it will all fall apart. Cut into the remaining edges, like you are cutting out a little stream, go straight, go crooked, make some long, make some short, you can round the other point.
The better you get at this, the more intricate you can make your cuts. Just start with a few, open it up and then you can see how it works and the next one you can do better. Good luck. You must be young, everyone from my generation knows how to cut snowflakes!
Merry Christmas
By Bonnie
Decorate The House For Christmas With Snowflakes
I decorated the house and tree one year with a couple of hundred of those. I made squares out of white freezer paper and waxed paper, folded in quarters, then once more. Make sure the folds are nice and sharp. Then cut as much as you can. Cut snips of diamond shapes out of both long edges, then cut the loose edges and one SMALL snip on the small middle point. You can unfold and hang up, or when I made them for a Christmas party, I dipped them in hot parafin, pressed them in clear glitter, and laid them flat to dry. Boy were they pretty! Though a real pain to make many of. The way I made mine, were about 4 inches from edge to edge. Any bigger than that and they tended to fold into themselves. Merry Christmas!
By Margie
Read More

Comments
I've always loved to cut out paper snowflakes and hang them in the window during Christmas. (I've even used them to separate layers of cookies in a cookie tin.) It's so much fun to slowly and carefully unfold the snowflake to see the end result. All you need is printer paper, a pencil, and sharp scissors with a fine point.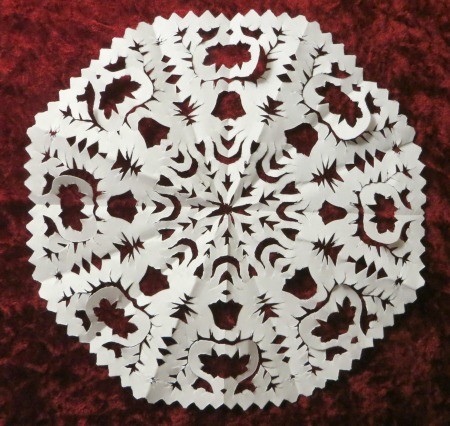 Read More...
How do you make original and interesting "snowflakes"?

Answers
By Linda (Guest Post)
December 20, 2008
0

found this helpful
You can use empty toilet paper tubes or paper towel tubes. Cut them in about 1/2 inch strips (around) and then pinch into an elongated shape. Then glue the ends together in a snowflake shape. You can paint them, glitter, them or whatever you come up with. Hope this helps! Can't find my camera right now.
December 21, 2008
0

found this helpful
If you are meaning the cut out paper kind, a previous poster has given you directions. However, I'd like to add that these can be very interesting but you must cut out a lot of the paper and make them lacy. When I did this craft with students, I told them they should have more garbage than snowflake left. You can also make cut outs so that there are hearts or snowmen or bells inside the snowflake. Experiment.
December 22, 2008
0

found this helpful
I ask just one thing: real snowflakes have six points, so maybe you'd consider six points? I see eight-pointers here and there. Yep, I'm the beady-eyed lady standing there counting and scowling. Have fun!
Answer

this Question
I would like to know how to make cutout paper snowflakes. Would someone please share the instructions with me?
By candy from North Myrtle Beach, SC

October 22, 2020
0

found this helpful
I can make a template for you, if you'd like, and then you can follow the folding pattern and go from there to cut out a paper snowflake. My favorite designs are made w/ cut out trees, hearts and stars. I've posted a pic of 4 that I made and had hanging in the window last Christmas.