Stella
Silver Post Medal for All Time! 254 Posts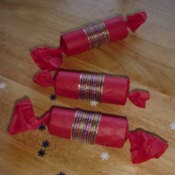 In 1847, Crackers were invented by Tom Smith who happened upon them by accident. Crackers are an integral part of British celebration and tradition that dates back to Victorian times: To learn more about the history of the Cracker visit
This tradition was brought to my family through my brother in law, and now is looked forward to each year. Here is an easy way to make your own Crackers.
Materials:
toilet paper tubes
tissue paper
ribbon
charges or snaps*
candy
small prizes
confetti
little pieces of paper with jokes, fortunes, or poems on them
*These have a string on either end and when you pull them they pop. You may be able to purchase these at a party supply store locally. If not, you can find them online at stores like this one: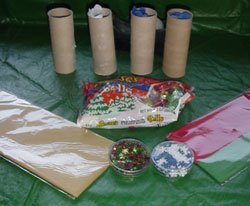 Crowns:
To create the crown fold a full sheet of tissue paper in half (hot dog style) and fold it in half two more times the same direction. Then draw part of the crown on the bottom and cut. When you unfold it you should have points all the way around. Attach the two ends with a piece of tape and fold it so it will fit into the tube.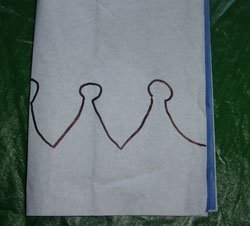 Putting the Tube Together:
Tape a charge inside the tube so that the strings come out each end place your candy, crowns, fortunes, prizes, and confetti inside the tube. Then wrap in up in tissue paper with extra sticking out each side. Tie each end with some ribbon, make sure the charge string is sticking out, you will pull these to make the pop and the prizes will come out.
To Use:
Have everyone gather in a circle with their cracker. Then cross arms, with each person holding one end of their cracker and grabbing the end of the cracker of the person next them. At the count of 3, everyone pulls on the crackers. The crackers will all pop and the prizes will fall out of the tubes. Then everyone can put on their crown and read their fortunes! It's a nice tradition.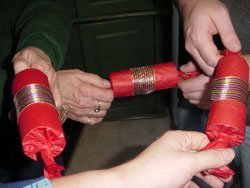 Read More

Comments