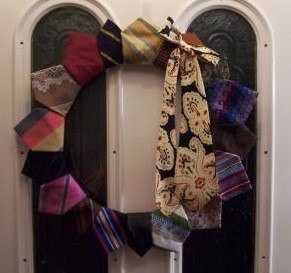 This is a masculine take on a Christmas door wreath. My father-in-law is in Assisted Living. All the ladies have holiday decorations on their doors. I thought this would be cute for the gentleman's look.
Approximate Time: 1 hour
Supplies:
Fabric tacky adhesive
Scissors
15 to 20 ties
14 to 18 inch wire wreath frame
Wreath hanger for over the door
Tape measure or ruler
Instructions:
Take about 15 - 20 clean ties, according to how big the wreath frame is. Cut them 12-13 inches long. Measure from the wide end.
Lay the frame back side down. You will be working from the front. Wrap the tie around the wire. Be sure the wide point is facing towards the outside of the wreath. Pull it tight enough so it lays straight but does not wrinkle. After you position the tie where it should be, lift it up and put your glue on the layer underneath the wide end as in picture #2.
After the first one is done (picture #3), Do the next one and overlap the edge of the 2nd one. Keep going in the same direction all around the frame overlapping edges just a little. You can slide the ties closer together as you get to the end and might need more room for the last one.
As you look on the back (picture #4) you can see they are each rolled into nice compact tight rolls. This way they will not roll around on the frame. You can sew each edge together on the back, if you wish. I did not.
Take a slimmer tie and tie in a bow to accent the wreath. Hang on the door using a wreath hanger.
By D.Lockwood from Millbury, OH
Comments
Read More

Comments