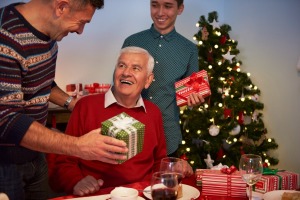 Any Christmas present ideas for an elderly dad? Hes 90 but is still very much with it.
By moereen

Answers

Joan
Bronze Feedback Medal for All Time! 186 Feedbacks
December 15, 2010
0

found this helpful
Best Answer
Even a book on tape would be nice. There was a couple times when my Dad was elderly and living in his own apartment, I made up a box of assorted groceries that I knew he liked and would be easy for him to fix. I included 2-3 cans of his favorite soups, a couple cans of pork and beans, a couple cans of chili, a box of saltines, a loaf of bread, a four pkg of toilet tissue, a box of facial tissues, a roll of paper towels, a pkg. of chocolate covered candy called old fashioned drops, which had always been one of his favorite candies, a pkg of cookies. I also included a pkg. of styrofoam bowls, so he wouldn't dirty a bowl when eating his soup or chili. He really enjoyed these boxes.

December 16, 2010
0

found this helpful
Best Answer
My dad is in his 90s and we have found that paying for the things he needs, but thinks are too expensive, works well. His idea of prices for services is about 20 years out of date, so snowplowing, lawn care, and a newspaper subscription, are some of the things we do. We make up 'gift certificates' and put them in gift bags, and then he has something to open on Christmas Day.
We'd love to take him out to eat, but he doesn't enjoy it. So we make meals and bring them to him, or go to his house and make a meal with enough leftover for another meal.
Enjoy the time with your with-it Dad, it is priceless.

December 15, 2010
0

found this helpful
Is he still able to read? A good book in large print (if necessary) might be nice.

December 15, 2010
0

found this helpful
Bucket List? Skydiving? Gift certificates are always nice what are his interests? The food idea is good but there could be so many different things.
Hope you find something that's just right. Merry Christmas Happy Holidays etc.

December 15, 2010
0

found this helpful
I always thinking giving baked treats, cookies, cupcakes, brownies, brickel, is always thoughtful and delicious. Plus you won't be just giving him more "stuff."

December 16, 2010
0

found this helpful
How about a magazine subscription to National Geographic or something that interests him that he wouldn't buy for himself. Or Fruit of the Month for the three months of winter or more depending on your budget. I worked for a company who gave all employees the 3-month fruit to help us stay healthy.
I buy magazines from bestdealmagazines.com. They are reliable and have very good deals. (Disclaimer: I do not work for them or know anyone that does.)

December 16, 2010
0

found this helpful
Make a chore or favor jar. Put in papers with do laundry, vacuum, clean frig, make a home cooked meal, his choice, clean oven/stove, go out to eat, pay for hair cut, etc., etc., anything that fits. Once a week he can chose one for you to do.

December 16, 2010
0

found this helpful
My mom when she was still with me loved to go out to eat. Her favorite place was K&W. I would go get her and take her to eat and be sure to get gift certificates so when her friends came by to go out to eat (they all loved it) she would be able to used the certificates to pay for hers.
She also loved to eat fish so I would rotate the restaurants that I would take her to. Blessings to you.

December 16, 2010
0

found this helpful
Stamps for bills, correspondence. Music CD's or photos, old redone photos of someone or something special to him... and photos of the family. Pay for a cable TV line, a comfy chair or good light for him to read by. Planned visits from family and friends, and candy! DVD's of old TV shows he enjoyed and gift cards from favorite places so he can select his own time and gift. Don't forget hugs and notes of love!

December 16, 2010
0

found this helpful
I love the "chore jar" idea! At 90, I'm sure your dad has enough "stuff," Even though I'm still under 50, I'm more likely to ask for time with my kids than anything else. Here's a thought: perhaps your dad would enjoy a tape recorder and cassettes, or a digital recorder? Then, at his leisure, he could turn it on and record all those stories he's probably told a hundred times before.
Someone who's good at transcribing from a recording could later gather those stories into a book. Whether commercially produced or not, someday you might appreciate reliving dad's old stories. I only wish I'd had my mom do this before cancer took her from us, back in 2006.

December 16, 2010
0

found this helpful
Who cuts his hair? if he goes to a particular barber, go and get some free hair cuts for him; cab companies have gift certificates too. Does he play any kind of cards, a couple of new novelty decks (I saw one that has 100 dollar bill printed on the back of each card) They also have cards that are a little bigger with larger imprints for those who may have some trouble seeing. Most of all, he would probably enjoy some spontaneous visits through the new year.

December 17, 2010
0

found this helpful
Thanks to all who offered wonderful suggestions for gift ideas for my elderly dad, there's so many great ideas that I have plenty to choose from. Many I've never thought of before! Thanks again!
Answer

this Question