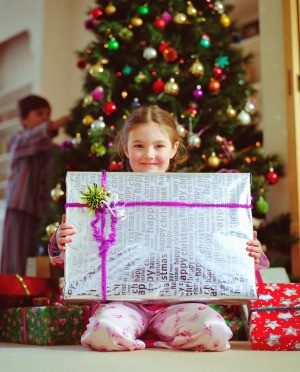 When my boys were small, sometimes it was tough to get up quite as early as they wanted to on Christmas day. I came up with an idea that made us all happy! After they were asleep on Christmas Eve, I would leave their Christmas stockings on their bed. I always made sure to include some small toys to keep them busy. The boys got to play with gifts from Santa, while I got a bit more shut-eye. It has become a tradition with my grandchildren now!
By KathyJ. from Plymouth, CT
Read More

Comments

I've always tried to make Christmas morning fun for my kids since they began to question Santa. They are in their late teens, but still come home for Christmas vacation.
I am looking for a fun, creative way to surprise them with gifts on Christmas morning. I've wrapped the room (all doorways) so they have to crash in the room, led them on gift finds with yarn throughout the house, Santa's bag didn't quite make it in the house and they had to fish it out of the chimney, treasure hunts with five or six clues, and created a winter wonderland overnight in the room.
They've started to expect to be surprised on Christmas morning. And I love doing it. It keeps Christmas special and fun. But I'm stuck this year. What is a wacky, fun way to start the day? Any ideas?
By Nancy from Macon,GA
Answers

November 29, 2010
0

found this helpful
How about doing a Christmas "obstacle course" with tasks they have to do before opening a gift.
Some ideas: sing a Christmas carol,
Take a straw and suck up a marshmallow and go to other side of room and drop it in a bowl.
Toss wrapped candies into a bucket from 6 ft away.
Name Bingo: everyone wears their name printed out on paper-use either Scrabble letters or make your own paper ones to draw from hat and call letters out>>they have to have all letters of their first name called before moving on
Candy Cane game>each person has to put a candy cane in mouth (hook side out) and then go to table to latch onto another candy cane--can't use hands, then transport it to someplace else (or...can have them pass the cane from one to the other down the line).
And for the finale: save one gift for each person that would be good for anyone to receive and play the game I submitted>>LEFT, RIGHT Christmas Gift Exchange>>>www.thriftyfun.com/tf62616847.tip.html
That should entertain them! have fun :D

December 31, 2020
0

found this helpful
Did you come up with any other ideas?
Answer

this Question