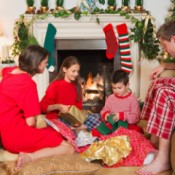 One tradition my husband introduced to my family when we married 42 years ago has become a custom of all of my sibling's families also. I would like to share it with you.
At Christmas, my family used to tear in to our packages all at one time and in 15 minutes all of the excitement and fun was over. No one knew what anyone else got or what they thought of the gifts we gave each other. While my husband's family opened one package at a time youngest through the oldest. Everyone enjoyed seeing reactions and everyone was able to properly thank those who gave them their gifts.
The older grandchildren read the tags and the little ones help pass out the packages. A parent of each family is handed a large trash sack and they keep their trash picked up as we go. My husband and I are the oldies of the family now and we let our youngest grandchildren help us open ours. We enjoy it as much as they do.
When all of the packages are opened, Presto! no cleanup, no parts to toys lost, and we have enjoyed great family time opening gifts for a couple of hours or more.
A hint I read this year, is to make a picture of the recipient for gift tags and write who it is from on the back. This way if little ones are handing out packages they will know who the gift is for and what child doesn't like to see him or herself in a picture? Take it a step farther and put a picture of the child and one of you if the package is from you.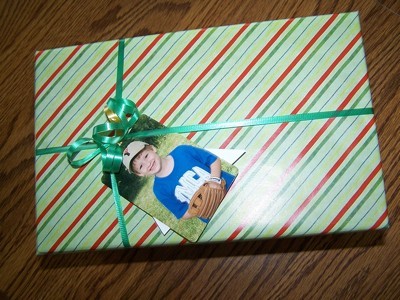 By latrtatr from Loup City, NE
Do you have a frugal story to share with the ThriftyFun community? Submit your essay here: http://www.thriftyfun.com/post_myfrugallife.ldml
Comments
Read More Comments
When it comes to opening gifts it can get a little hectic. We found a way around that. When I married my husband, he introduced my family to his way of opening the gifts. His family started with the youngest opening one gift and worked their way up the line to the oldest then started over again.
That way all know what everyone got and each person got, the chance to thank the giver, and the giver was able to see the reaction to their gifts. It also makes the gift time last longer. Our family has adopted this tradition and loved it!
Merry Christmas all.
By Ann Winberg from Loup City, NE
Comments
Read More Comments
With everyone so busy now, grandparent time is often the last on the list. So, we arrange for an overnight with the grandchildren, sometimes before Christmas and sometimes it works out to be January.
Read More...
Opening Presents One At A Time. My brother-in-law's family has a tradition of opening presents that works very well in large family gatherings. Rather than all tear into the wrappings, sit in a circle and each person going round can choose one present to open (until they are all open).
Read More...