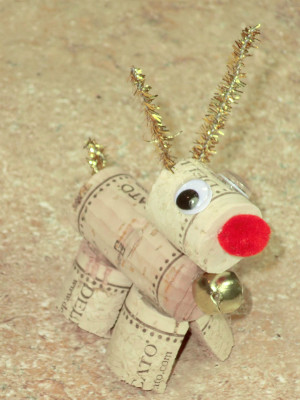 I saw one similar somewhere and took it a few steps further. The kids will really have fun making this quick ornament, a great teachers' gift or how about that neighbor you want to give a little something to.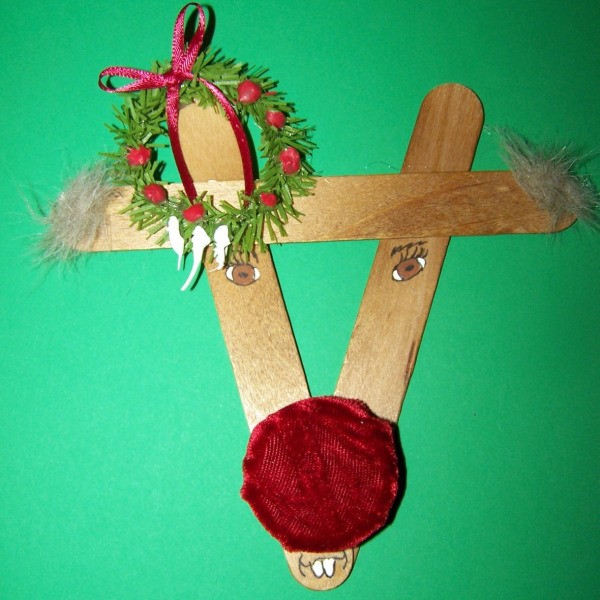 Approximate Time: 10 minutes
Supplies:
1.25 inch wooden wheel or 1.25 inch diameter Styrofoam ball
3 tongue depressors or craft sticks
hot glue
red, white, and brown acrylic paint
brush
pencil
artificial greenery stem for wreath
nippers
scrap of fur fabric
scrap of red fabric
try something with a nap such as velour, cotton velvet, or even fleece
fine black marker
1/8th inch ribbon
optional: red beads for the berries
Instructions:
Paint or stain your tongue depressors brown then glue two of them into a V as in the photo, lay the third one across the top making a triangle.

Cut circles 1 inch larger than your wheel or cut your Styrofoam ball in half and cut a circle from your fabric 1/2 inch larger.

Glue the fabric around to the back of whichever you are using then glue it just above the bottom of the V leaving room to make the mouth.

Draw on your eyes and mouth with a pencil then trace them with your permanent marker and paint them in.

Cut 6 inches for each wreath from your artificial stem and shape into a wreath.

Using your hot glue make drops like red berries in a few spots and then across the bottom make a drop of hot glue then drag it downward to form icicles. You could also glue red beads on the wreath instead. Paint the dots of glue red and the icicles white.
Make a small bow from 1/8th inch ribbon and glue to the top of your wreath then glue your wreath to the top of one of the tongue depressors that make the antlers.
Cut a 1/4 inch piece of fur fabric for each ear and glue on the other two ends at the top which are the ears. Tie on a piece of ribbon to hang your ornament with.
By Ann W. craftingtales.com from Loup City, Nebraska
Read More

Comments
Hi,
Does anyone have instructions to make a reindeer ornament using a green christmas tree light bulb and pipe cleaner for antlers, wiggly eyes and a pom pom for a nose? Would sure appreciate help.

Answers

July 18, 2003
0

found this helpful
Here are some instructions I found for Reindeer Ornaments. These are made with brown felt and a tracing of a child's hand.
cstitcher.tripod.com/.../reindeerornaments.html
Have fun!

August 7, 2003
0

found this helpful
This link provides free directions, pictures and a pattern to create a reindeer Christmas tree ornament using an old light bulb.
familycrafts.about.com/.../blornlbreindeer.htm
Click on the link below to find several more craft projects using light bulbs. These include projects for making a Christmas Choir Angel, Grinch, Angel, Mouse, Duck, Pumpkin, Santa, Snowman, Spider, Witch and Turkey Table Sitter.
familycrafts.about.com/.../bllightbtrt.htm
Happy crafting!
By Susie (Guest Post)
December 17, 2004
0

found this helpful
Reindeer Light Ornament
Supplies-
1 outdoor Christmas lightbulb, 2 wiggly eyes, 1 red pom pom nose, 1 brown pipe cleaner
gold twine, hot glue
Instructions-
Turn the lightbulb so that the glass bulb is pointing down.
Hot glue the red pom-pom nose on the tip of the bulb.
Glue the wiggly eyes above the nose on the widest part of the bulb.
Cut the pipe cleaner in half. Twist the pipe cleaners around the metal
part of the bulb. Make them look like antlers. Tie a bow out of the twine and
glue it between the antlers. Finally, make a loop from the twine, to hang the ornament from,
and glue it to the back.
By karen (Guest Post)
November 26, 2006
0

found this helpful
I saw a beautifulChristmas Angel in a store made w her dress elegantly draped around a wooden spoon and her head being the spoon part - does anyone have directions? thanks! you may email me by karentatpennswoodsdotnet and I HOPE that keeps "creepy robot" away!
Answer

this Question
Create a cute kraft paper reindeer ornament and add your favorite candy for the nose. It will look great on your tree, could be used as a gift tag, or as a gift itself.
The instructions with accompanying photos follow.