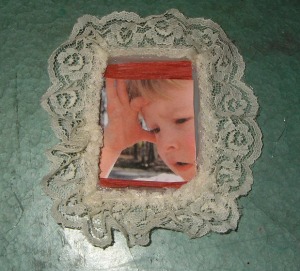 This is a great Christmas present for people that you don't want to spend much money on or just to include with your Christmas cards. Take a family photo. Wallet size works best. Trim the perimeter of the picture with lace, sequins, rope, beads, ribbon or just construction paper. Glue the trim to the front of the picture (like a frame). Loop a small piece of ribbon on the top center of the picture and hot glue it to the back of picture. Completed, this makes a beautiful unique ornament for your tree.
By Lora Lee
Read More

Comments
Looking for Christmas photo ornaments. I have snowflakes and like them but would like others. Thanks
-pat hall

Answers
By Heather (Guest Post)
October 25, 2004
0

found this helpful
In earlier ThriftyFun posting, someone suggested using the lids from frozen juice concentrate containers to make picture magnets. I've used them to make picture ornaments. I cut out a picture and glue it to the middle of the lid. Then using scraps of material - iridescent or Christmas prints, and then cut out a circle the same size as the lid, with an extra tab at the top, to look like a 2-dimensional Christmas bulb.
Then I cut a circle, square, etc. in the middle of the material, that the picture can show through. I hot glue a little hoop of gold string at the top center of the lid and then hot glue the material to the lid with the tab at the center and the hoop stick out above it. It's a pretty easy project for kids to do also.
By Rachel (Guest Post)
October 27, 2004
0

found this helpful
We took clear glass ornaments that you get at a craft supply store and inserted pictures of our family in them. This can be done by cutting the pictures into circles big enough to be centered into the inside of the glass ball. You can wrap the pictues around a pencil and insert them and unfold them out stright. We also put curly peices of Christmas colored ribbon on the back side of the picures inside the ball. They turned out great. Be careful not to break the bulb.

October 28, 2004
0

found this helpful
For years i have gotten snowflake photo ornaments but the business I got them here in town went out of business. I am interest in getting some of these or similar to them they are the kind you put your own pictures in Please let me know if you have them or know where i can get some Thanks pat

October 28, 2004
0

found this helpful
I've done some searching and here are the results for Photo Ornaments:
Beautiful but very pricy
These are glass ornaments
www.sisters2.com/glassorn2.htm
Reasonably Priced Pressed Board Photo Ornaments
www.bestbabyshower.com/photchrisor.html
These are porcelain Photo Christmas ornaments
www.photoimagesofamerica.com/ORNAMENTCOMBO.html
Personalized and Some Photo Ornaments
www.mileskimball.com/.../H21869.jsp

To Make:
Glass ornament balls with photo inside
www.kidsdomain.com/.../ornament.html
Wooden Photo Ornaments made from old Christmas Tree
www.diynet.com/.../0,2025,DIY_13889_2274354,00.html
Fun Handmade Christmas Ornament to make with your kids
www.childfun.com/modules.php?name=News&file=article...
Interesting Kits to Buy (Cheap) and also give you ideas
www.orientaltrading.com/.../application?origin=page.jsp&namespace...
Hope you can find something here to help.
- Susan from ThriftyFun
By Tawnda (Guest Post)
October 30, 2004
0

found this helpful
12 years ago, on my husband and mine's first Christmas together, we had zero dollars for a Christmas decoration budget. His mother had a box full of canning jar rings that had seen better days and we spray painted them and my husband drilled a tiny hole in the side of the ring. We cut out pictures of our family, as well as used old Christmas cards and hot glued them into the rings.
Through the years we collected the little holly leaves and berries that come in sausage and cheese gifts, etc. and hot glued those to the top of the ornament. THe hole is at the top and we bought the large decoration hooks and wrapped those through the hole to hang on the tree. You can also use ribbon.
Answer

this Question