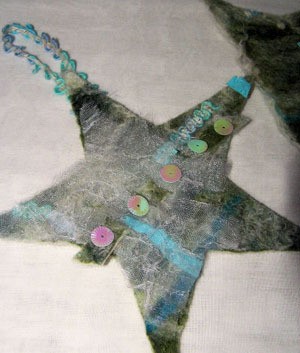 Make your own stars to brighten up your home this festive season. All you need to get started are some scraps of felt, a few basic embellishments and lots of imagination.
What's more, making felt stars is so easy all the family; both young and old alike can join in with the activity. So put on some music, sit down together and have lots of holiday fun!
Approximate Time: 20 minutes for each star
Supplies:
piece of card stock or cardboard
pencil or tailor's chalk
scissors
needle and sewing thread
scraps of felt
embellishments; sequins, fabric, beads, yarn, etc.
Instructions:
Draw a star shape on a piece of card, or trace a star silhouette out of a book or magazine. Cut out your star to make a card template.

Place the template on a piece of felt. Trace round the edge of the card silhouette with a pencil or tailor's chalk.

Carefully cut out your felt star and remember, never let young children use sharp scissors without adult supervision.

Add further interest to the surface of your star by stitching fancy yarns and scraps of fabric to the felt.

Fold your star in half, snip into the fold at intervals and thread a thin strip of felt through the slits. Attach sequins or beads along the strip of felt, or let children add self-adhesive alphabet letters instead, to personalize their star.

Stitch a hanger to the back of your star. It is now ready to hang on the tree, or for a different effect, peg several stars onto a long piece of yarn or raffia and make a garland to hang in the window.
Additionally, you can knit up some yarns in different colors and cast offs well. Put your knitted piece into a mesh bag and wash at a high temperature. The soap, heat and agitation will condense the wool fibres and you can make more stars from your own unique felted fabric. You could even try cutting out some snowflake shapes, too.
By Anne from United Kingdom